Back to All News
AmSpa Sponsors FACEit Virtual 2021
Posted By American Med Spa Association, Tuesday, February 9, 2021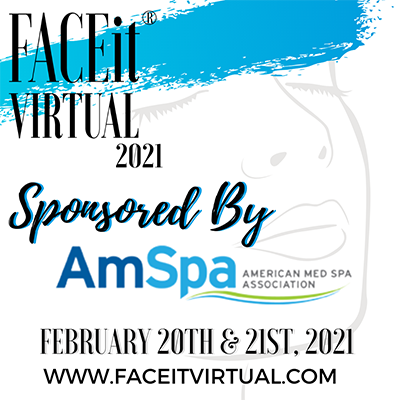 AmSpa has announced that it is a sponsor of FACEit Virtual, a global virtual conference with an elite faculty.
FACEit Virtual 2021 will be an elite, empowering, educational conference geared towards the aesthetic industry and attracting medical providers from across the world. On Saturday, February 20, guests will learn the most advanced and up-to-date information through a 360° approach of the face for preventative non-surgical aesthetic treatments, patient assessment and consultation, the newest innovations, and unique techniques. Sunday, February 21, will be all about the business aspect of the industry.
We welcome you to participate in two days of discussion in a 360° approach to the face, including cadaveric dissection and in-depth anatomy of each area covered led by a globally renowned faculty of experts. The conference will be available for viewing for 30 days post conference with purchase.
For more information, visit
FACEit Virtual's website
.
AmSpa is offering members of its community 15% off registration for FACEit Virtual. Simply use the promo code AMSPA15 during registration for the show,
which you can complete here
. This offer expires on February 18, 2021, at 11:59 PM EST.
Also, attendees of FACEit Virtual will be eligible to receive 15% off an AmSpa Basic or Plus membership. Learn more with your FACEit Virtual registration. This offer expires on February 28, 2021, at 11:59 PM EST.