Multi-state Executive Legal Guides
AmSpa's Multi-state Executive Legal Guides provide an overview of medical spa laws across the country. Deciding which states to open in or expand into can be a challenge given the vast differences in regulations, but these quick reference guides are your solution.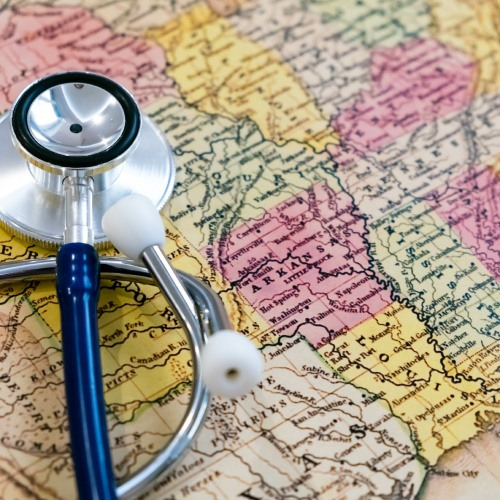 A Legal Compliance Digest for Your Multi-state Expansion
As your brand scales it can become difficult to chart a path through the legal landscape of multiple states. For medical aesthetic practices with a regional or national footprint, use these guides to understand the general legal framework wherever you plan to grow.
What's the difference between an executive legal guide and a legal summary?
These Multi-state Executive Legal Guides are designed for those investigating opening or expanding into multiple states across the country. They are annual subscriptions that do not require an AmSpa membership to purchase and offer a snapshot of the compliance landscape in a particular state. >
AmSpa's state-by-state legal summaries are designed for our members to be able to take a deep dive into the laws and regulations in their state. The legal summaries are a resource for medical spa practices to operate in a legally compliant fashion, and answer 31 (Basic) or 103 (Plus) legal questions. Members get one state for free and can purchase summaries for up to 3 additional states. Plus members also get access to a full Treatment Delegation Table listing Who Can Do What covering 21 treatments and 6 professional titles.
Know the Legal Basics Before You Expand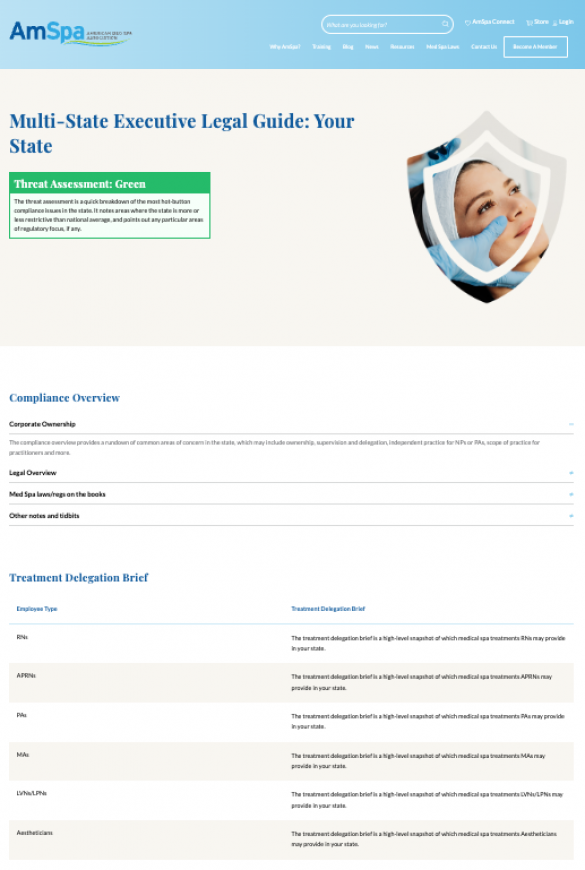 What's In an Executive Legal Guide?
Threat Assessment: The threat assessment is a quick breakdown of the most hot-button compliance issues in the state. It notes areas where the state is more or less restrictive than national average, and points out any particular areas of regulatory focus, if any.
Compliance Overview: The compliance overview provides a rundown of common areas of concern in the state, which may include ownership, supervision and delegation, independent practice for NPs or PAs, scope of practice for practitioners and more.
Treatment Delegation Brief: The treatment delegation brief is a high-level snapshot of which professional titles are generally able to provide certain classes of medical spa treatments in the state.
Pricing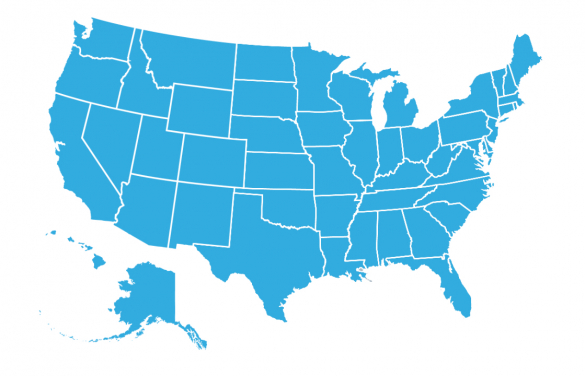 National Subscription: $14,995
A one-year subscription to the Executive Legal Guides for all 50 states and the District of Columbia.
Price: $14,995
Buy Now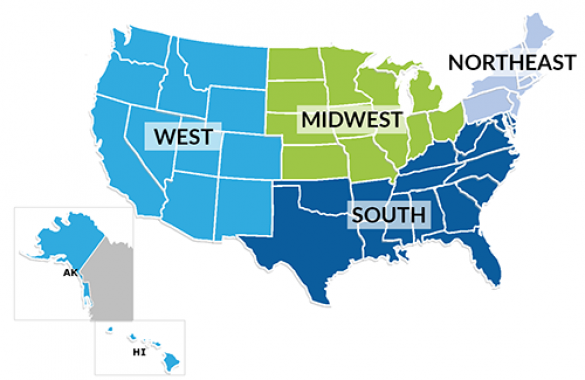 Regional Subscription: $3,995
A one-year subscription to all Executive Legal Guides for a region of your choice. You may purchase multiple regions.
Northeast: Connecticut, Delaware, District of Columbia, Maine, Maryland, Massachusetts, New Hampshire, New Jersey, New York, Pennsylvania, Rhode Island
South: Alabama, Arkansas, Florida, Georgia, Kentucky, Louisiana, Mississippi, North Carolina, Oklahoma, South Carolina, Tennessee, Texas, Virginia, West Virginia
Midwest: Illinois, Indiana, Iowa, Kansas, Michigan, Minnesota, Missouri, Nebraska, North Dakota, Ohio, South Dakota, Wisconsin
West: Alaska, Arizona, California, Colorado, Hawaii, Idaho, Montana, Nevada, New Mexico, Oregon, Utah, Washington, Wyoming
Price: $3,995 per Region
Buy Now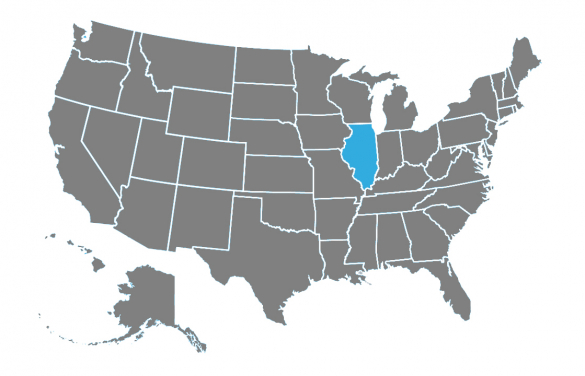 State Subscription: $365
A one-year subscription to the Executive Legal Guide for the state of your choice. You may purchase multiple individual states, or add individual states in addition to any regions that you purchase.
Price: $365 per State
Buy Now
Disclaimer
---
The information contained in these executive legal guides is intended as a high-level general guide to certain laws and conditions that apply to "medical spas" and aesthetic medical practices in each particular state. The information on this site is for general reference only and accuracy cannot be guaranteed, as medical spa legalities and regulations change very frequently. The information may or may not apply in your particular situation nor are all alternatives nor risks discussed. This information is not intended to provide legal advice, and it should not be relied upon as legal advice. This information is not intended to create, and receipt of it does not constitute, an attorney-client relationship. Readers: You should not act upon this information without seeking knowledgeable and competent legal counsel that takes the laws of your jurisdiction and your own specific circumstances into account. This content is for the individual use of the member only and may not be copied, shared, resold, or sub-licensed. All uses of the content of this site, other than personal uses, are prohibited.
Do you need a more detailed legal resource? 

Become a member and get access to one of AmSpa's state-by-state legal summaries.
Learn More