Back to All News
SkinPen Precision Microneedling Device Makes FDA Clearance
Posted By American Med Spa Association, Thursday, March 15, 2018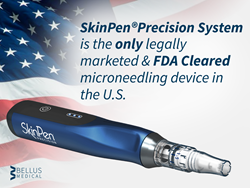 The Center for Devices and Radiological Health (CDRH) of the Food and Drug Administration (FDA) has completed its review of the SkinPen Precision System with the following indications for use: Treatment to improve the appearance of facial acne scars in adults aged 22 years or older.
Bellus Medical, a leader in medical aesthetics products and devices, has been granted clearance and marketing authorization by the FDA for its medical grade microneedling device,
SkinPen® Precision
, used exclusively by healthcare professionals. This is the first and only microneedling device in the industry to receive this important designation from the U.S. Food and Drug Administration (FDA), and sets a new standard as the only recognized Class II microneedling device available.
"FDA clearance for SkinPen Precision demonstrates our unwavering commitment to the safety, quality and excellence needed to elevate the standards in the microneedling industry," said Joe Proctor, Bellus Medical President and CEO. "With this recognition by the highest organization in the U.S., the FDA, healthcare providers and consumers know they can trust SkinPen Precision and Bellus Medical to create, develop and manufacture the safest and most cutting-edge solutions on the market."
Read more at PRWeb >>