Back to Main Blog
A Last-Minute Preview of The Medical Spa Show
Posted By Aly Boeckh, Wednesday, February 7, 2018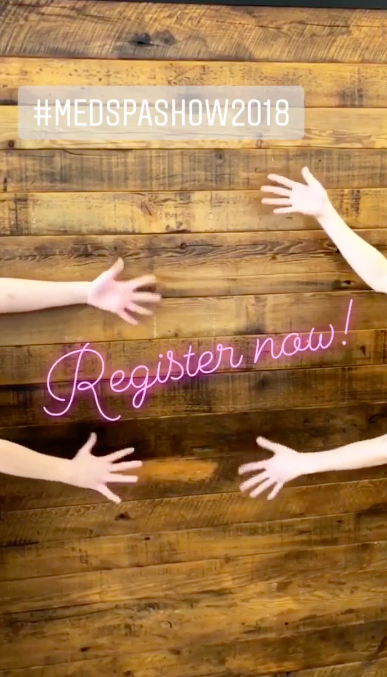 By Alex R. Thiersch, JD, Founder/Director of the American Med Spa Association (AmSpa)
As you can imagine, we at the American Medical Spa Association are very excited about the upcoming Medical Spa Show, which we will present at the Aria Resort and Casino in Las Vegas from Friday, Feb. 9 to Sunday, Feb. 11, 2018. The show will offer attendees the opportunity to learn more about the industry in four concurrent educational tracks, interact with other medical spa professionals from around the country, and evaluate the wide variety of products and services presented by the top vendors in the medical spa and medical aesthetic industry.

The educational opportunities include:

The General Session, which will provide a broad, wide-ranging overview of the medical aesthetic business, presented by successful industry professionals. Saturday morning's sessions will all be on this track, and we recommend medical spa owners check out these sessions.

The Clinical Sessions will offer talks and demonstrations of a number of new treatments from some of the best clinicians in the industry. These sessions will provide invaluable information for a medical spa's clinical staff members.

In Supplier Classes, attendees can hear about cutting-edge products and services directly from the suppliers themselves. If you are in search of new equipment or products that will help set your practice apart from your competition, you may very well find it here.

CEO Training, presented by Crystal Clear Digital Marketing, will be presented on Saturday afternoon and is designed to teach you how to make your practice the best it can be with advanced marketing and customer relations techniques. If you want to make sure your medical spa has the most useful exposure it possibly can, this information could be critical.

Sales and Staff Training, which is presented on Sunday, will teach your medical spa's staff members how to more effectively sell and relate to your medical spa's patients. This particular skill set is somewhat undervalued by medical aesthetic practices, but the ones who incorporate it effectively are models for the entire industry.

In addition, Meagan Kennedy of Fleek Brows Microblading Training, based in Orlando, Florida, will present a microblading training workshop from 8:45 a.m. to 4:45 p.m. on Friday, Feb. 9. Microblading has becoming one of the most popular treatments available in the medical aesthetic space, and if your medical spa doesn't offer it, this seminar will help you and your employees learn how it is done and how it can benefit your clients.

And if you think this show will be all work and no play, think again. On Saturday night, AmSpa—in association with our sponsors Crystal Clear Digital Marketing and Care Credit—will present a spectacular party where you can connect with other industry professionals in a setting that only Vegas can provide.
Enjoy dinner and passed hors d'oeuvres cooked up by the Five-Diamond kitchen at the Aria Resort & Casino!
Hit up the open bar and sip on a Doctor's Order (a custom version of the Moscow Mule served blue through an ice luge) courtesy of CareCredit!
Trade notes and stories about the show, or about the industry with professionals just like you!
Work off the day's stress on the dance floor with tunes courtesy of electric violinist and DJ Lydia Ansel!


Happy hour begins at 6 p.m., and the party begins at 7 p.m.

And finally, we're presenting a prize game with some fabulous giveaways, including a trip to Hawaii in conjunction with AmSpa's 5th Anniversary Next Level Leadership Event we'll be presenting there in June. Simply visit all our exhibitors and have them sign off on it using the Medical Spa Show app in order to qualify.

We hope to see as many of you as possible at The Medical Spa Show. This is one of the fastest-growing industries in the country, and we hope that this event will help those working in it learn how to make the most of it and have a great time in the process. We can't wait to share this experience with you!

Related Tags
Subscribe to Our Email List
Medical spa news, blogs and updates sent directly to your inbox.