Back to Main Blog
Can a Doctor Prescribe Controlled Substances Via Telemedicine?
Posted By Mike Meyer, Friday, March 6, 2020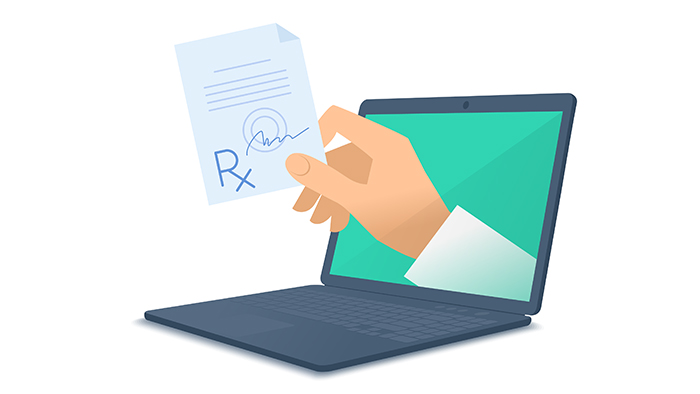 By Bradford E. Adatto, Partner, ByrdAdatto
From groceries to workout classes, entrepreneurs in all industries are attempting to duplicate the "Amazon Effect"—the ongoing evolution and disruption of the retail market, both online and in physical outlets, resulting from increased e-commerce. The digital marketplace is not only shifting the way people shop, but also altering the future of medicine. While the ability to write prescriptions via telemedicine offers an attractive opportunity to streamline the patient-doctor experience and reach patients with limited access to health care, prescribers need to be cautious. Filling internet prescriptions is a highly regulated area of law, especially with regard to controlled substances. Businesses dipping into telemed prescriptions need to familiarize themselves with national and state legislation that affect this digital marketplace.
In many states, a telemed prescription cannot legally be filled without an initial in-person exam by the prescriber. Complicating this rule, the federal government passed the Ryan Haight Act in 2008. Many states look to this legislation for guidance in shaping laws surrounding internet prescriptions and the distribution of controlled substances. In short, the act prohibits the distribution of controlled substances by means of the internet unless the ordering physician/prescriber has conducted at least one in-person exam and the prescription is issued for a valid medical reason. The act also describes seven exceptions from the above requirements. The problem is that these 'exceptions' provide such a narrow definition of telemedicine that the act actually inhibits legitimate telemedical prescribers trying to reach patients with otherwise limited access to health care.
While the act was written to shut down internet pharmacies that were attempting to circumvent a physician's exam and reduce the amount of illegal prescriptions for controlled substances, it has failed to account for how legitimate telemedicine businesses operate. Recently, the Substance Use-Disorder Prevention that Promotes Opioid Recovery and Treatment ("SUPPORT") for Patients and Communities Act was signed into law. This legislation aims to reduce the number of Americans impacted by opioid addictions and develop alternative treatments. Additionally, the SUPPORT Act requires that the U.S. Drug Enforcement Administration (DEA) promulgate final regulations, specifying the limited circumstances where controlled substances may be prescribed via telemedicine, with a special registration for such telemedicine organizations. However, to date, the DEA has not issued any regulations for the special registration for telemedicine. In the interim, many state legislatures have now passed their own laws to address the issue of the remote prescription of controlled substances.
This is a complicated emerging area of law that will impact any entrepreneur attempting to duplicate the Amazon Effect for prescriptions. As such, prescribers need to be cautious and understand the nuances of individual state law before prescribing controlled substances, or they could be in violation of not only state, but also federal law.
AmSpa members receive a complimentary 20-minute Introductory Compliance Assessment with a ByrdAdatto attorney. Click here to learn how to join AmSpa today!
Bradford E. Adatto is a partner at ByrdAdatto, a national business and health care boutique law firm with offices in Dallas and Chicago. His background is in regulatory, transactional and securities law. Having worked in health care law his entire career, he has an in-depth knowledge of the "dos and don'ts" of this heavily regulated industry. Brad has worked with physicians, physician groups, and other medical service providers in developing ambulatory surgical centers, in-office and freestanding ancillary service facilities, and other medical joint ventures. He regularly counsels clients with respect to federal and state health care regulations that impact investments, transactions and contract terms, including Medicare fraud and abuse, antitrust, anti-kickback, anti-referral, and private securities laws. Adatto has been recognized as Top Rated Lawyer by the Dallas Morning News (2016) and a Best Lawyer in Dallas in health care by D Magazine (2016 & 2018-2019), selected as a Best Lawyer in America in health care (2017-2019), and was recently named a Best Lawyer in Texas (2019) and Texas Super Lawyer, published by Thompson Reuters (2019).
Related Tags
Subscribe to Our Email List
Medical spa news, blogs and updates sent directly to your inbox.