Back to Main Blog
Introducing QP
Posted By Mike Meyer, Tuesday, June 11, 2019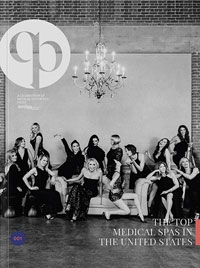 By Alex R. Thiersch, JD, CEO of the American Med Spa Association (AmSpa)
When we first started AmSpa in 2013, we knew that, ultimately, we would start a magazine. It was a natural evolution and was always in our plans; however, we always wanted it to be different. We didn't want to simply put out another trade publication or industry magazine. Don't get me wrong—there is a place for those publications in the world, and they bring great value to the industry.
But, as we looked at the landscape of aesthetics, there was nothing that truly spoke to medical spas. The medical spa industry is like nothing else in aesthetics. It's its own unique industry, with its own characteristics and unique traits. These aren't dermatology practices and they're not surgery centers. They are definitely not traditional spas, either.
When we thought about how to capture the medical spa industry in print, we immediately discarded the traditional characterizations. We didn't want doctors in lab coats or slick suits, and we didn't want stock images of syringes or cookie-cutter offices, either. We also didn't want extensive treatises on treatments or tactics. We wanted to capture the true essence of the industry—the spirit and underlying vibe that makes the industry go.
At its core, this industry is about people. Medical spas help people feel empowered. They help people recognize their true beauty. They inspire confidence, pride and hope. They make people look better, to be sure, but they also restore people from within. And they do this while making money and having fun. There is a sexiness and glamour to this industry that you won't find anywhere else, and there is community and strength in the industry, as well.
It is our goal to capture this essence in a publication while ensuring that we stick to our core values of compliance and safety. After all, none of the allure and glamour is possible if we don't provide impeccable patient care and adhere to strict medical standards. As I'e often said in talks throughout the country, there is only one thing that can stop this industry from continuing its incredible growth trajectory—us. It's us tolerating bad outcomes, receiving negative press and failing to follow the rules of the road. So long as we are compliant, professional and safe, the sky is the limit for this industry.
With that said, it is with great pleasure that I present the premier issue of AmSpa's new quarterly publication, QP. It is an exploration—and a celebration—of the industry through the eyes of the people who have built it: you. In its pages you'll find color, insight, advice and perspective that you may not have considered before. You'll get to go inside the top medical spas in the country, read about the entrepreneurs who built the industry and share in their experiences.
In our first issue, we present the top med spas in the country. Inside you'll find exclusive photos and insight from some of the most successful medical spas owners in the world. What are their secrets? What drives them? And to what do they attribute their success? In future issues, we'll highlight influencers, innovators, technology, data, and, of course, regulation (it is AmSpa, after all). But through it all, we will focus on people.
And of course, we invite you to let us know what you think and what you want to see. This publication is for you, and it's important to us that you're proud of what you see. This has been a long time coming, and we hope to be around for many years to come.
AmSpa members should receive the premier issue of QP in late June.
(Please note that if you became an AmSpa Member prior to May 31, you'll receive the first issue in the mail. If you have become a Member since May 31, the second issue will be your first. If you want to receive QP—among many other benefits—become an AmSpa Member today.)
Related Tags
Subscribe to Our Email List
Medical spa news, blogs and updates sent directly to your inbox.