Back to Main Blog
Top 5 Most Popular Med Spa Treatments
Posted By Aly Boeckh, Tuesday, August 29, 2017
Just how well do you know the medical spa industry and the clients that you serve? Would you be surprised to learn that Chemical Peels are the number one service provided in a medical spa? AmSpa's 2017 Medical Spa State of the Industry Report is here to help you decide on which treatments to offer, and how you can receive the biggest return on your investment.
Come to an AmSpa Medical Spa & Aesthetic Boot Camp for more business and legal insights and best-practices.
Let's take a look at the Top 5 Most Popular Medical Spa Treatments:
1. Chemical Peels
A chemical peel is a technique used to improve the appearance of the skin on the face, neck or hands. A chemical solution is applied to the skin that causes it to exfoliate and eventually peel off. The new, regenerated skin is usually smoother and less wrinkled than the old skin.
2. Aesthetician Services
Aesthetician services involve skin care and beauty treatments such as facials, makeup applications, and hair removal through electrolysis, waxing or other techniques.
3. Botox and Filler Injections
The injection of botulinum toxin--commonly known as Botox, Dysport or Xeomin-- has become very popular for reducing wrinkles and rejuvenating the aging face. First granted U.S. Food and Drug Administration (FDA) approval to treat frown lines in 2002, Botox remains one of the most popular cosmetic procedures on the market, and its popularity continues to rise.
4. Microdermabrasion
Microdermabrasion skin rejuvenation is used as a method of exfoliation, as well as to treat light scarring, discoloration and sun damage, and stretch marks. Treatments include using a minimally abrasive instrument to gently sand your skin, removing the thicker, uneven outer layer.
5. Photo-facial pulsed light (IPL)
Intense-pulsed light (IPL) is a technology used in various skin treatments, including hair removal and photofacials. A handheld flashgun is passed across the skin, delivering a spectral range of light that targets the hair or skin issue. These types of treatments may also be called laser skin rejuvenation, photorejuvenation, or laser resurfacing.
Here's an infographic from the report that shows how all Medical Spa treatments measure up.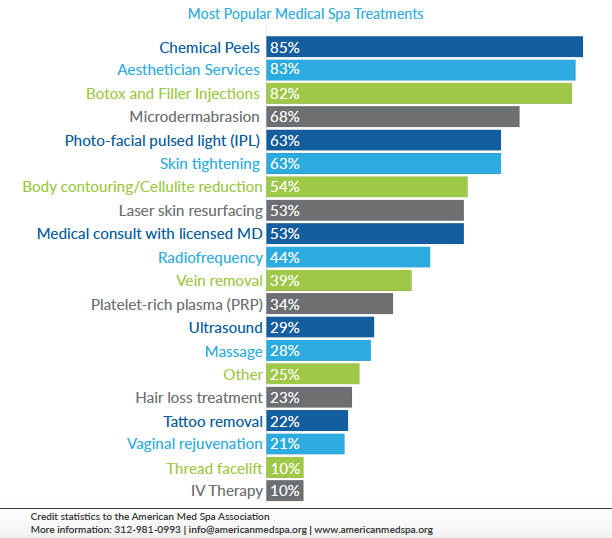 AmSpa members receive a complimentary copy of the report's executive summary. Join today and receive your copy!
Related Tags