Back to Main Blog
Boston AmSpa Events Offer Educational Opportunities, Networking and Fun
Posted By Madilyn Moeller, Tuesday, July 25, 2023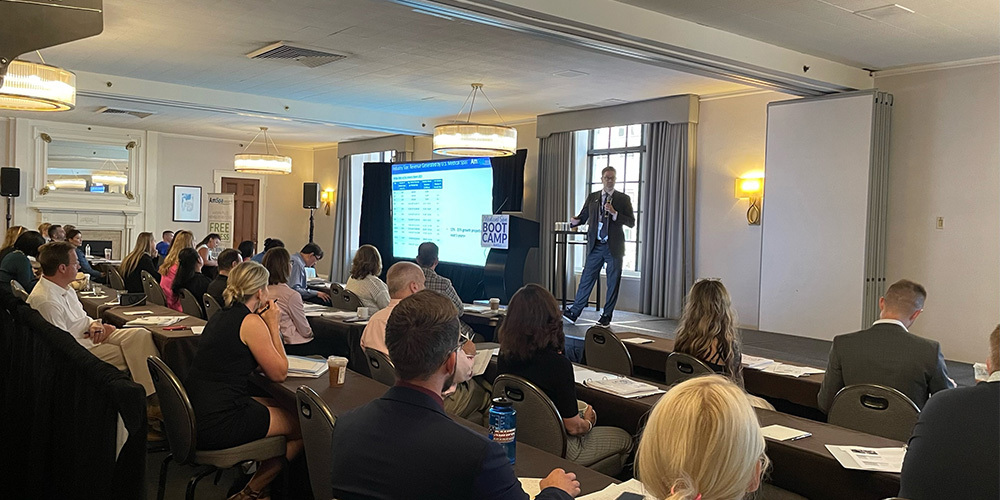 By Michael Meyer, Content Manager, AmSpa
From July 14 – 16, 2023, the American Med Spa Association (AmSpa) took over the Boston Park Plaza hotel for a weekend of education, networking and fun with the organization's Medical Spa Boot Camp, Academy for Injection Anatomy (AIA) and Ultrasound Fundamentals for the Aesthetic Injector events.
Outside in Boston, the weather was unusually hot and extremely humid, but inside the historic Boston Park Plaza, the AmSpa events created a warm and inviting atmosphere that brought together people from all corners of the industry—owners, practitioners, clinicians, investors, vendors and educators, all of whom were brought together by a desire to improve the medical aesthetics industry with safe, compliant services that help provide satisfying outcomes and make practices money.
The events kicked off on Friday with Ultrasound Fundamentals for the Aesthetic Injector, a day-long course taught by Steven F. Weiner, MD, that helps injectors learn how to use ultrasound technology to provide patients with safer aesthetic injections. That evening, AmSpa hosted a welcome reception for attendees of all three events at the hotel's The Square reception area. Boot Camp and AIA attendees picked up their badges and enjoyed cocktails with Ultrasound Fundamentals attendees, as well as educators, vendors and the event's organizers at the reception, which was sponsored by Allergan.
On Saturday morning, AIA and Boot Camp attendees enjoyed breakfast and got their first look at all the products and services that vendors had to offer in the Avenue 34 event space. Afterward, AIA attendees joined Course Chairman, Christopher C. Surek, DO, FACS, and the rest of the AIA faculty in the gorgeous Georgian Room on the Boston Park Plaza's mezzanine level, where they embarked on a day of didactic study covering information about the anatomical structure of the face, injection technique and complications that can arise from facial injections.

Meanwhile, Boot Camp attendees also relocated to the mezzanine level—to the combined Clarendon, Berkely and Arlington rooms—to begin their full day of education about the business of medical aesthetics, including presentations about developing an effective business plan, determining financial goals, maintaining legal compliance and the value of providing proper patient consultations.
Both programs also included lunch (sponsored by Allergan) and two breaks, during which attendees could interact with vendors and learn about the products and services that help the medical aesthetics industry operate efficiently and compliantly.
After the educational sessions drew to a close, Saturday evening's activities provided attendees with numerous chances to interact with the faculty, vendors and each other. First, a cocktail reception, sponsored by CosmoFrance, offered a fun opportunity to chat and nosh in the Avenue 34 space. Then, the action moved up to the mezzanine level, where Dr. Surek signed copies of Facial Volumization: An Anatomic Approach, his definitive book about facial anatomy. Finally, attendees returned to Avenue 34 for more drinks and an educational keynote and session, sponsored by Galderma, during which Dr. Surek demonstrated the Galderma Interactive Anatomy (GIA) app.
On Sunday, AIA attendees participated in a hands-on cadaver lab, an industry-exclusive opportunity to apply the education they have obtained. This unique course allows attendees to see the results of their injections through dissection, providing the sort of anatomical knowledge that can't be duplicated anywhere else.
"This was an invaluable experience at injection anatomy," says Alyssa D'Arcy, FNP-C, CANS, of AlDa Aesthetics in Hanover, Massachusetts. "I am grateful for the passion exhibited in sharing expertise in anatomy. All the team members are approachable and share the core values of injection anatomy. I will be sharing my experience and knowledge gains with all those I train and can't wait to send my staff!"
At the same time, the Boot Camp program rolled on with informative presentations about how to utilize emotional intelligence in medical spas, KPIs and hiring. The morning session wrapped up with a lively Medical Spa Success Panel featuring Ashley Carmen, FNP-C, (Aiyana Atelier Wellness); Alexa Nicholls Costa, NP, (LexRx); Beth Panizales, ACNP-BC, (The Face Loft); and Silvia Tuthill, DNP, ANP-C, (Tenth Avenue Aesthetics). After a discussion with moderator and AmSpa COO, Cathy Christensen, about their business philosophies, the panelists fielded questions from the audience, sharing the secrets that have led them to the heights of medical aesthetics success they have achieved. After lunch, the event wrapped up with presentations about marketing, social media and how to determine which new treatments your medical spa should offer.
"The Medical Spa Boot Camp taught me so much about what patients are looking for and how they prefer to communicate," says Evelyn Pitale of Beck Aesthetic Surgery in Matthews, North Carolina. "I can't wait to get back and share all this valuable information with our entire team. I feel energized!"
There are only a few more opportunities to attend an AmSpa Medical Spa Boot Camp, AIA or Ultrasound Fundamentals for the Aesthetic Injector in 2023, so make your plans today. These events will be held in La Jolla, California, on September 22 – 24, North Carolina on October 13 – 15 and Miami on November 3 – 5. Register today and advance your practice to the next level!
Visit the AmSpa Store to find practical resources for your medical spa, including Dr. Surek's facial anatomy textbook, aesthetic business plan template, SOPs, forms and consents, and much more!
Related Tags
Subscribe to Our Email List
Medical spa news, blogs and updates sent directly to your inbox.