Back to Main Blog
Medical Spa Show 2023 General Session Recap
Posted By Madilyn Moeller, Saturday, February 4, 2023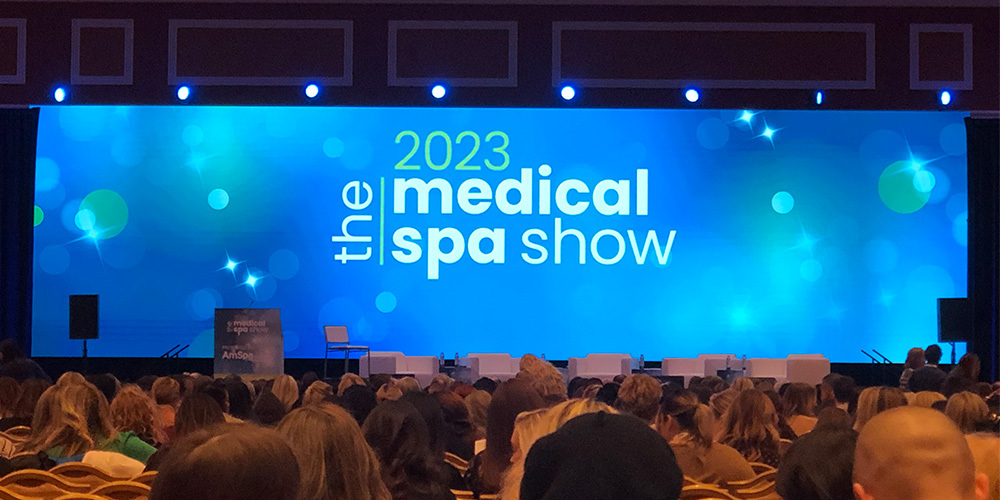 By Madilyn Moeller, Editorial Assistant, American Med Spa Association
The sixth annual Medical Spa Show conference program kicked off at the luxurious Wynn Las Vegas on Friday morning at 8 am with its general session, which was held in the spectacular Cristal Ballroom with a capacity crowd of medical aesthetics professionals in attendance.
The session began with an introduction from AmSpa CEO, Alex R. Thiersch, JD. Thiersch treated the audience with photos of his numerous pets before re-introducing AmSpa's mission of helping medical spa owners run safe, compliant and profitable businesses. Thiersch reviewed a few key highlights of the 2022 Medical Spa State of the Industry Report, which showed that medical aesthetics is still a mom-and-pop industry with impressive revenue and growth. He unveiled which treatments reign supreme and spoke about the power of repeat patients, while speaking of the challenges the industry faces, with training and a demand for providers. Thiersch finished by comparing this moment to Game 6; make sure we win the game.
Next up was the Diversity in Aesthetics Panel, where Thiersch was joined by panelists George Baxter-Holder, DNP, ARNP, CANS; Kay Durairaj, MD; Shannon King, BSN, BHA, RN; Stanley Okoro, MD, FACS; and Christal Parker, MSN, FNP-C. They spoke about unconscious bias, representation, patient education, hiring practices, and defining diversity. "Data drives the money," Okoro says; "the problem is, the data is flawed." He challenged AmSpa to get the industry numbers that will show manufacturers the value of diversity from a business perspective. Awareness is the first step, they said, stressing that medical spa owners should invest in diversifying, putting energy in the direction they want to move.
After a brief pause, Adam Fichman, president of Lifted Logic, held the audience's attention with free-hand diagrams illustrating how much each user is worth, along with the lifetime value of a patient. He taught attendees how to de-emotionalize their spend and used the theory of constraints to identify an efficient output, finishing with a real-time demonstration of his SEO strategies at work.

Lynn Heublein, co-founder of SkinSpirit, walked the audience through the founding of her first practice 20 years ago and the "north star" values that have guided the business in her keynote speech. She urged the audience to be authentic to their calling and described an exercise to find what's important and define how they want to spend their time.
Shelby Miller, DNP, FNP-C, founder of RUMA Medical Aesthetics, presented the final keynote of the General Session: When Quality, Culture, and Efficiency Co-exist. She spoke about her goal of giving patients a memorable experience and how she accomplishes that. Miller described her commitment to a solid team culture and efforts to promote healthy feedback. In demonstrating the efficiencies of her medical spa, Miller walked the audience through the responsibilities of aesthetic assistants during a patient visit and provided the blueprint. With a photo of her team, she left the audience with a John C. Maxwell: "A team of one is too small a number to achieve greatness."
Stay tuned for more coverage of Medical Spa Show 2023!
Related Tags
Subscribe to Our Email List
Medical spa news, blogs and updates sent directly to your inbox.