Back to Main Blog
Member Spotlight: Patient Over Profit
Posted By Madilyn Moeller, Monday, January 30, 2023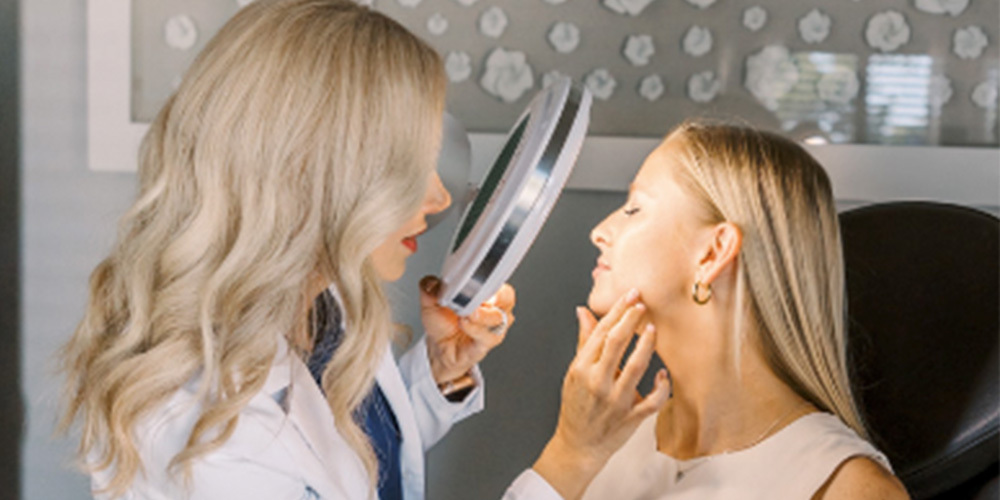 By Madilyn Moeller
S. Alexis Gordon, MD, FACS, opened her medical spa in December 2017 after 18 years in practice as a urologist. Having lived a busy, crazy life and without taking good enough care of herself, her goal was to help other busy moms, men and women to feel good about themselves, feel more confident and feel like they're the most important person in the room.
"I opened, just myself and one other person, and I thought it was going to be a kind of two-to-three-day-a-week thing while I recovered from my neck surgery," Dr. Gordon says. "I'm very grateful that it's turned into a lot more."
At the five-year mark, Renew MD Facial Aesthetics in Southlake, Texas, has grown from two to 10 employees and is relocating for a third time in order to expand. Ashley Fisher, VP of operations, started as a patient for two years before joining the team and becoming Dr. Gordon's right-hand woman.
"We create a really trustworthy environment," Fisher says. "I always like to say, we're patient over profit, because while, obviously, we have a business to make a living, our passion for helping people really shines. I think that that stands out from people around us."

They aim for long-term relationships with their patients instead of volume, with longer appointment times even for injectable visits. Dr. Gordon and nurse practitioner Erika Goff, MSN, APRN, FNP-BC, NP-C, perform complimentary full consultations with each patient and focus on the short-term goals, the long-term goals, and the bread-and-butter things that people want, which they call the "fluff and buff."
Dr. Gordon uses her love of science and learning to teach patients about the aging process, which helps them understand the "why" behind the procedure along with realistic expectations.
"So many people, especially my age, went through the foil and baby oil summers, or the tanning booths," Dr. Gordon says. "They're like, 'It's like I woke up one morning and my face was just hanging down. What the heck happened?' And it's something that people don't talk about. So, the first thing I like to do during consults, after they let me know what bothers them the most, is to teach."
For safety reasons and quality control, they communicate honestly with patients and refer them to plastic surgeons when necessary. They know when to tell people no and often talk people out of things they came in for.
"That's hard, because we're all people-pleasers here," Dr. Gordon says. "But I wouldn't feel good about doing it otherwise. We wouldn't."
Perception
The decision to specialize in facial aesthetics demonstrates the team's compassion for their patients and community. With attentive patient care, Dr. Gordon uncovered a pattern of body dysmorphia, a condition characterized by a preoccupation with a perceived or minor defect in the person's appearance, in some of her patients.
"I'm very conscious of what that does, not just to your self-esteem, but also in aesthetics to their expectations," Dr. Gordon says. "A lot of times, they're these beautiful girls who are just fine the way they are, and they're convinced that this is wrong with them or that is wrong with them. And I do confront it, in a loving way—I say, 'In a way, I can relate to this. Do you think you might want to consider that this is what's going on?' And, 'Yes, we can do this, but you may not be happy with the results because, in your perception, it's different than what the reality is sometimes.'"
Dr. Gordon found that the mental health condition was especially prevalent with the body and saw this concern in many young women.
"In the area where we live, there are a lot of moms, cheer moms in particular, who would bring their daughters and say, 'Look at her. She needs help. She needs to be a flyer. What can you do?'" she says. "And they'd already had lipo, sometimes—I mean, it killed me. I really took that very heavily and I handed out more counselor cards than I actually sold anything."
As a former military kid, Dr. Gordon is not afraid of losing revenue to do the right thing, and that value extends to safety and regulations. She says the American Med Spa Association (AmSpa) law resource is one of her favorite things to look up.
"I've seen enough things that go on, especially in Texas, unfortunately, that are not done legally," Dr. Gordon says. "And I'm not a whistleblower at all, but I like to educate patients about that type of thing. I always tell them, whether you come to us or not, this is what you need to make sure: Make sure that they do a history and physical, and make sure that if you have this autoimmune disorder, they're not giving you this particular thing. Things like that. Erika and I are very passionate about sticking to that."
Standing Out
Dr. Gordon describes Southlake and its surrounding neighborhoods as close-knit, where everybody knows everybody. Even though the area is saturated with medical spas, people find practices they like because they are looking for different treatments and different styles. Renew MD stands out for its customer service, with staff members committed to common values, work ethic and building relationships with patients so they feel they are getting the highest quality of care.
"There are a lot of spas around here, and the feedback we get is, 'I feel so special here when I walk in the doors, I feel like I'm going to get taken care of.'" Dr. Gordon says. "We try to go above and beyond, and if somebody who's working here isn't able to do that or doesn't get that concept, they're not a good fit."
Their patients come from many different walks of life, and Dr. Gordon has learned that everybody has their insecurity, whether it's something that other people see or not. Her team does what they can to them feel more confident so they can be their best for other people.
"Word of mouth has been our biggest growth," she says. "And I'm so grateful because, truly, referrals and word of mouth and people bringing their families in after they've come here is the biggest compliment for us, that they trust us with a family member."
She encourages people who are already in the business to take their time with patients and get to know them. For people starting out in aesthetics, she says it's easier to start the right way and not have to undo bad habits.
"Even if it is an investment, invest in something like AmSpa Bootcamp," Dr. Gordon says. "Invest in something like APX Platform, which we have now. Do it the right way from the ground up, because it's a lot harder to revamp."
Making a Difference
Dr. Gordon loves the combination of science and art in aesthetics, and that there are so many different things she can learn about and bring on. On top of learning and educating about the science, she loves watching people in tears of joy.
"I really thought that after surgery—because I used to have to tell people they had cancer, and then I would help them and cure their cancer—going into aesthetics, I was like, 'Am I really helping people? Am I really doing something good?'" Dr. Gordon asked herself. "But then you see that person who just came out of a divorce or is starting a new job and it's the first time they've worked since COVID, for example, and they're like, 'This has always bothered me,' and then we fix it, it's amazing."
AmSpa Members receive QP every quarter. Learn how to become a member and make your med spa the next aesthetic success story.
Related Tags
Subscribe to Our Email List
Medical spa news, blogs and updates sent directly to your inbox.