Back to Main Blog
Hiring and Retention Best Practices
Posted By Madilyn Moeller, Friday, September 9, 2022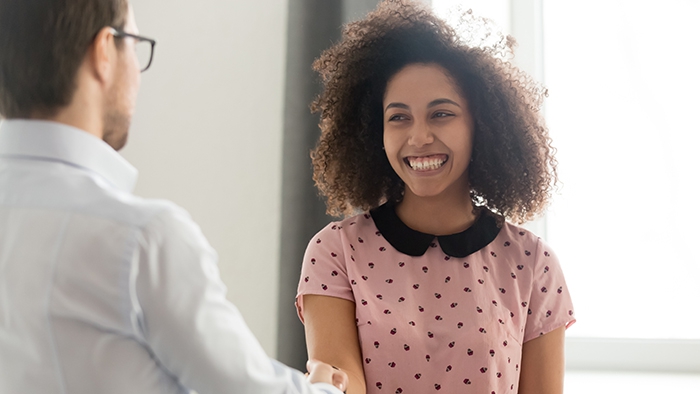 By Heffernan Insurance Brokers
Businesses aren't just competing against each other for customers—they're also competing for workers. Skilled and reliable workers are in high demand, and a survey from GoodTime found that 50% of hiring goals were not met in 2021. If your company is struggling with staffing issues, make sure you're following hiring and retention best practices.
Create job ads that get results
If you're not getting the applicants you want, the problem might be your job ad. Common phrases may lead job seekers to conclude that the workplace will be stressful or even toxic. See this article from Buzzfeed and this article from Forbes for examples of what many job seekers consider to be red flags.
Not listing the position's salary range can also be a big problem. Job seekers don't want to go through a long interview process only to find out that the offer is below their range. Plus, as this list from HR Dive shows, an increasing number of states are passing pay disclosure laws.

Screen out bad matches
Your job ad might get a lot of responses, and there's a good chance that many of these applicants won't be viable candidates. When you screen candidates, you'll need to focus on a few different areas:
Skills: Unless this is a strictly entry-level job, you'll probably have a list of skills and other requirements related to experience. Depending on the position, you may want to include an aptitude test as part of the application process.
Risk: Your pre-employment screening process may involve background checks, driving records, references, employment verification, credit reports and/or drug screening. According to the FTC, employers need to make certain disclosures and obtain the job candidate's authorization before conducting a background screening. Also, if a background screening report reveals something that might make you not want to hire the candidate, you need to notify the candidate of the results and provide a copy of the report.
Company Culture Fit: In addition to finding a candidate with the necessary hard skills, you want to find an individual with the right attitude and soft skills to match your company culture. Many companies use personality tests as part of the application process. The interview is another opportunity to gauge whether the candidate is a good match.
Don't eliminate good candidates
When you're screening job candidates, be careful not to eliminate the best prospects. This can happen when you include criteria that aren't actually relevant to the position. Also, avoid unrealistic requirements, such as asking for a master's degree and 10 years' experience when you're only offering an entry-level salary.
Be especially careful if you're using artificial intelligence (AI). According to SHRM, New York City has passed a law that prohibits the use of AI tools for hiring, recruiting and promoting unless the tools are audited for bias. This may be a good idea, considering the Center for Democracy & Technology has found that these tools can lead to ADA violations. For example, a program that disqualifies people for having a gap in employment could end up weeding out candidates simply because they had to take time off work for medical reasons.
Stay on the right side of the EEOC
If your job advertisements say you're looking for females or recent college graduates, you could be in violation of EEOC rules that prohibit discrimination based on sex and age. It's also illegal to discriminate against job candidates or employees on the basis of race, color, religion, national origin, disability or genetic information. Make sure your hiring practices are compliant.
Get your employees started on the right foot
Don't just throw your new workers into "deep water" and watch them sink or swim. Once you've hired the right candidate, you need to provide onboarding and training and make sure they feel supported every step of the way. Even an experienced new hire probably won't understand the nuances of your culture and work processes.
It's good to provide an employee handbook, but don't stop there. Assign a friendly and helpful work partner to guide the way, answer questions, introduce the new worker and shepherd the process. Long-term employees may enjoy the opportunity of mentoring a new employee. If the employee is working remotely, this is even more important. You don't want new employees to feel like they're on their own.
Take care of your existing employees
Finding the right candidate is half the battle, but you still need to make sure your employees are satisfied and engaged.
To understand what your employees want, just look at why workers are quitting. According to a survey from McKinsey, respondents gave the following reasons for quitting their previous job:
41% of respondents cited a lack of career development and advancement.
36% of respondents cited inadequate total compensation.
34% cited uncaring and uninspiring leaders.
31% cited a lack of meaningful work.
A competitive employee benefits package is an essential part of total compensation, and it can help you attract top job candidates and retain top workers. Learn how Heffernan can help.
Heffernan Insurance Brokers stands apart from other health care liability insurance brokers by going beyond the expected to provide services that help solo practices and large groups be more efficient and effective. It offers affordable customized medical malpractice insurance policies that help keep the moving parts of a practice running smoothly. The depth of Heffernan's experience enables it to help clients in all aspects of the business of health care, wellness and fitness. For more information, call 925-448-2612.
AmSpa Members receive a complimentary risk audit of their current coverages from Heffernan Insurance Brokers. Click here to learn how to join AmSpa today!
Related Tags
Subscribe to Our Email List
Medical spa news, blogs and updates sent directly to your inbox.