Back to Main Blog
Insight on Inclusion from Aesthetic Practitioners of Color, Part 1
Posted By Madilyn Moeller, Tuesday, September 6, 2022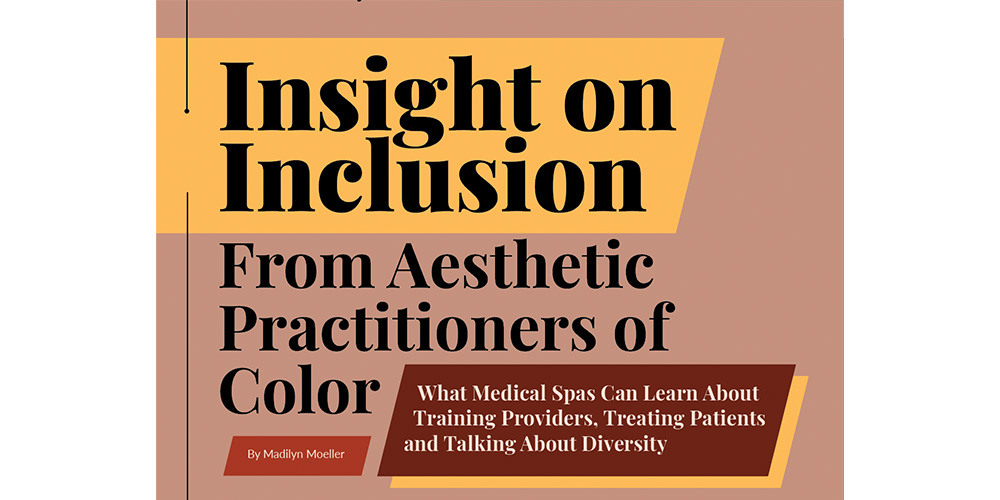 By Madilyn Moeller
What Medical Spas Can Learn About Training Providers, Treating Patients and Talking About Diversity
QP shares the insight of Shannon King, BSN, RN, of Le Meilleur Beauty & Wellness in Norco, California; Silvia Tuthill, DNP, ANP-C, of Tenth Avenue Aesthetics in East Northport, New York; and Thuy Doan, MD, of Bespoke Aesthetics + Concierge Medicine in Atlanta.
People find new lines in their foreheads, around their eyes and bracketing their smiles. Many embrace graceful aging, and those who desire change have fillers, toxin and a myriad of technologies and treatments to address their concerns. Unfortunately, not all prospective patients feel like medical aesthetics is for them, and many providers are not prepared to treat everyone who walks in the door.
When it comes to treating the wide variety of skin types and facial features, training largely falls to the individual. Those looking to invest in education and networking at conferences across the country often find that the people on stage are not representative of the population.
Industry giants are beginning to expand the conversation about diversity, equity and inclusion in aesthetics. QP shares the insight of Shannon King, BSN, RN, of Le Meilleur Beauty & Wellness in Norco, California; Silvia Tuthill, DNP, ANP-C, of Tenth Avenue Aesthetics in East Northport, New York; and Thuy Doan, MD, of Bespoke Aesthetics + Concierge Medicine in Atlanta.
Obstacles to Aesthetics
Aesthetics was swirling around Shannon King, BSN, RN, as a circulating nurse in plastics and then a hospital nurse in labor and delivery—new mothers would frequently express concerns over their body image, after having a baby.
King began searching for training in aesthetics. She quickly found that even in the melting pot of California, providers were hesitant to hire a Black injector.
For example, King interviewed at a medical spa that offered a trainee position. The doctor and nurse both said they loved her, but 10 days later the office called to let her know they selected someone else. They said it had nothing to do with her, that she should keep in contact and was even welcome to come in and shadow their nurse. King asked for feedback.
"I asked, 'Was there something that I could do to make my interview better? Or was there something you were looking for that I just didn't possess?'" King says. "And it was finally said that they did not know if their patients would be able to trust me and that their population was not reflective of my image. And I was like, 'Well, what does that mean?' Because I'm very well polished. I've been a hospital administrator for more than 10 years. So, that was a way of saying that a Black injector wasn't what they were looking for."
Burden of Proof
Silvia Tuthill, DNP, ANP-C, developed her own opportunities to strive in this business. It's been great, she says, but it has also been difficult.
Many patients want to go to providers who look like them. In the United States, Caucasian women make up the largest patient demographic for aesthetic procedures. This puts providers of color at a disadvantage.
"For some of us, it makes us develop somewhat of an imposter syndrome where we feel like we are perceived as not as competent by our Caucasian patients, as well as our colleagues. You'll find that a lot of us are at the epitome of our space with our degrees, training, etc., but we don't feel that our successes are shown externally. It creates a lot of insecurity because it doesn't matter how smart you are or how skilled you are; they're going to look at your other counterparts that don't look like you as being better than you, even if they don't have the degrees that you have. I can't hide being a person of color. That's one thing I can't do."
The representation within her advanced nursing program illustrates this added pressure for providers of color to convince others of their knowledge and skill.
"As you know, with DNPs, it's like only 2% of the population of nurses ever continue on," says Tuthill. "In my DNP nursing program, I would say half of them were African-American. Half. That's because we feel that we have to have the epitome of our degree to be up to snuff with everyone else. Meanwhile, nobody ever checks their credentials, but best believe I better have my receipts."
Learning Balance
Thuy Doan, MD, did not join this industry for the money or because of her degree. She was botched by an injector. After a year, she visited a different injector and was botched again.
"One day, I Google 'fillers gone wrong' and didn't realize there was a reversal," she says. "And, being that I was an MD, I bought the reversal and I reversed myself. That led me into going into aesthetics—not by accident, but I think sooner than I would've because I got botched."
Sometimes patients don't have the option to see a provider who looks like them; even an injector of the same ethnic background may not know how to treat their features. The second injector who botched Dr. Doan was Vietnamese, like her. She believes that all providers should know how to treat every type of patient, or at least have a background in the different skin types.
AmSpa Members receive QP every quarter. Click here to learn how to become a member.
Read on for Part 2!

Related Tags
Subscribe to Our Email List
Medical spa news, blogs and updates sent directly to your inbox.