Back to Main Blog
Digital Marketing: A Complete Must for Medical Spas
Posted By Madilyn Moeller, Friday, November 18, 2022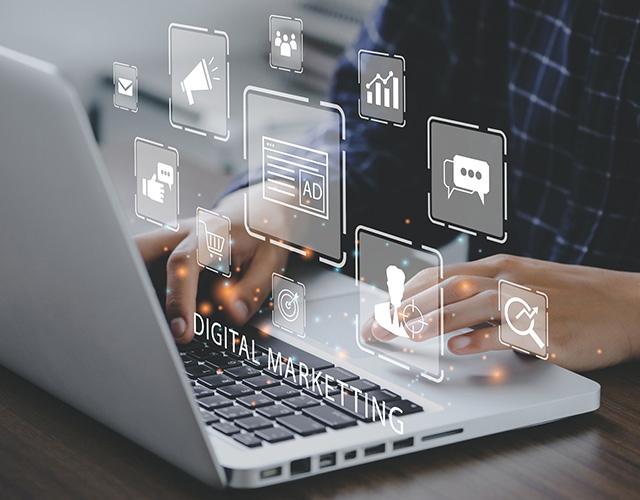 By Growth99
Since the beginning of the 21st century, technology has been unstoppable in advancing. The world has been accustomed to its works and even started to rely on it, ranging from communication, entertainment and, when the pandemic took place, even grocery shopping at home. With technology being a huge part of people's everyday lives, marketing a medical spa has reflected this and evolved from traditional to digital, something that seems inevitable.
Marketing can be tricky, and one should not waste money on things that aren't working. It's critical to understand which marketing spend yields the highest return on investment (ROI) and to develop a strategic plan to decipher the costs of lead acquisition and identify the channel yielding the highest return afterward. Unfortunately, most practices are not tracking any of that. Fewer than 10% of aesthetic practices track their metrics. In this post, we will discuss the importance of digital marketing for your practice and how it can help you track the most critical data to advance your business.
Digital marketing in plain view
Competition never stops in business. That's why business owners and marketers constantly brainstorm to develop new ideas to pave the way for more opportunities and attract clients to choose their brand over their competitors. Probably the most effective way to market to consumers is integrating technology into your campaign by letting your medical spa step into the digital realm. Simply put, if you're thinking of attracting new leads and clients, the answer comes in two resounding words: digital marketing.
The medical spa industry is well-suited to utilize and benefit from digital marketing. More people than ever are getting enthusiastic about aesthetic treatments and cosmetics, so digital marketing has become even handier. However, as a result, many medical spas are also popping up everywhere. As the competition rises, the marketing game also elevates.

Contrary to what other medical spa owners believe, opening a medical spa clinic is not enough to attract aesthetic patients. You need to find your targets and present your business where they can explore your offered services. And where exactly is the first and most effective place to start? The internet. Let's explore what comprises digital marketing and how to effectively market your practice.
Website and blog
Your website should be the primary destination for your marketing dollars. Moreover, your website needs to contain enough copy—each page should have 600 to 1,000 words—as Google looks at authentic copy, and the number of words should be enough to rank each page. That means if you offer 20 services, each service must have a dedicated page. Your website should also contain a tab on the navigation bar called "conditions," as people typically search for both the problem and the corresponding treatment.
You'll also want a blog on your website that educates your patients and potential clients on relevant topics, followed by a call to action at the end. Adding fresh content to your website regularly also boosts your search engine optimization (SEO) efforts while increasing your reach and touch points for prospects and patients who visit your website consistently. Lastly, you may want to include a link to your blog on other platforms such as social media and even through email.
Search engine optimization
Regardless of the sales funnel stage, a medical spa's potential clients research online with the relevant information they need. Your SEO strategy starts kicking in as soon as people start typing queries regarding toxin, chemical peels, fillers, etc. Medical spa SEO focuses on elevating your website to the top of the search engine result pages (SERPs), making you more visible to your target audience.
Furthermore, because around 70% of searchers click the top results on the first SERP, a strong SEO strategy is the way to generate organic traffic. A robust website partnered with excellent SEO techniques can attract leads, convert them into paying clients, increase credibility and improve patient satisfaction.
The standard SEO strategies for medical spas include:
Keyword research;
Page title and meta description optimization;
Local SEO;
Link building; and
Content marketing.
Social media
Social media is an excellent way to promote your practice and share valuable content, including blogs, testimonials, videos, before-and-after images and more. Your social media strategy should be solid and consistent with your brand across all your channels: Facebook, Instagram, LinkedIn, Twitter, and whichever other platforms you use. It would be best if you also had a content calendar plotted for the various social media holidays and special events, such as Skin Cancer Awareness Month or Self-care Day.
Moreover, your posts should be less promotional and about 80% social. We recommend you designate a person on your team to manage your social channels. We highly recommend hiring an expert to curate content and posts if it fits within your budget.
Paid advertising
Pay-per-click (PPC) or Facebook/Instagram advertising is essential for growth. You want to work with an advertising expert so the funds allocated are well-spent. Any paid advertising needs to target your highest profit-per-treatment services. Specifically for Facebook, it all starts in the Facebook Ads Manager, a tool that allows you to create Facebook ads for your medical spa, track performance and conduct audience research. At the campaign level, create a campaign that actively drives lead form submissions to reach out to potential customers.
Partner to reach your fullest potential
If you're looking for a place to start unleashing your medical spa's fullest potential, look no further than Growth99—a leading digital marketing and technology company. Since the summer of 2017 and particularly in the wake of the global health crisis, Growth99 has seen exponential growth through continuous technological advancements.
Growth99 is an industry leader in innovative technology and digital marketing solutions that accelerate the growth of your business. With expertise in CRM, self-driving landing pages, and virtual consultations, it helps your practice become streamlined with one system and one team. The Growth99 team can design monthly social media assets that help extend brand awareness and develop an email marketing strategy to increase traffic to your website. Clients can efficiently connect with an AI chatbot, book appointments using an online booking platform, and receive the latest updates and specials with custom SMS campaign options, all with technology geared to scale your business and build your brand.
Related Tags
Subscribe to Our Email List
Medical spa news, blogs and updates sent directly to your inbox.