Back to Main Blog
Medical Spa VIP Programs Increase Loyalty and Retention
Posted By Kate Harper, Wednesday, October 24, 2018
By Bryan Durocher, Founder and President of Durocher Enterprises
Retaining patients is one of the keys to medical spa success, and VIP programs can be a huge driver for repeat visits. Loyalty rewards programs are used by some of the most successful businesses including GNC, American Airlines, and most of the credit cards we carry these days. We do not have to reinvent the wheel when it comes to these programs. Offer clients acknowledgement and value added incentives for being your best clients and they are more likely to keep doing business with you on a more consistent basis.

At your med spa everyone's a VIP (Very Important Partisan, that is). That's why it's important to have a Very Important Partisan (VIP) program to create loyalty among your most frequent patients. According to the 2017 Medical Spa State of the Industry Report, only 39% of medical spa practices have VIP programs in place to retain their most loyal clients.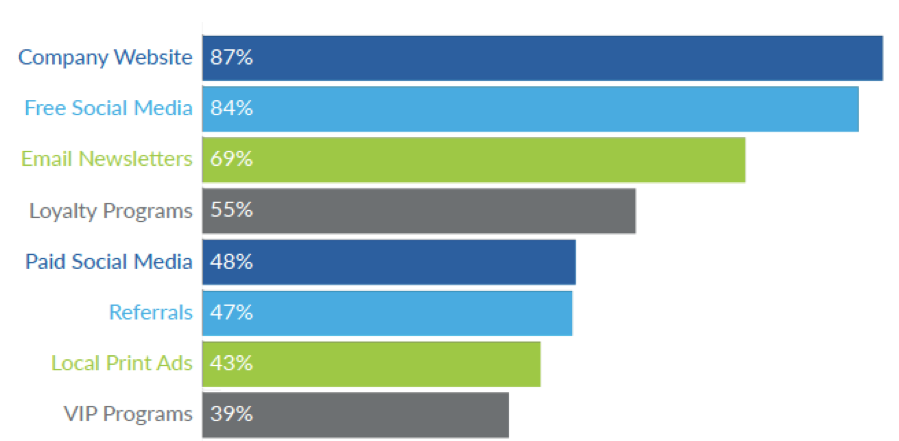 Updated numbers can be found in the 2019 Medical Spa State of the Industry Report. AmSpa Plus members can download a copy for free!
With the Internet and competition it's more important than ever to keep your hard-won clients shopping with you, since it can cost three to five times MORE to win new patients than to retain your existing ones.
Have them earn points for each service they enjoy and each product they purchase. For every 50,000 points they earn, clients receive a "store" credit worth $50 to spend on services, products, or gift cards.
Be careful, however, of offering rewards for referrals for med spa procedures because of laws regarding fee splitting.
Earning VIP Points – Omni-Channel Earning Clients who interact with you on more than one channel such as receive your newsletter, come to the practice, and follow you on social media typically will spend 18-36% more than clients who just visit for services.
---
---
Here's how your clients can earn points:
Activity Points Earned

Spend $1 at the med spa on gift cards, in store or online – 10 points earned
Spend $1 at the med spa on services, products, series, and memberships, in store or online – 100 points earned
Like and or follow on each of your social media pages Facebook, Instagram, Twitter, Pinterest – 500 points earned for each page.
Sign up for the newsletter – 1,000 points earned
Pre-book their next appointment at time of checkout – 2,500 points earned.
Your system needs to automatically track the points they'e earned. They can check their balance by asking your concierge, looking at the top of their receipt at checkout, or logging in to their online account (if available).
Redeeming VIP Points
Once they'e earned 50,000 VIP Points, you automatically send them an email alerting that they have earned a points reward. This requires that they have a valid email address in your system and that they have not opted out to email communication. When they check out of their appointment at the clinic, just alert the concierge to offer if they would like to spend their points and then credit the transaction $50.
Enrolling in the VIP Program
Your clients are automatically enrolled in your VIP program from the first time they make a purchase at the Med/Spa.
The Fine Print
There has to be a catch, right? Not really, but here are a couple of details about how the VIP Program works:
VIP points expire two years from the day that they were issued. So, if they haven't reached the 50,000-point threshold within those two years, the points may expire.
Points will be awarded at the time of check out. For example, if they refer a friend they will get their points when he/she checks out at the clinic. If they pre-book an appointment, they will earn those points when they check out of that appointment, not when they schedule it, etc.
VIP points may not be redeemed for cash.
No double dipping! Some purchases may not earn points. For example, they won't earn double points if they buy themselves a gift card and use it on their own purchase. If the spa suspects abuse or other behavior, it can reserve the right to terminate the enrollment in the program.
VIP points are non-transferrable, but they may purchase a gift card with their VIP points to give to a friend.
Consider these other restrictions in your program terms:

May not be valid with some special offers, sale items or special purchases.

The med/spa reserves the right to terminate or modify the program at any time.
Clients may not earn points on purchases or services made using third party gift cards or tender.
Card is only valid for cardholder.
Card must be present to accumulate points.
Points cannot be earned from previous purchases.
Only the cardholder's purchases are valid towards point accumulation.
Points are not awarded on shipping charges or sales tax. Product returns and other financial adjustments will be deducted from their total points.
Because there is a savings don't offer VIP points for gift cards purchases that result in earning a bonus gift.
Enjoying treatments at the med spa may be habit forming, resulting in lower levels of stress, increased wellness, and moments of extreme contentment.
VIP Program Example
The Med/Spa has created valuable benefits to reward our most loyal guests and thank you for your patronage, support and trust.
The Med/Spa VIP program provides you with additional opportunities to make your experiences at our Med/Spa more valuable. View your additional opportunities for saving below.
10% off retail purchases
Full Privilege points on product purchases when you spend $300 on product enjoy a $15 product credit in the retail store
Insider savings on new services
ABC Med/Spa gifts for special occasions
5% discount on series purchases all year (VIP use only)
Complimentary Delivery of Gift Cards and Gift Boxes
10% discount on gift card purchases during the months of Jan., Apr., Jul. and Oct.
Ask a concierge or your service provider about additional discounts
ABC Med/Spa VIP program cost for annual membership:
$500 for an individual (saving) or $50 per month
Membership can be paid up front or automatically deducted from your account each month.
The ABC Med/Spa VIP program provides savings based on anticipated use. Memberships will expire 1 year after the date of purchase. There are no refunds, credits, or cash given for "unused memberships."
The VIP program renews annually upon each client's enrollment date.
You will need to create signage and information about your program to create awareness among your team and client base.
Marketing
Signage can involve large posters throughout the business, station and treatment room signage, POP displays, and flyers for the retail bags when purchases are made. A banner across your website promoting the program is a good idea!
Other marketing tools to promote the program are business newsletters and e-mail marketing to your data base.
Additionally, you can offer your team member incentives for each VIP membership they sell. For the Front desk, you can offer an override to the team based on total sales.
For more ideas on how to build a profitable and legally compliant medical spa attend an AmSpa Medical Spa & Aesthetic Boot Camp and be the next med spa success story.
Bryan Durocher is the author of Wakeup Live the Life You Love in Beauty, and is the founder of Essentials Spa Consulting and Durocher Enterprises. Durocher was named one of the "Top 20 People to Know in the Beauty Industry" by Global Cosmetic Industry magazine, and provides coaching, consulting, global industry trends, and marketing solutions for medical spa, spa and industry professionals internationally. He has published many articles and has provided business education internationally at a variety of national and international industry events including AmSpa's Medical Spa & Aesthetic Boot Camps and The Medical Spa Show.
Related Tags