Back to Main Blog
Top Medical Spa Legal Issues
Posted By Aly Boeckh, Tuesday, August 15, 2017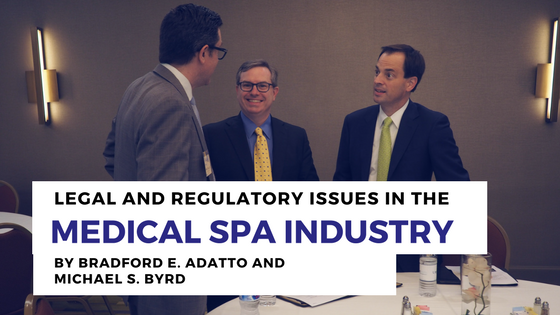 The medical spa industry exists at the unfortunate confluence of state statutes, regulations, and often, the rules of multiple professional boards. Although it is easy for a savvy veteran of the medical spa industry to unintentionally run afoul of this web of regulation, it is also shockingly common for some medical spas to be noncompliant with even the most basic of rules. Equally shocking is that the reason behind this noncompliance can be traced back to simple maxim: Many, if not most, of the services offered in medical spas constitute the practice of medicine.
All things considered, perhaps it's not that surprising that this basic tenet gets overlooked, because medical spas go out of their way to create welcoming, relaxed environments in which patients can receive aesthetic or cosmetic treatments and services. This cultivated "retail" feel is intentional and is antithetical to the feel one often experiences when visiting a doctor, which is perhaps why the fact that medical spa services are the practice of medicine can also easily be overlooked or ignored. However, it is important for both the medical spa and the spa's clients to bear in mind that most medical spa services do constitute the practice of medicine and should be treated accordingly.
Key Problem Area No. 1: The Initial Exam
One key area in which medical spas are often noncompliant is the initial examination of a patient seeking treatment at a medical spa. In the American Med Spa Association's (AmSpa's) recent 2017 State of the Medical Spa Industry Report, 37% of respondents admitted that they either do not perform a good faith examination prior to a patient's first treatment at the medical spa or that the examination is not performed by a physician, physician assistant (PA), or nurse practitioner (NP). Good faith examination is a term used in California to mean the performance of an appropriate prior examination and medical indication before pre- scribing, dispensing, or furnishing a dangerous drug, which would include botulinum toxin type A or fillers prescribed for a patient. Although the good faith examination serves a specific purpose, the responses to the AmSpa survey inform a broader area of noncompliance, because physicians, or the mid-level practitioners to whom they can properly delegate the task, often do not perform an initial patient examination or prescribe treatment plans for medical spa patients. And while the semantics might differ, all states have some requirement that a physician must prescribe a course of treatment before medical spa services may be rendered.
In most states, this initial assessment may be delegated to a PA or NP when proper delegation and supervision protocols are followed, but it would be beyond the scope of practice for a registered nurse (RN) or licensed practical nurse (LPN) to engage in this diagnosis phase of the treatment. This becomes a problem for medical spas, because it is common for a RN to see and treat patients in the facility without the patient ever coming into contact with a physician or a mid-level practitioner, such as a PA or NP. This means that even if the RN performs an initial assessment, that nurse would have acted outside the scope of his or her authority and that medical spa just joined the ranks of the 37% of spas that fail to perform a proper initial assessment of the spa's patients. This makes this medical spa noncompliant with state law or regulation.
This issue is further complicated by the emergence of telemedicine as a viable alternative through which health care can be delivered, as it begs the question of whether an initial assessment that complies with state requirements can be completed via telemedicine. To make matters worse, telemedicine is a still developing and evolving legal concept, and laws vary widely from state to state. When it comes to performing the initial assessment via telemedicine, states generally fall into three schools of thought: (1) the initial assessment cannot be performed via telemedicine at all; (2) the initial assessment may be performed via telemedicine where the physician, PA, or NP is present through streaming audio and video, and a nurse is physically present with the patient to guide them; or (3) the initial assessment may be performed via telemedicine where the physician, PA, or NP is present through streaming audio and video. Because many states lack a comprehensive statutory or regulatory structure addressing telemedicine, a medical spa wishing to implement initial assessments via telemedicine would be safest by seeking legal counsel on compliance requirements of the state.
Key Problem Area No. 2: Commissions
Another area where medical spas commonly fail to comply with regulation is in the payment of commissions to people working in spas for the performance of specific services. In fact, according to AmSpa's 2017 State of the Medical Spa Industry Report, 31% of respondents pay commissions for the performance of certain medical treatments. Commissions do not, in and of themselves, violate state law. Rather, commissions fall within a veritable minefield of regulations that intersect to make what otherwise would be a benign form of compensation when properly structured into a payment that is at best unprofessional conduct and at worst illegal. Improper commissions are commonly referred to as fee-splitting, which can be true, but such commissions actually run the risk of violating multiple areas of the law, including fee-splitting, kickbacks, the corporate practice of medicine doctrine, or physician self-referral laws.
Fee-splitting is defined as the practice of sharing fees generated from the performance of professional services with other persons as compensation for referring a patient. Kickbacks are somewhat different from fee-splitting as the focus is not on the source of the income (professional services), but rather whether the compensation, regardless of source, was used to generate referrals.
Kickbacks are generally defined as any sort of compensation, money or otherwise, that is directly or indirectly given or received to induce or reward patient referrals. Physician self-referral prohibitions go hand-in-hand with kickbacks, because they prohibit a physician from paying for referrals to or from another medical practice in which a physician has an ownership interest. Self-referral prohibitions often can be avoided by simply disclosing to a patient the physician's interest in the practices, and the fact that a fee is being paid for the referral in the form prescribed by a particular state.
Finally, the corporate practice of medicine doctrine prohibits certain business entities or unlicensed individuals from practicing medicine or employing a physician to provide medical services. This means that a commission that (1) is a portion of a professional fee or (2) is paid as compensation for giving or receiving referrals or (3) is paid between entities in which the same physician has an ownership interest or (4) is paid to persons ineligible to have ownership in a medical spa all potentially violate state law or regulation, depending on the particular prohibitions that a state has codified.
Naturally, this raises the question of when can commissions be paid for the performance of medical services. The simplest answer is to avoid commissions to navigate the regulatory mine- field. The best practices of medical spas are to pay a bonus for specified performance metrics or pay a discretionary bonus.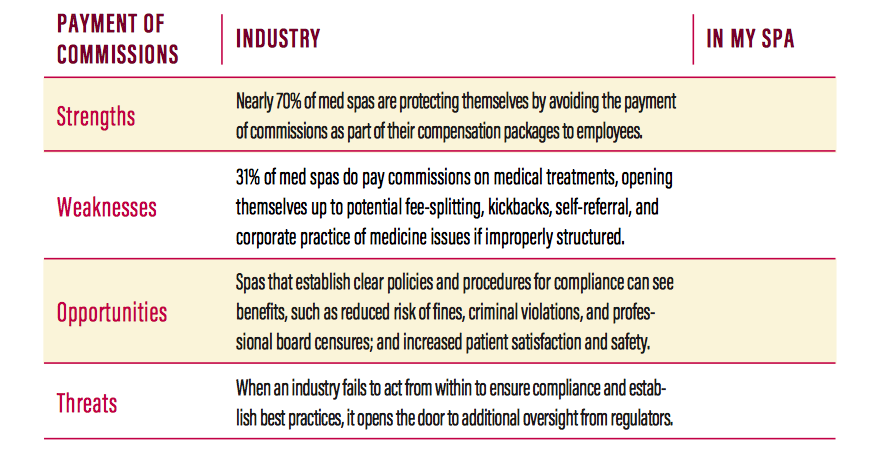 Navigate Carefully
The payment of commissions and the performance of proper initial assessments of medical spa patients are just two examples of noncompliance. Because medical spas exist at the intersection of state law, regulations, and professional board rules, it is easy for a well-intentioned medical spa to be noncompliant. With that in mind, always remember that most treatments at medical spas are considered to be the practice of medicine and everything from the assessment of the patient to the delivery of treatments should be navigated carefully. Also, if a medical spa is going to use incentives as part of a compensation package for its employees, do not pay commissions. Finally, if you ever have any questions or concerns regarding your spa's compliance with laws, regulations, and professional board rules, please seek legal counsel. (Author's note: The American Med Spa Association (AmSpa) works with ByrdAdatto, a national law firm that focuses on medical aesthetic legalities and, as a member, along with a number of other great benefits, you receive a free initial consultation. To learn more, click here.)
This article was originally published in Modern Aesthetics May/June 2017 Supplement issue.
As the son of a doctor and entrepreneur, Michael S. Byrd , Partner at ByrdAdatto Law Firm, has a personal connection to both business and medicine. He routinely lectures at continuing medical education seminars on the various business and legal issues that medical professionals face. Outside of healthcare, he has handled sensitive and complicated business matters for entrepreneurs, business owners, attorneys, CPAs, high net worth individuals, and public figures. He is also active on the Board of Directors of the LEAP Foundation, an organization that provides pro bono medical services to those in need.

Bradford E. Adatto, Partner at ByrdAdatto Law Firm, decided to become a lawyer during sixth-grade Career Day, when he promised to represent his best friend, a future doctor. Adatto's background is in regulatory, transactional, and securities law. Having worked in healthcare law his entire career, he has an in-depth knowledge of the "do's and don'ts" of this heavily regulated industry. Adatto is actively involved in various community and philanthropic associations, and serves as a Board Member of Carry the Load, a charitable organization founded to help veterans and their beneficiaries.
Related Tags