Back to Main Blog
What's New in Microblading
Posted By Mike Meyer, Monday, October 7, 2019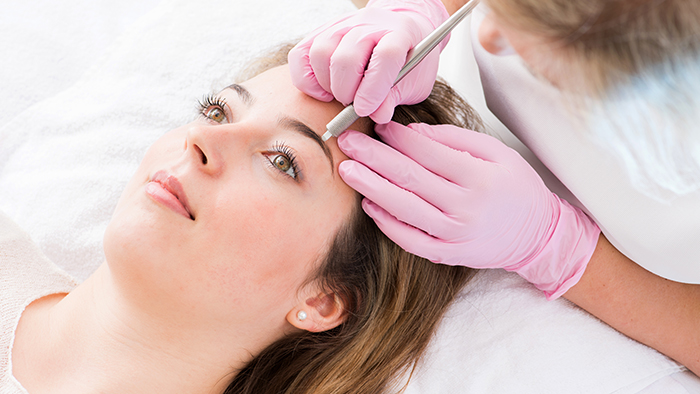 By Alex R. Thiersch, JD, CEO of the American Med Spa Association (AmSpa)
Microblading is a semi-permanent beautification technique that typically is used to improve the perceived thickness of eyebrows. When performing microblading, providers create superficial cuts near the surface of the skin and fill them with pigment, creating the illusion of fuller hair. It is an increasingly popular treatment—in fact, according to the American Medical Spa Association (AmSpa) 2019 Medical Spa State of the Industry Report, 27% of medical spas offer microblading services, up 2% from the 2017 study, and a further 8% are considering adding microblading to their menus.
The growing success of this treatment suggests that the market has yet to reach saturation, so enterprising practices stand to make a great deal of money with this technique. Here's what medical spa owners and operators need to know about offering microblading services.
The Treatment
Microblading is extremely inexpensive to practice owners—it only requires a disposable device that costs around $5. Also, a practice typically does not need a doctor or a health care provider to perform these treatments, which helps keep its practical costs low. However, medical spas typically charge up to $500 for microblading services, so they are realizing very high profit margins when these procedures are administered.
Patients like microblading because it is semi-permanent, which is much more palatable than the lifetime commitment that comes with tattooing, which has been used in the past to add body to eyebrows. In addition, microblading tends to look more natural than tattooing.
"It's becoming a much more popular procedure—it just keeps growing and growing," says Maegen Kennedy, PA-C, of Fleek Brows Microblading and Training in Orlando. "There's a lot of good that comes from microblading, but it just needs to be done the right way and with the right safety protocols."
Unfortunately, the rapid growth of microblading has created some issues surrounding the procedure and its practitioners.
"I'm finding that microblading is becoming more of a commodity—it's becoming less about the artwork and more about the price," Kennedy says. "There's such a high amount of potential revenue that it is extremely attractive to people who feel that they have artistic abilities or would be able to develop the artistic ability. When you have a $100,000 potential salary [that can become] up to a $500,000 potential salary or more from doing this procedure, it's like a gold mine."
As the demand for the procedure has skyrocketed, so has the demand for trained practitioners. Since there are relatively few qualified trainers available to meet that demand, the void is being filled by some potentially bad actors.
"There are so many places that are now offering training, and there is no requirement to be a trainer at all in any capacity, and so anybody could call themselves a trainer," Kennedy says. "A lot of these training academies are just popping up literally overnight. I find that there's a lack of medical-based training, and people are getting trained by various companies that really aren't good, truthfully, or aren't providing the type of training that they should be receiving to be able to actually do this procedure."
The Wild West... for Now
Since the microblading process is so similar to that of tattooing, most states that have issued rulings on the matter of who can legally perform these treatments have stated that a tattooing or body art license is required. If your practice is located in one of these states, your aestheticians or unlicensed practitioners would need to get these licenses, if they don't already have them, in order to perform microblading treatments in a medical aesthetic practice. This might sound like a bit of a hassle, but obtaining a tattooing license tends to be simpler than you might imagine—and therein lies the problem.
"The laws are way too lenient," Kennedy says. "The procedure hides under the umbrella of a tattoo artist and, unfortunately, that means it just doesn't have a lot of requirements or regulations associated with it. There just needs to be much more oversight for safety because there's no medical degree required to do this procedure. You can be a banker one day and a microblader cutting on someone's face the next day."
In recent years, several states have introduced legislation designed to more clearly define microblading and recommend registration and licensure procedures, but none have been signed into law. In Missouri, for example, House Bill 877 (2017) and House Bill 71 (2018) sought to modify the state's existing definition of tattooing to include "new cosmetic procedures performed with the aid of needles or blades ... ." Both bills died in committee. Similar measures were introduced in Massachusetts, Nebraska and New Mexico legislatures, but none were signed into law.
However, according to Kennedy, simply categorizing microblading as tattooing across the board might represent a step in the wrong direction.
"People don't realize that it's actually a real procedure—that you're cutting on someone's face," she says. "They assume when they go to these places that they're using sterile techniques and they're in good hands, but it's a real procedure—they're cutting their skin open, essentially."
And although action has not been spurred by any high-profile bad outcomes, Kennedy believes that it's only a matter of time before underqualified practitioners cause real problems for those who practice compliantly.
"Even when the procedure goes wrong and it looks bad, patients typically aren't taking any action against anybody," Kennedy says. "I find that they just kind of hide out and they're depressed and they're sad and they're frustrated and they're angry. But I haven't seen or heard of many people who are taking legal steps with any of the artists when they have a bad outcome. But I don't think that's going to be the case for long, because as it becomes more widely available and people are getting it done left and right, there are definitely going to be some problems with managing infection, allergic reactions or much worse things that can happen."
Kennedy says that she spends a lot of her time fixing problems created by unqualified practitioners.
"There's a lot of work I'm trying to correct from people who are putting brows too close together, too high, too low, or using the wrong color," she says. "I probably get one phone call a day from a person who got microblading done, and they're very dissatisfied with their face. They feel ruined. It's a very serious procedure, and I think there's just a lot of people doing it that aren't qualified to do it or aren't doing a good job."
Consult a local health care attorney to learn how microblading is regulated in your state. He or she also can tell you what is required to get a tattooing license where you live, if you or your employees need one, and may be able to recommend reputable trainers.
An Evolving Art Form
Thankfully, the popularity of microblading is also leading it to greater legitimacy in some circles.
"Medical spas are offering a lot more microblading than they ever have before," Kennedy says. "Instead of solo artists going and doing their own thing, I'm seeing a lot more of incorporation into medical spas, which is a good thing. The environment is typically much more regulated. I'm also seeing people who open up solo microblading places and are doing really well start to include injectables, so they bring in injectors, and now that they have this patient base. They are opening med spas because they were successful in brows and they're now moving into opening actual, real med spas."
Microblading is not going away any time in the near future. Even though it is likely going to face legal tests and evolve into different forms—"combo brows," for example, are growing in popularity and combine semi-permanent microblading with actual tattooing—conscientious medical spa owners should consider offering this treatment.
To learn more about legal and business best practices to keep your med spa compliant and profitable, attend one of AmSpa's Medical Spa & Aesthetic Boot Camps and become the next med spa success story.
Related Tags
Subscribe to Our Email List
Medical spa news, blogs and updates sent directly to your inbox.