Back to All News
AmSpa Throws One Helluva Party!
Posted By American Med Spa Association, Wednesday, October 16, 2013
Well, that was….
awesome
!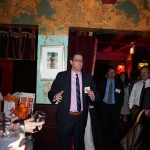 For those of you who didn't know, last Wednesday AmSpa threw a networking reception for the med spa community at Carnivale in Chicago. We were overwhelmed by the response we received. The room was packed, the drinks were flowing, and the food was sensational. But the best part of the night was hearing the incredible feedback we received from the attendees… and the desire for more networking events in the future! We had industry professionals, surgeons, med spa owners, NP's, PA's – the whole industry was represented. It was truly a great event. But don't take my word for it – see for yourself!
Attending the Amspa event at Carnivale was a thoroughly engaging and worthwhile event for anyone in the medspa/aesthetic community. I highly recommend it to anyone in the field of aesthetics and I look forward to future events! -
Eliza Parker, MD -Cadella Med Spa and Wellness Center
******
AmSpa's event was a gathering of the who's who of the areas Med Spas and related industry professionals. Loved networking with such great personalities and great food! -
Cleighton DePetro - Sempurna Restoration Clinic
******
It was wonderfully planned, good attendance, and overall a great event. Everyone was networking, talking and offering support. Can't wait for future AmSpa meetings. -
Nealy L. Skeldon - DermaConcepts/Environ
******
The AmSpa event at Carnivale was so much fun! What a great time with good people in the industry! To see old members again and connect with new ones was awesome! Hopefully they will continue to have these events at other great places, I cannot wait until the next one! -
Crystal Spaeth - Nuovo Aesthetics & Smartlipo