Back to All News
Doctors Warn Certain Tattoo Ink Colors Are Extremely Harmful
Posted By American Med Spa Association, Thursday, May 28, 2015
Many "inked up" Americans experience tattoo regret as their skin begins to age, but some experience that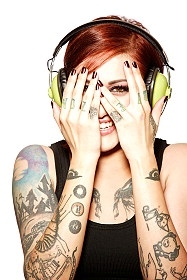 regret immediately after getting their new body art. A recent study conducted at NYU Langone Medical Center has revealed that six percent of New Yorkers with a tattoo have experienced long-term medical complications related to their ink, including tattoo-related rash, severe itching, or swelling.
"We were rather alarmed at the high rate of reported chronic complications tied to getting a tattoo," Dr. Marie Leger, an assistant professor in NYU Langone's Ronald O. Perelman Department of Dermatology, said in a statement. "Given the growing popularity of tattoos, physicians, public health officials, and consumers need to be aware of the risks involved."
Leger and her colleagues conducted survey interviews with around 300 adults in New York's Central Park in June 2013. Survey respondents were between the ages of 18 and 69, the majority of which had no more than five tattoos. Sixty-seven percent of tattoos were located on the arm, making it the most popular tattoo site. Leger estimates that one in five adults in the United States has at least one tattoo.
Read more at
MedicalDaily.com
.