Back to All News
Medical Spas Beware: Google Penalty Coming for Non-responsive Websites
Posted By American Med Spa Association, Tuesday, March 31, 2015
By Matthew Arndt, Founder, Turbo Marketing
If you haven't heard the news,
Google has announced
that, starting April 21, 2015, its algorithm will shift to use mobile-friendliness as a "ranking signal." Although this isn't really surprising (Google has issued warnings via Webmaster Tools for the past year), the announcement of a specific algorithm change contrasts with previous updates, such as Penguin, PANDA and Hummingbird.
Most likely, Google is being transparent to really warn "innocent" websites that they had better update or they could see their search engine rankings plummet. In the past, warning black-hat websites--sites that utilize black-hat SEO practices that increase a page's rank in search engines through means that violate the search engines' terms of service--wasn't necessary, but many of the websites potentially affected by this update are not utilizing black-hat tactics in order to manipulate Google's algorithm.
Why is Google making this update? Simple: Google is trying to continue to provide the best and most relevant search results to people searching. A site that's not mobile-compatible will almost always have higher bounce rates, because the user has to pinch the screen to read the text. Navigating and filling out web forms is also more difficult on a non-mobile responsive site.
This line of thinking from Google extends beyond just mobile-compatibility. Your website speed also plays a role in how well your site ranks. If your site is slow to load, Google will conclude that users will leave, thus they don't want your site showing up highly in search results.
So how do you know if your website is mobile-compatible?
Google has a mobile-friendly test
that you can utilize. Also, if you have Google Webmaster Tools that you monitor, you may have already seen warnings about mobile-compatibility.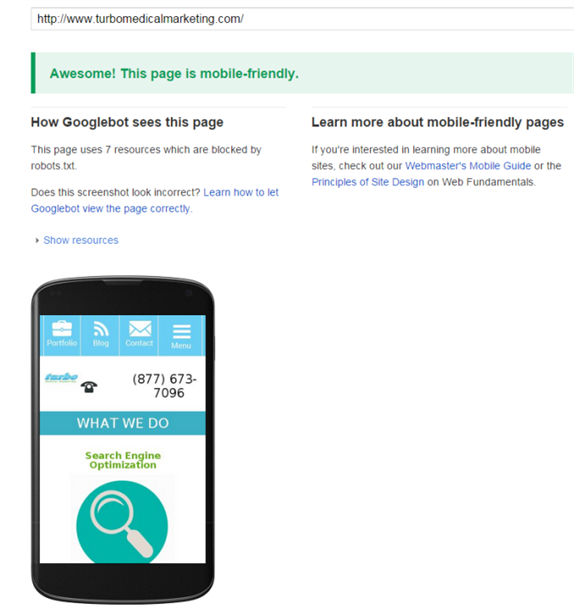 Google also announced back on February 26th that indexed app content will now be a factor for "signed-in users who have the app installed."
Do you have a website that's not mobile-friendly?
Turbo
can walk you through your options for getting it updated. A "responsive" website will adjust based on screen size, so that it fits well on smartphones and tablets of all sizes. Learn more about your options today and start improving your rankings and bounce rates.
Want to learn more about mobile compatibility and other factors that affect new patient generation from your website? Watch Turbo's free video now on the "
Top 4 Ways to Increase New Patient Generation from your Medical Spa Website!
"
Screenshot of actual Google
mobile-friendlytest