Back to All News
Study Published Demonstrates Significant Improvement In Face And Neck Treatment
Posted By American Med Spa Association, Friday, June 26, 2015
Syneron Medical Ltd. (NASDAQ: ELOS), a global market leader in the aesthetic medical device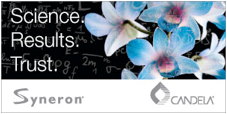 marketplace, today released the results of a new clinical trial for
Profound
™, an innovative radiofrequency device clinically proven to improve facial and neck wrinkles without surgery.
Profound delivers energy directly into the deep dermis to stimulate elastin, collagen, and hyaluronic acid, the three key building blocks for healthy, youthful skin. As a result, the treatment adds volume and resiliency to the jawline, neck, jowls, nasolabial folds and cheeks. It is ideal for women and men who are seeking a non-surgical, minimally invasive treatment to look younger.
In the new randomized, blinded, 3-arm clinical trial published in the
Dermatologic Surgery Journal
May 2015
issue[1], Macrene Alexiades, MD, PhD, Associate Clinical Professor at
Yale University School of Medicine
, set a new standard in treatment protocols by determining the optimal temperature and duration of temperature for maximum histologic and clinical results in wrinkle and laxity reduction.
The results are the culmination of a decade of research which used Syneron's patented and proprietary Profound™ micro-needle-based radiofrequency energy delivery system with precise, real time, temperature control within the skin. The study arm that used optimal treatment parameters settings resulted in a 100% response rate among all subjects treated as assessed by blinded evaluation.
This publication is the sixth peer reviewed paper that demonstrated the unique capabilities of the Profound™ technology in facial and neck treatments for wrinkles, loose skin and skin volumizing. One of these papers was the first to show that an energy based device generates the three most important elements of youthful skin: new collagen, new elastin and new hyaluronic acid. The current paper established the optimal treatment parameters for Profound™ for face and neck.
The current results suggest that with optimal settings, a Profound™ treatment can produce up to 89% of the laxity improvement results of a surgical facelift. With the new protocol for optimal settings to produce superior results, patients can realize many of the benefits approaching the surgical facelift with this novel minimally invasive in-office 30-minute treatment.
"With these results, we now know for the first time in history precisely how much energy we need to deliver into the dermis and what endpoints to generate the most dramatic results possible without adverse events," says Alexiades. "In my experience, this is by far the most effective device for dermal volumizing and laxity reduction in a single treatment."
The breakthrough technology meets the demands of today's consumers. In a recent survey, more than half of women with sagging jaw lines and "turkey necks" have considered nonsurgical treatment.[2]
Unlike facelifts, which require general anesthesia, long incisions, and recovery, Profound patients typically experience only minor redness that resolves within two to 12 hours and minimal swelling for up to five days. Most patients can resume normal activities within 24-48 hours.
"Profound is at the forefront of a new category of innovative medical aesthetic devices that addresses skin aging in an entirely different way than what is currently available," says
Shimon Eckhouse
, PhD, Chairman of the Board of Directors of Syneron Candela. "Consumers want non-surgical procedures that deliver maximum results. With Profound's technology, physicians are able to consistently achieve this, allowing them to create dramatically younger, smoother and more elastic skin with unprecedented outcomes."
About Syneron Candela

Syneron Candela is a leading global aesthetic device company with a comprehensive product portfolio and a global distribution footprint. The Company's technology enables physicians to provide advanced solutions for a broad range of medical-aesthetic applications including body contouring, hair removal, wrinkle reduction, tattoo removal, improving the skin's appearance through the treatment of superficial benign vascular and pigmented lesions, and the treatment of acne, leg veins and cellulite. The Company sells its products under three distinct brands, Syneron, Candela and CoolTouch, and has a wide portfolio of trusted, leading products including UltraShape, VelaShape, GentleLase, VBeam Perfecta, PicoWay, Profound and elos Plus.
Founded in 2000, the corporate, R&D, and manufacturing headquarters for Syneron Candela are located in
Israel
. Syneron Candela also has R&D and manufacturing operations in the U.S. The company markets, services and supports its products in 86 countries. It has offices in
North America
,
France
,
Germany
,
Italy
,
Portugal
,
Spain
, UK,
Australia
,
China
,
Japan
, and
Hong Kong
and distributors worldwide.
For additional information, please visit
http://www.syneron-candela.com
.SAFE HARBOR FOR FORWARD-LOOKING STATEMENTS

This news release contains forward-looking statements within the meaning of the Private Securities Litigation Reform Act of 1995 that involve risks and uncertainties. Such forward-looking statements include the expectations, plans and prospects for the Company, including product efficacy, market acceptance of new products, and projected revenues, margins, earnings and market shares. The statements made by the Company are based upon management's current expectations and are subject to certain risks and uncertainties that could cause actual results to differ materially from those described in the forward-looking statements. These risks and uncertainties include the risk factors and other cautionary statements described in the Company's filings with the SEC, including those described in the Company's most recent Annual Report on Form 20-F, and in the filings that Syneron Medical makes with the SEC, and other factors beyond the Company's control. If one or more of these factors materialize, or if any underlying assumptions prove incorrect, Syneron Medical Ltd.'s actual results, performance or achievements may vary materially from those expressed or implied by these forward-looking statements. These forward-looking statements should not be relied upon as representing Syneron Medical Ltd.'s views as of any date after the date of this document. The Company does not intend to update these statements and undertakes no duty to any person to provide any such update under any circumstance.