Dermaplaning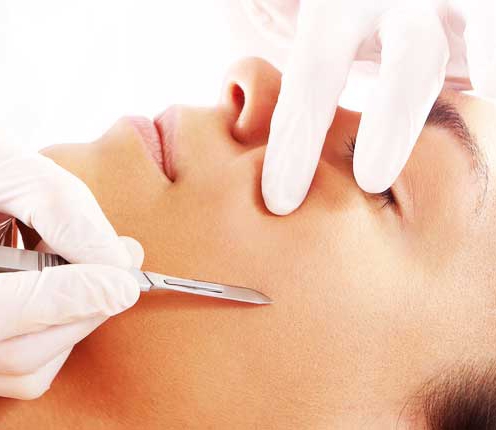 Dermaplaning is a noninvasive skin care procedure that exfoliates the surface layers of the skin through the use of a scalpel, and reduces the appearance of deep, pitted acne scars, resulting in a smoother and more even complexion. Dermaplaning is designed to treat the small, but deep scars that sometimes result from cystic acne. Gentler versions of dermaplaning are sometimes used as exfoliating or hair-removal treatments.1

Dermaplaning may be an attractive option for those seeking to improve the tone and texture of their skin, or remove deep scars from acne without the possibility of irritation from chemical peels and the expense of laser skin resurfacing. Although no treatment can fully eliminate all scars or flaws, dermaplaning typically produces excellent results.1

Contraindications of dermaplaning include:

Current inflamed acne lesions;
Skin cancer;
Active cold sores;
Uncontrolled diabetes;
Dermatitis;
Open skin lesions;
Use of Accutane currently or in the past six months; and/or
The use of prescription retinol within a week of treatment.
2; The dermaplaning patient may be put under anesthesia to reduce any discomfort he or she might otherwise feel.1

It can take anywhere from a few minutes to a full hour to complete the procedure, depending on the needs of the patient. Sometimes, patients opt to undergo the dermaplaning procedure in stages.1

Similar to microneedling, it is recommended that the procedure be done every 3–4 weeks, which coincides with a normal skin cycle of approximately 30 days. The results are typically long-lasting.

Much confusion exists over who can perform dermaplaning; however, AmSpa believes that most states consider or will consider dermaplaning to be a medical treatment. Most state boards have indicated that, because it involves the use of a scalpel, it is a medical treatment that should only be performed by medical professionals under the supervision of a physician. AmSpa is aware that it is common that estheticians perform this procedure; however, most state boards do not approve of this practice. Because it is considered a medical treatment, prior to your initial treatment, the medical spa should conduct an in-person exam by either a doctor, a nurse practitioner or a physician assistant. Please check with your local medical board, nursing board or health care attorney for more information.

Dermaplaning is normally safe when performed by a qualified, experienced board-certified physician. The most common risk is a change in skin pigmentation. Permanent darkening of the skin may occur in some patients due to sun exposure in the days or months following surgery. On the other hand, some patients find the treated skin remains a little lighter or blotchy in appearance. You may develop tiny whiteheads after surgery. These usually disappear on their own, or with the use of an abrasive pad or soap (the surgeon may have to remove them occasionally). You may also develop enlarged skin pores; these usually shrink to near normal size once the swelling has subsided. Although infection and scarring are rare with skin-refinishing treatments, they are possible. Some individuals develop excessive scar tissue (keloid or hypertrophic scars); these are usually treated with the application or injection of steroid medications to soften the scar.2

After the dermaplaning procedure, the skin may be red and swollen. Tingling and aching can be managed with pain medication prescribed by the doctor. Over the next three months, the patient's results will begin to emerge. Since this new skin will be sensitive, it is important to minimize sun exposure during this time.1

Disclaimer: The information and answers contained in this section provide a general guide to laws that apply to "medical spas". The information contained on this site is for general reference only. This information is not intended to provide legal advice, and it should not be relied upon as legal advice. This information is not intended to create, and receipt of it does not constitute, an attorney-client relationship. Readers: You should not act upon this information without seeking knowledgeable legal counsel that takes the laws of your jurisdiction into account. All uses of the content of this site, other than personal uses, are prohibited.