Microneedling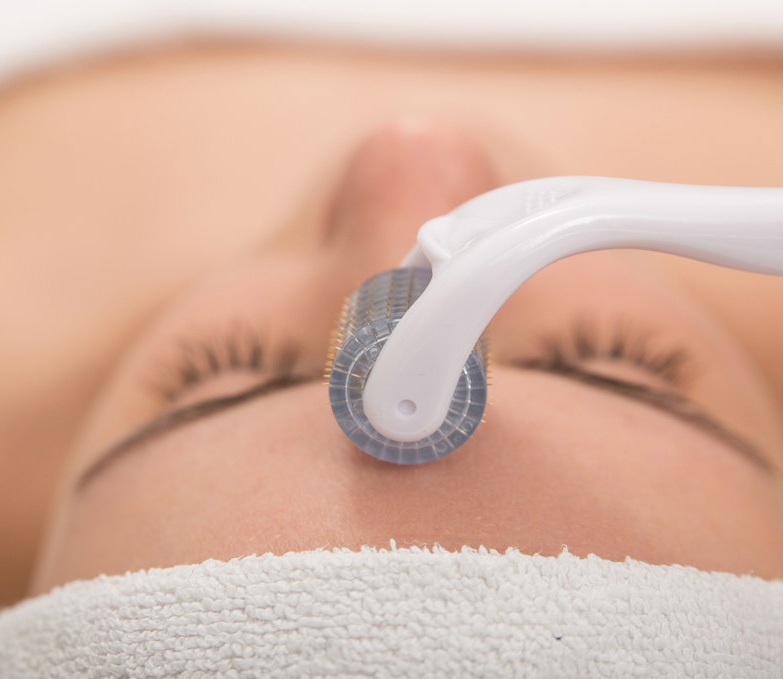 Microneedling, also known as collagen induction therapy, is a minimally invasive treatment to rejuvenate the skin. A device with fine needles creates tiny punctures in the top layer of the skin, which triggers the body to create new collagen and elastin. Results can include improved texture and firmness, as well as a reduction in scars, pore size, and stretch marks.1

Microneedling is an excellent treatment to improve the appearance of acne scars, skin texture issues, fine lines and roughness.2

Relative contraindications include:

Keloid or raised scarring;
History of eczema, psoriasis and other chronic conditions;
History of actinic (solar) keratosis;
History of herpes simplex infections;
History of diabetes;
Presence of raised moles, warts or any raised lesions on targeted area.
Absolute contraindications include:

Scleroderma;
Collagen vascular diseases or cardiac abnormalities;
Rosacea and blood-clotting problems;
Active bacterial or fungal infection;
Immunosuppression; and/or,
Scars less than six months old.3
The procedure takes roughly an hour. It's a noninvasive procedure.

You will see results with one treatment, but the results will be even greater if you do a series of treatments. Some recommend that patients have microneedling performed every 4–6 weeks, depending on the depth of their treatment.4

Much confusion exists over who can perform microneedling; however, AmSpa believes that most states consider or will consider microneedling to be a medical treatment. Most state boards have indicated that, because it involves the use of needles, it is a medical treatment that should only be performed by medical professionals under the supervision of a physician. AmSpa is aware that it is common that estheticians perform this procedure; however, most state boards do not approve of this practice. Because of this, and because it is considered a medical treatment, prior to your initial treatment, the medical spa should conduct an in-person exam by either a doctor, a nurse practitioner or a physician assistant. Please check with your local medical board, nursing board or health care attorney for more information.

Some side-effects may include:

Pigment loss or increase;
Skin infection;
Some bleeding at the treatment site;
Redness; and/or,
Inflammation.2
After the session, you can expect to be red for a period of up to five days, but you can wear mineral makeup starting the next day to hide the color. Many patients can expect to be able to go out to dinner the following night. People may experience some light burning, tightness, and mild flaking. Noticeable difference in the texture of the skin will occur within a couple of weeks.5

Disclaimer: The information and answers contained in this section provide a general guide to laws that apply to "medical spas". The information contained on this site is for general reference only. This information is not intended to provide legal advice, and it should not be relied upon as legal advice. This information is not intended to create, and receipt of it does not constitute, an attorney-client relationship. Readers: You should not act upon this information without seeking knowledgeable legal counsel that takes the laws of your jurisdiction into account. All uses of the content of this site, other than personal uses, are prohibited.