Skinpen®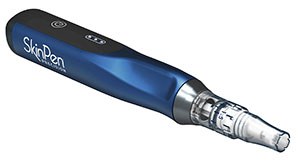 SkinPen® by Bellus Medical is clinically proven to improve the appearance of facial acne scars for people aged 22 and above in all skin types1.

Can any other microneedling device make a similar claim? In a word, no.

Here's another claim no other device can make: That it's FDA-cleared. Because there's only one FDA-cleared microneedling device. And it's called SkinPen.

SkinPen triggers the skin's remodeling process by creating thousands of tiny micro-injuries in the dermis, generating new collagen without causing the formation of scar tissue2. Learn more about how microneedling triggers the three-stage wound-repair process.

Procedures typically take only 30 minutes, depending on the size treated and the desired results. Due to their non-invasive nature, microneedling sessions usually require little to no downtime for patients. Find out why patients love the benefits provided by SkinPen.

And of course, both patients and providers appreciate the impressive results in our before-and-after gallery.

SkinPen treatments also yield substantial ROI for practices.
TSkinPen is safe and effective for all skin types.

SkinPen should not be used on patients who have active skin cancer in the treatment area(s); open wounds, sores, or irritated skin in the treatment area(s); an allergy to stainless steel or anesthetics; a hemorrhagic (bleeding) disorder or hemostatic (bleeding) dysfunction; are pregnant or nursing; or are currently taking drugs with the ingredient isotretinoin (such as Accutane).

Since SkinPen is a minimally invasive treatment that is typically used with a numbing agent, the pain level is low: 2 to 3.

Though the cost of SkinPen procedures varies depending on the size and the number of treatment areas, the usual treatment price is about $350.

Each SkinPen treatment will likely take 30 minutes to one hour.

Three SkinPen treatments are recommended for the best results, improving your appearance for six months after your last treatment.

Much confusion exists over who can perform microneedling; however, AmSpa believes that most states consider or will consider microneedling to be a medical treatment. Most state boards have indicated that, because it involves the use of needles, it is a medical treatment that should only be performed by medical professionals under the supervision of a physician. AmSpa is aware that it is common that estheticians perform this procedure; however, most state boards do not approve of this practice. Because of this, and because it is considered a medical treatment, prior to your initial treatment, the medical spa should conduct an in-person exam by either a doctor, a nurse practitioner or a physician assistant. Please check with your local medical board, nursing board or health care attorney for more information.
For patient safety and protection, SkinPen is available only through a physician.

SkinPen's patent-pending and single-use sterile needle cartridge is built with safety in mind. SkinPen is also surrounded by a proprietary BioSheath that acts as a barrier to prevent cross contamination between procedures.1 No other manufacturer can make that claim, which is part of the reason SkinPen by Bellus Medical is the only FDA-cleared microneedling device. Learn more by reviewing our patient labeling document.

The U.S. Food and Drug Administration's clearance covers not only the SkinPen device but the entire protocol. That includes the Skinfuse® Lift HG hydrogel used to protect against abrasion and friction during the treatment, as well as the custom-designed BioSheath to prevent cross contamination.1

Disclaimer: The information and answers contained in this section provide a general guide to laws that apply to "medical spas". The information contained on this site is for general reference only. This information is not intended to provide legal advice, and it should not be relied upon as legal advice. This information is not intended to create, and receipt of it does not constitute, an attorney-client relationship. Readers: You should not act upon this information without seeking knowledgeable legal counsel that takes the laws of your jurisdiction into account. All uses of the content of this site, other than personal uses, are prohibited.