Thread Facelift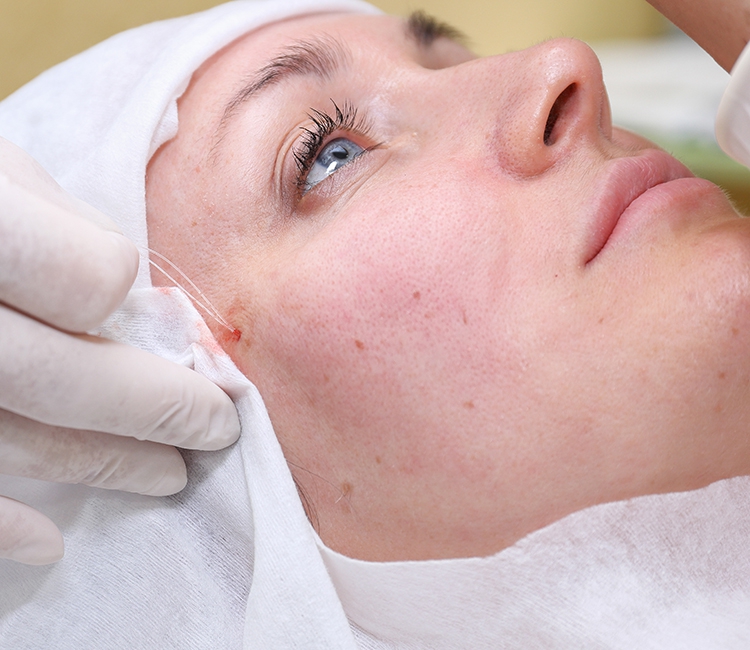 A thread face lift involves the use of barbed threads, available with uni- and bi-directional cogs or barbs. It is a semi-invasive method of lifting sagging skin of the face. Areas treated with this method include the eyebrows, the cheeks, the jowls and the neck. Ease of use and a shorter downtime have made their the thread face lift popular.1

The best candidates for a thread face lift are in their 30s to 60s who have relatively good skin tone. Most are beginning to experience sagging in their face or neck, but do not have excessively loose skin or drooping facial areas that might require more rigorous face lift surgery. If signs of aging are relatively minimal, a thread lift may be a good way to make cosmetic enhancements while avoiding face lift scarring and other potential side effects, which sometimes occur after more intensive surgical procedures.2

Contradictions to thread face lifts include multiple skin allergic reactions or infections, dandruff, hair lice, immunologically compromising diseases like cancer/ HIV etc., systemic diseases like diabetes and tuberculosis, etc.1

5; Generally, thread face lifts are not painful; however, this is a highly variable answer because some patients are more sensitive than others. Patients who are anxious can receive oral sedation. Local anesthetics are required and can be painful during the infiltration process. Over time, threads can migrate and the barbs can irritate nerves thereby making them painful at a much later date.3

The thread face lift procedure can be performed in just one or two hours, often without anesthesia.1

The thread face lift is a controversial procedure. Many people feel as though they don't last. Some patients report seeing a benefit for one year, and some say a year and a half. Some note immediate distortion and no results beyond a few months.5

Thread face lifts ("threading") is a relatively new technology and therefore guidelines are difficult to come by; however, AmSpa believes that most states consider or will consider thread face lifts to be medical treatments. Because of this, prior to your initial treatment the medical spa should conduct an in-person exam by either a doctor, a nurse practitioner or a physician assistant. Because the treatment involves the use of needles and sutures, AmSpa believes that only RN's or higher-level practitioners should perform this treatment. Please check with your local medical board, nursing board or health care attorney for more information.

Comments from patients about this procedure run the gamut, including: "it didn't work," "it didn't work long enough," facial distortion, extruding hooks, chronic pain, palpable lumps, and more.5

The operation involves placing a barbed suture under the skin and using is to pull up and back the face or neck. Eventually the sutures may break, get infected or cause distortion and can be difficult to fix.5

Disclaimer: The information and answers contained in this section provide a general guide to laws that apply to "medical spas". The information contained on this site is for general reference only. This information is not intended to provide legal advice, and it should not be relied upon as legal advice. This information is not intended to create, and receipt of it does not constitute, an attorney-client relationship. Readers: You should not act upon this information without seeking knowledgeable legal counsel that takes the laws of your jurisdiction into account. All uses of the content of this site, other than personal uses, are prohibited.