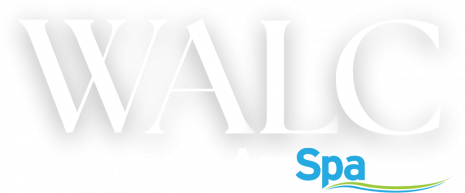 Women in Aesthetics Leadership Conference
Miami, FL
Stay Tuned for 2024 Date!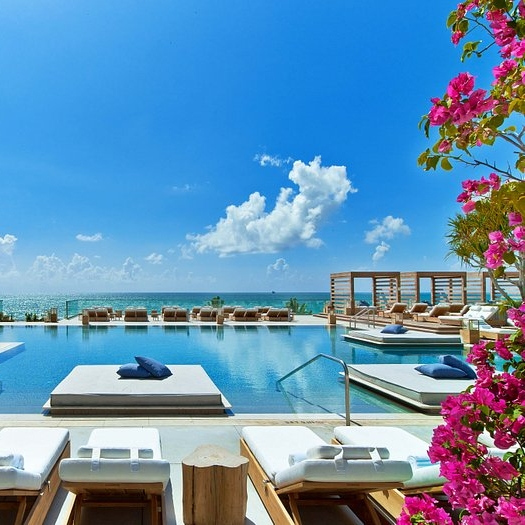 Overview

What You Will Learn

Why Attend

More Info

Pricing

Venue

Agenda

Speakers

Sponsors
Because You Deserve an Experience

You give everything to your business and your team. All eyes are on you to set the tone, give direction and lead your practice to success. But where do you look for inspiration? How do you recharge your batteries? When do you give yourself permission to relax, find calm and nurture your spark?
Attend This One-of-a-kind Leadership Retreat to:
Treat yourself to two and a half days of motivating guidance from electrifying speakers from within and outside of medical aesthetics.
Engage in curated breakout experiences to center yourself and immerse yourself in the solidarity of your high vibe sisterhood.
Leave re-energized and prepared to build on your success to reach the next peak in your medical aesthetic journey.
Be inspired by bold, magnetic leaders whose innovations are shaping the industry.
Foster community with kindred spirits who know what it means to hustle as hard as you do.
Develop ideas to find and follow your purpose, renew your energy and make your mark on the future of aesthetics.
For the first time we're inviting all of the powerful, creative, visionary women that are building this industry every single day to come together in the lap of luxury, revel in collective success and chase the next horizon.
As 2023 hurries to its close, join us November 1 - 3 in Miami to make your new year beautiful.
Why Attend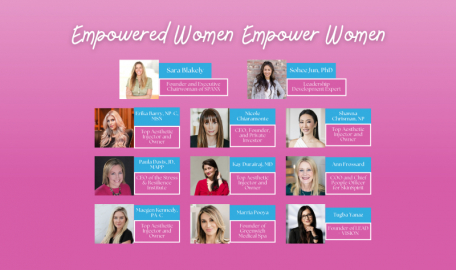 >>
Be Inspired
Gain insights from women who live lives of innovation. Hear from luminaries including Sara Blakely, founder and executive chairwoman of SPANX and youngest self-made female billionaire according to Forbes; and the InjectorBunny herself, Erika Barry.
>>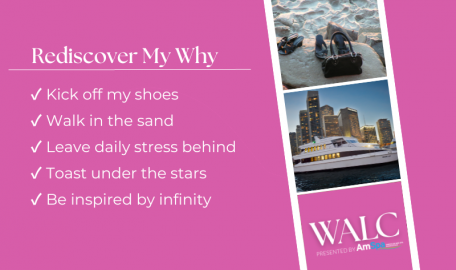 <<  >>
Treat Yourself
The first step to redefining your why is to leave behind your everyday stress and step into an environment of peace and camaraderie. Feel the sand between your toes before cruising the Atlantic and sharing a toast with your community under the stars.
<<  >>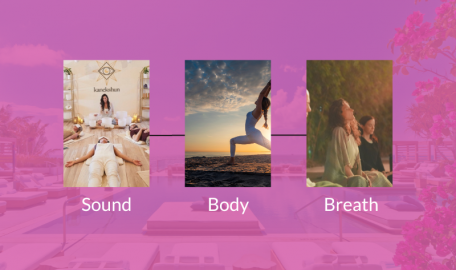 <<  >>
Approach Your Life with Calm
Sound, body and breath all hold secrets to facing everyday stressors with a calm heart and a clear mind. Practice calm with us and take these skills with you back to your daily life to maintain stillness in a hectic world.
<<  >>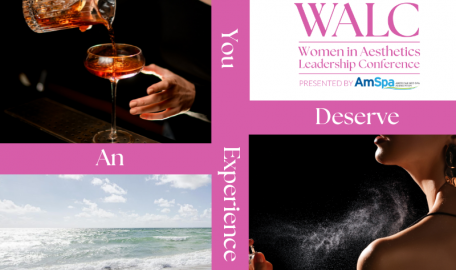 <<
Signature Group Experiences
Take time to indulge your sense of fun with one of our curated group experiences. Craft your practice's custom fragrance, apply your artistry to making the perfect cocktail or sit back and just Be as waves lap the shore.
<<

Distinguished Women in Medical Aesthetics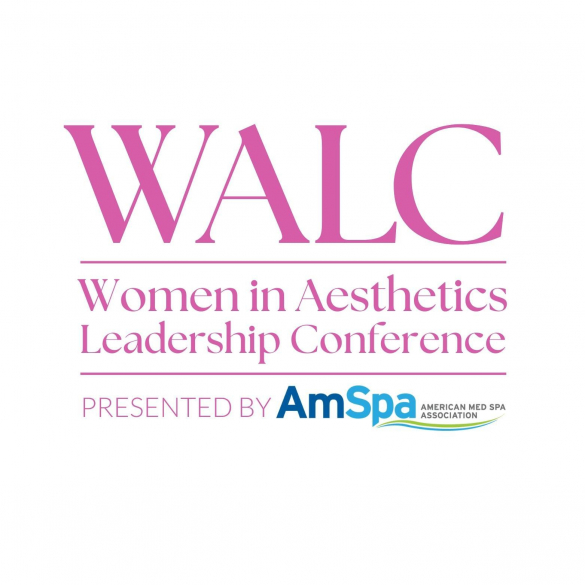 An Industry Led by Women
Medical aesthetics is one of the fastest growing industries in the country, and from the board rooms of the biggest brands to the treatment rooms of the smallest, single-chair practices, ladies are leading the way. 
WALC was developed from a sincere desire to feed the souls and minds of the women, like you, who power the medical aesthetics industry.

Distinguished Women in Medical Aesthetics 2023
AmSpa is spotlighting 30 women who displayed their own mix of leadership, service and excellence in 2023. Hear several of them speak about their experiences at WALC, and get to know several more over the course of the conference.
See the List
Pricing
Plus Members
Plus members save more than $700 on their first ticket!
Basic Members
Basic members save $500 on their first ticket!
Registration for WALC 2024 will open in Spring 2024!
Venue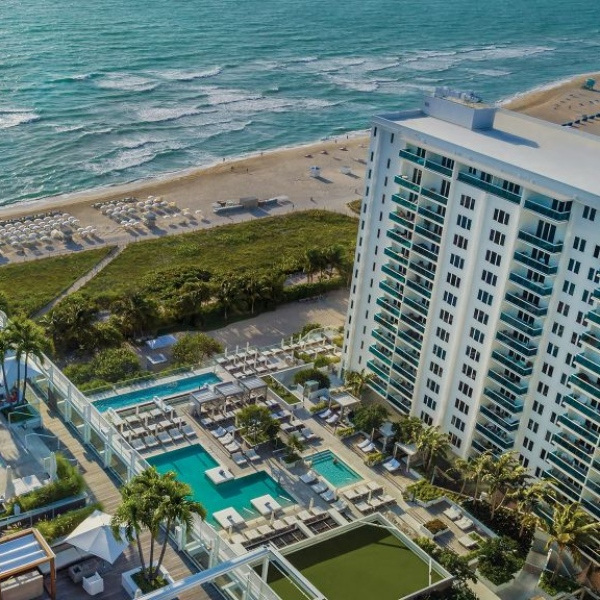 1 Hotel South Beach
2341 Collins Ave, Miami Beach, FL 33139
This LEED-certified, carbon-neutral South Beach sanctuary is set along a pristine, 600-foot stretch of white sand beaches. Home to 7 different restaurants, serving a variety of locally sourced cuisines, the 1 Hotel South Beach has something for everyone. Guests may choose to relax on the beach, the spa, one of the four pools on property, or utilize the on-site gym and its fitness classes. 1 Hotel South Beach is located just 12 miles from the Miami International Airport and steps away from the Miami Beach City Center and surrounding restaurants and nightlife. Parking is valet only and $30 per vehicle up to 3 hours or $55 per vehicle (plus tax) 3 hours or longer. Guests are permitted unlimited in & out privileges. Check-in is 4:00pm and check-out is 11am.

Hotel Options
The room block is now closed. If you need to book a room, please contact Maren Finn at maren@americanmedspa.org.
$0 Resort Fee (Reduced from $49/night if booked inside the AmSpa Block)
Resort Fee Includes:
One Umbrella & Two Pool or Beach Chaises Per Room
Unlimited Local Calls
High Speed WiFi in Guestroom
Complimentary Bicycles
Access to Anatomy Gym and Classes
Car Drop Off Service on Request (based on availability and inside a 3-mile radius of the hotel)
$12 Per Person Portage Room Attendant Fee (Mandatory One-time Fee)
$6 Room Attendant Fee (Mandatory Daily Fee)
14% Tax
Hotel will require a deposit equal to the rate and tax for one (1) night for each reservation. Deposit is refundable if hotel receives notice of cancellation at least five (5) days prior to scheduled arrival.
Agenda
Day 1 - Wednesday, November 1st
Women in Aesthetics Leadership Welcome Reception
Decompress, leave behind your "doing self" and let your "being self" take over. Check off the first item on your "rediscover my why" to-do list: kick off your shoes and feel sand beneath your feet at the 1 Hotel Beach Club. Brush off the tethers of your daily life and leave behind the stress of travel amidst the soft lights and swaying palms. 
Sponsored by Allergan
Starlight Champagne Cruise
This is your time to break the ice, let your hair down and open up. Sip on bubbles and immerse yourself in the community of sisterhood and the reflective spark of the moment. Bathe in the twinkling starlight, connect with infinity and draw inspiration from the sparkling universe.
Sponsored by RepeatMD
Day 2 - Thursday, November 2nd
Movement is Medicine
Oceanside Yoga: Salute the sun and celebrate the start of a new day with a revitalizing yoga session. Clear your mind and steady your spirit. Carry your newfound calm through the next two days and learn a practice to bring tranquility to your everyday.

All experience levels welcome.

Speakers: Ashley Boice , Senior Instructor, Ahana Yoga
Breakfast

Sponsored by CareCredit
Opening Session: A Chat with Sara Blakely, Founder and Executive Chairwoman of SPANX
Sara Blakely revolutionized the undergarment industry with just $5,000 and a "lucky" red backpack and turned it into a global brand known for inventing smarter, more comfortable solutions. Blakely was named one of TIME magazine's 100 Most Influential People in the world and was featured on the cover of Forbes magazine as the youngest self-made female billionaire. Blakely has invested millions of dollars to elevate women and, in 2013, she signed the Giving Pledge, promising to donate half her wealth to philanthropy.
Listen in to this chat with Carrie Strom, Senior VP, Abbvie and President, Global Allergan Aesthetics.
MC: Cathy Christensen, COO and President, American Med Spa Association.


Speakers: Sara Blakely , SPANX Carrie Strom , Allergan Cathy Christensen , AmSpa
Mindful Pause
Close your eyes. Breathe deeply. Experience now.
Sponsored by Aesthetic Influencers Media

Panel: Tackling Medical Aesthetic Management Issues and Leading a Powerful Team
Universally in medical aesthetics the secret to the success of the biggest brands is their team. Hear how women behind some of the leading practices in the industry handle team building and address management challenges. Learn the red flags and green lights that lead to developing an all-star team.
Speakers: Ann Frossard , SkinSpirit Shawna Chrisman, NP , Destination Aesthetics Maegen Kennedy, PA-C , Windermere Dental & Medical Spa
Introducing: The Distinguished Women in Medical Aesthetics 2023
Join us in celebrating the women who distinguished themselves this year with their unique mix of efforts to advance not only their practice, but the industry as a whole.
Lunch
Sponsored by Galderma
The Power of Personal Branding
For the vast majority of med spas, YOU are the brand. Hear @injectorbunny herself reveal keys to building a personal brand identity for your business, including:
• How to be intentional, relatable and honest in your branding.
• How being a leader on multiple channels can develop into being an authority in the industry.
• How to practice branding seamlessly and effectively while still reserving energy to live your life.

Speakers: Erika Barry , NP-C, MSN
Preventing and Combatting Burn Out: Let's Talk About It!
Engage in a research-based discussion on identifying, managing and recovering from burnout. Learn how to identify the 6 main drivers of burnout and learn specific strategies to slow its spread in yourself and your team. 
Share with your industry peers the ways you experience and cope with stress and exchange ideas and solutions to facilitate high energy and positivity.
Speakers: Paula Davis , The Stress and Resilience Institute
Group Experiences
WALC's group experiences are custom-made for bonding with your fellow leaders. Select one of these options:
Group Experience 1: Signature Scent Exploration sponsored by Merz Aesthetics
Scent can be a strong trigger for memory and feeling. Reflect on your experiences and learn how to express feeling into fragrance from two master perfumers, and create a revitalizing signature scent to perfume your practice. Bottle your inspiration to share with your team and patients with a single breath in.
Group Experience 2: Signature Cocktail Happy Hour
You've taken training and spent countless hours learning how to sculpt the perfect lip. Adapt your creativity to a new art as you learn the mix and balance of crafting the perfect cocktail. Follow this by drinking deep from the knowledge of two of Miami's foremost whiskey authorities as you sip through a guided tasting of Angel's Envy spirits.
Group Experience 3: Your Only Job is Beach
Experience summer in early November in this completely unguided time to bask in the sun. Enjoy reserved South Beach real estate and extend your calm as afternoon waves lap the shoreline. Your only responsibility is to be.
Speakers: Darryl Do , Senior Perfumer, Delbia Do Fragrances and Flavors Christopher Diienno , Senior Perfumer, MOCA Fragrances Dani Espindola , Whiskey Guardian John McConnon , Whiskey Guardian
Dinner
Signature Scent Exploration Dinner sponsored by Merz Aesthetics
Exclusively paired with WALC Signature Scent Exploration: Immerse yourself in the play between aroma and flavor. With this custom-designed menu, explore how fragrant notes of perfumery can be refined and expressed in food to create memorable taste experiences.
If you selected one of the other experiences above, enjoy your dinner in one of the immersive environments below:
Havana Nights Rooftop Dinner sponsored by Evolus
Take in the views from a private lounge near the 1 Hotel's iconic rooftop pool. Be transported 200 miles as you experience the vibrant, lively flavors of Havana. End the day with the glittering lights of South Beach on one side and the endless expanse of ocean on the other.
Nature's Heart Dinner sponsored by Podium
Calm your senses among the greenery on the ocean-side terrace of 1 Hotel's Plnt House. Restore your energy with a crisp, clean, back-to-nature menu focusing on freshness, whole foods and mind-body balance. Breathe deeply and close the day with calm.
Day 3 - Friday, November 3rd
Movement is Medicine


Morning Breathwork: Breathe intentionally to go beyond your busy mind and connect within, letting the breath help to release stress, worries and tension. Develop exercises to connect back to the body and heart to feel, reset and let go of anxiety.
Speakers: Stephi Wald , Founder, willfly
Breakfast
Sponsored by CareCredit
Women in Aesthetics Leadership Panel
Get a big picture view of leadership in the aesthetics industry. Where do visionaries find their vision? How do those ideas turn from dream to reality? Find ways to re-map your journey from traveling your block to chasing the horizon.
Speakers: Susie Albion, MSN, RN , Merz Aesthetics Nicole Chiaramonte , AMP Carrie Galpin , Galderma Marria Pooya , Greenwich Medical Spa
Mindful Pause
Let go of the body. Focus on the breath.

Sponsored by TouchMD

Owning Your Power as a Female Leader/Entrepreneur
Women with the drive to be leaders face unique obstacles both systemic and personal. Connect your experience with that of dynamic women who have come before. Overcome these external and internalized challenges to fully embrace your worth, your brilliance and your power.
• Overcoming Gender Bias & Stereotypes
• Male-dominated Decision-makers: How to Navigate with Confidence
• Work-life Integration and Taking Care of Yourself
• Releasing Limiting Beliefs and Imposter Syndrome
• Taking Risks and Stepping Out of Your Comfort Zone
Speakers: Tugba Yanaz , Lead + Vision
Lunch
Sponsored by Skytale
Creating a Culture of Inclusivity in Your Aesthetics Practice
Speakers: Kay Durairaj, MD
Afternoon Relaxation: Sound Meditation
Re-center your body & mind to the frequencies of love, joy, and balance by sharing this guided meditation paired with crystal singing bowl sound bath & mindful movement. Enjoy a one of a kind high vibrational acoustic meditative experience and train your body to react with calm when you return to the distractions of everyday life.
Debunking the "Balance" Myth: Getting Off the Ever-elusive Balance Treadmill
For professionals, balance can seem like a fairy tale. To understand how to find peace, start by throwing away what you think you know. Join Sohee Jun, PhD, as she demystifies balance and instead discusses how we can create alignment. Unlearn what you should do and instead embrace what you want and need to do to become your most authentic self. Also, Dr. Jun will explore what it means to create flexible boundaries to protect yourself in this ever-changing world.
Speakers: Sohee Jun , Ph.D
Speakers

Sara Blakely
Sara Blakely is the founder and executive chairwoman of SPANX. She revolutionized the undergarment industry with just $5,000 and a "lucky" red backpack and turned it into a global brand known for inventing smarter, more comfortable...
Read More

Erika Barry
NP-C, MSN
Erika Barry, aka InjectorBunny, is one of the top aesthetic injectors in the country. She serves as an international trainer for industry power players such as Allergan, Revance and Galderma, and as a leading speaker for...
Read More
Susie Albion
MSN, RN
Susie Albion has 17 years of injection and device experience in the aesthetic industry. She began her journey with Merz Aesthetics as a clinical specialist 15 years ago, has held various roles in medical affairs and...
Read More

Nicole Chiaramonte
Known for her business philosophies of "profits with integrity" and "profit optimization through collaboration," Nicole Chiaramonte is CEO of Advanced MedAesthetics Partners, Inc. (AMP), founder of Synergy MedAesthetics, co-founder of Aesthetic Investments, LLC, and a private...
Read More

Shawna Chrisman
NP
Shawna Chrisman, NP, combined her passion for medicine, entrepreneurship and aesthetics to start Destination Aesthetics Medical Spa in November 2011 in a 140-sq-ft office as a solo provider; she has since developed it into one of...
Read More

Paula Davis
JD, MAPP
Paula Davis, JD, MAPP, is the founder and CEO of the Stress & Resilience Institute, a training and consulting firm that partners with organizations to help them reduce burnout and build resilience at the team, leader...
Read More

Christopher Diienno
Christopher Diienno is the owner and senior perfumer for MOCA Fragrances. After graduating from Rutgers College, he began his studies in fragrance with a passion for the art and an emphasis on the science of perfumery...
Read More

Darryl Do
Darryl Do is a senior perfumer at Delbia Do Fragrances and Flavors. He has held several positions at Delbia Do and at other fragrance manufacturers. He is a second-generation perfumer, training under his father, Dennis Do...
Read More

Kay Durairaj
MD
Kay Durairaj, MD, is an internationally renowned head and neck and facial plastic surgeon practicing in Los Angeles. She completed her surgical training at UCLA and is a member of the American Academy of Facial Plastic...
Read More
Dani Espindola
Dani started in the industry back in 2005 when she moved to the US from Brazil. Her first job was as a Hostess at an Irish Pub in NYC, where she learned a lot about hospitality...
Read More

Ann Frossard
Ann Frossard is currently the chief operating officer and chief people officer for SkinSpirit, a national medical aesthetics business. In this role, she leads the team in charge of the day-to-day operations and talent management for...
Read More

Carrie Galpin
Carrie Galpin is the US Head of Customer Education and Key Thought Leader Engagement for Galderma. She has worked for companies such as Sanofi-Aventis, Valeant, and Allergan in both sales and marketing roles. Carrie started her...
Read More
Sohee Jun
PhD
As a top leadership coach, keynote speaker, leadership development expert and Amazon best-selling author, Sohee Jun, PhD, works with emerging leaders and executives to unleash their untapped power for themselves and their teams. During her more...
Read More

Maegen Kennedy
PA-C
At Windermere Medical Spa & Laser Institute, Maegen Kennedy, MMS, PA-C, leads "The Princess Injectors," a team of expert injectors and providers. With more than 13 years of experience, she excels in facial aesthetics, focusing on...
Read More

John McConnon
John's journey began when he was young, and he used to visit a local bar in Pinecrest to eat chicken wings. One day, he stumbled upon an opportunity to work there, and he jumped at the...
Read More

Marria Pooya
Marria Pooya is the founder and visionary of Greenwich Medical Spa (GMS). Since launching the company as a two-person operation in 2005, she has grown it to a five-location enterprise employing more than 58 staff members...
Read More

Carrie Strom
Carrie Strom is senior vice president, AbbVie, and president, Global Allergan Aesthetics, and has served in this role since May 2020. Prior to joining AbbVie, she served as senior vice president of U.S. Medical Aesthetics at...
Read More

Tugba Yanaz
Born in Turkey, growing up in Germany, and based in New York, Tugba Yanaz is the founder of LEAD + VISION, a vision-based leadership coaching and consulting firm. She is a PCC-certified leadership development coach by...
Read More