Back to Main Blog
Member Spotlight: Sharing the Tools for Aesthetic Success
Posted By Madilyn Moeller, Wednesday, July 5, 2023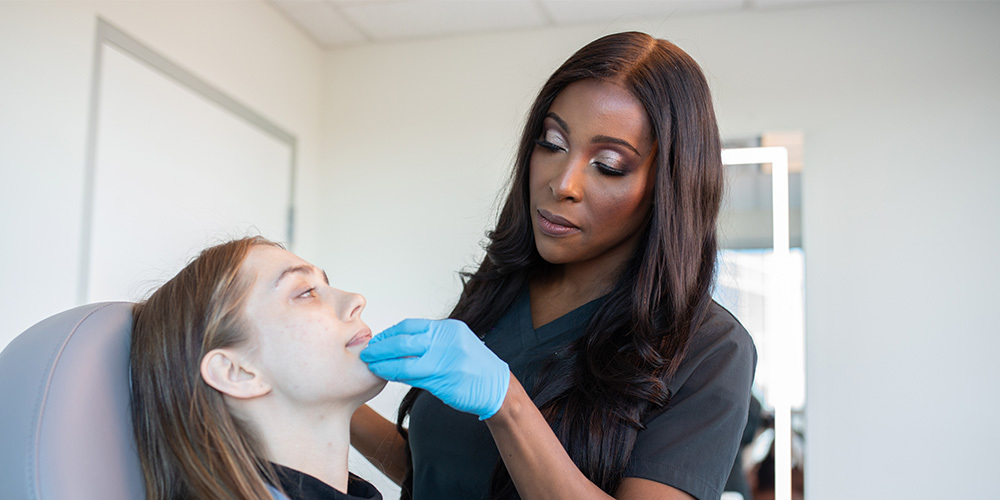 By Madilyn Moeller
Audrey Rose, NP, embodies the spirit of community over competition in the aesthetics industry. After a transition from traditional health care, she grew her medical spa from concierge services to two brick-and-mortar locations. Now, she trains newcomers in aesthetics, providing resources and opening doors for the next cohort of aesthetic nurses.
"I always knew I was destined for something in the beauty industry," Rose says.
Rose grew up in the Caribbean, where she was closely acquainted with health care from a young age. Her stepfather was a medical doctor, and everyone would come to their home looking for medical advice and help with all sorts of ailments. She grew up playing cosmetologist and doctor at the same time and, as a teenager, decided she wanted to become a bad-to-the-bone cardiac nurse.
"Once I get something in my head," Rose says, "there's no taking it out until something happens that changes that."

Rose started her career as a medical assistant at Brigham and Women's Hospital in Boston, working her way through to become a nurse, then a nurse practitioner. She landed in the thoracic surgery ICU, but ultimately questioned her fit in that role.
"While I was working in the ICU, I was more concerned about how the patients physically look and how their loved ones were going to see them," Rose says. "For me, my patients always had to look aesthetically pleasing. So, when I left the ICU for medical aesthetics, they were like, 'Oh my God, we knew that was for you. We knew you were going to do something like this.'"
She took her retirement funds from the ICU and started an injectables business, initially as a mobile concierge service. Then, she moved into a one-room clinic, which allowed her to have minimal overhead while she gathered clientele.
"I was in this common space with a lot of tech guys and legal people, and they were like, 'Excuse me, what are you doing here?'" Rose says. "And I'm like, 'Just Botox and fillers, you know!'"
The offices shared one secretary, so she quickly outgrew the space. Rose opened a bigger location for her medical spa, Age-less Weigh-less, in Woburn, Massachusetts, then a second location in Dover, New Hampshire. In 2016, she started the Audrey Rose Institute of Medical Aesthetics (ARI), which now has locations in Massachusetts, New Hampshire and Florida.
Training
Rose invested a lot of time and money into education and training programs to make her transition into aesthetics. Finding the necessary training was a challenge.
"That was so hard," Rose says. "I was part of a group training with a plastic surgeon in Boston. I volunteered my time. I was begging people to let me just come and mop their floors to learn. Those frustrations shaped how we built our platform for the school and our membership—to provide all the things I didn't have."
ARI specializes in helping nurses break into aesthetics, with classes designed to help students move on feeling confident in providing the services. She remembers that her first class was in an intimate setting with two students—one was from the hospital, and they brought their friend.
"From there, I just built it with word of mouth, and people just kept coming," Rose says. "And it wasn't until 2021 that we ever put any money into marketing and advertising and went full force into our social media. We got tons of referrals and really built the school on referrals."
Entrepreneurship
While studying for her NP certification, Rose decided to take an entrepreneur course as an elective. That course was extremely helpful, she says, because the business plan she wrote for the course has become her business today. Rose is still learning new things about the business and legal aspects of coordinating medical spas.
"I think it's very hard for us—it's hard for us to let go of things and it's hard to delegate when you're medical and your focus is really moreso on the clinical side of things," Rose says. "We tend to neglect the business, the marketing and the legal, or it just gives anxiety because it's such an unfamiliar territory."
After losing thousands of dollars with marketers in New Hampshire who were unfamiliar with aesthetics, she learned "where to put your bucks" in marketing. Her advice for others is to build something solid, have multiple revenue streams, be adaptable and flexible, and never stop learning—always stay on top of the latest trends and technologies in the field.
"It's important to constantly learn and improve your skills in order to stay competitive and provide the best services to clients," Rose says. "Networking and building relationships with others in the industry is also crucial for success. Additionally, don't be afraid to take on challenging projects and push yourself outside of your comfort zone. This can lead to personal and professional growth—if you're uncomfortable, you're growing."
Challenges
Before she gained momentum and started making a name for herself in the industry, Rose felt like being one of the first women of color in her area was an obstacle to being accepted by vendors and clients in the industry. Sales reps would come in the office and talk to her assistant, then be very surprised to find that Rose was the owner.
Rose was also concerned that her patients would not perceive her very well as a woman of color in aesthetics, citing stigma in her culture when it comes to aesthetic procedures.
"Now, it's turned out in my favor—people travel to me because I look like them," Rose says. "They say, 'I only came to you because you look like me,' or, 'You have patients who look like me on your profile, so I can assimilate with that,' and that means the world to me."
The response to her training institute was not initially welcoming.
"It wasn't easy building a community," Rose says. "At first, I was scrutinized for starting my institution. The community was upset that I was 'saturating' the market. In my eyes, I was creating a platform to reduce friction and provide resources for nurses getting started. I love collaboration with my colleagues and exposing my network to industry partners."
Connection
Outside of her business, Rose has been fostering connections through social media.
"When I started, or even halfway through my career, I had so many nurses, especially Black nurses, who would reach out to me and say, 'Oh my God, thank you so much,'" Rose says. "'I see that you're doing it, so I can do it too. I feel like I'm not a fish out of water here.'"
Rose started putting all of them in an Instagram pod so she could keep track of them. There, she would give them the help and resources they needed. Now, they are all resources to each other.
"Some of them have propelled significantly," Rose says, "and to see them in the industry is actually really rewarding. They've grown so much over the past four or five years."
Love for aesthetics
Medical aesthetics allows individuals to enhance their natural beauty and feel more confident about themselves. That end result is what Rose loves about aesthetics.
"We take for granted the power we have," Rose says. "We really have the power to transform people's lives."
With her trained medical spa staff, the patient experience is amazing—once they walk through the door, they don't want to go anywhere else. As an entrepreneur, she finds it rewarding to create something that has a positive impact on people's lives and contributes to the economy.
"While we're not curing heart disease, we're curing the mind," says Rose. "The outside affects the inside and what people want to do for their inside because they feel good about how they look on the outside. I think that's so important, and I love it because we get to change those lives and build confidence while building relationships."
AmSpa Members receive QP every quarter. Learn how to become a member and make your med spa the next aesthetic success story.
Related Tags
Subscribe to Our Email List
Medical spa news, blogs and updates sent directly to your inbox.