Back to Main Blog
Creating a Safer Industry, One Injector at a Time
Posted By Mike Meyer, Friday, June 4, 2021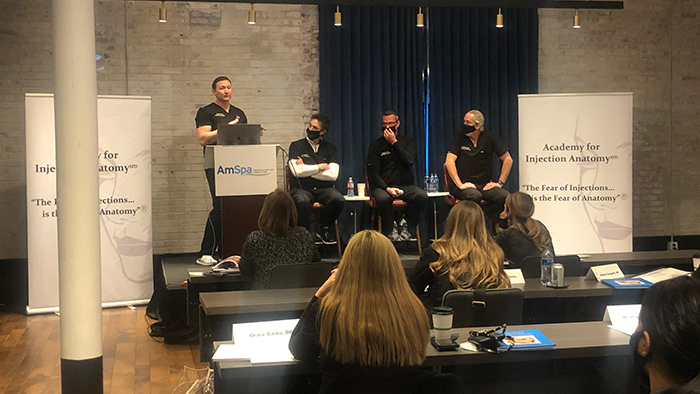 By Michael Meyer, Content Writer/Editor, American Med Spa Association
The medical aesthetic industry is undeniably glamorous and, from the outside looking in, it seems to reward style over substance in many cases. However, you cannot become one of the top injectors in the industry without putting in a great deal of hard work—nobody in the industry starts their career as an expert injector, and new injectors cannot really learn via trial and error. In fact, opportunities to learn facial anatomy in a hands-on fashion are few and far between, which is why the Academy for Injection Anatomy (AIA), presented by Christopher Surek, DO, and powered by the American Med Spa Association (AmSpa), is becoming such a vital part of the aesthetic industry.
Headquartered in Kansas City, AIA training includes a course where students inject and dissect cadavers, which allows them to learn how and where to administer the injection for optimal results. Dr. Surek designed the AIA to help injectors learn the craft in a safe way that demonstrates how facial anatomy works and why certain injection techniques are preferable to others. He has dedicated his life to facial aesthetics, and he knows that in order to create a stronger industry, medical aesthetic practitioners need to be committed to maintaining a safer industry.
An Early Start
Although Dr. Surek is only 36, he has made an outsized impact in his short time in medical aesthetics. He began to discover his passion for anatomical studies while he was in medical school at Kansas City University.
"I did a one-year clinical fellowship in anatomy where I joined the anatomy faculty and did a year of research, as well as full-body dissections to help teach medical students," Surek says. "It was within that year that I really got interested in three-dimensional anatomy, particularly of the face, and trying to think outside the box—look for patterns, orientations and particular forms of architecture in the face that might help the surgeon."
After he began his residency in plastic surgery at the University of Kansas Medical Center, Surek had the opportunity to continue his work in anatomy. He collaborated with a number of peers and mentors to conduct significant research in the area of facial anatomy and, together, they published a number of papers and articles. Most significantly, he and Dr. Jerome Lamb co-authored Facial Volumization: An Anatomic Approach, which immediately became an industry-standard textbook since its publication in October 2017—just a few months after Surek graduated from residency. Dr. Surek would go on to complete a specialized fellowship in cosmetic surgery at the world-renowned Cleveland Clinic.
Since then, Surek established his own practice at Surek Plastic Surgery in Overland Park, Kansas, and began teaching facial anatomy courses throughout the country.
"I started traveling for the industry and teaching, and it was during that time that I realized that there was still a significant thirst for more in-depth anatomy understanding, even among high-volume, experienced injectors, and that not everyone is fortunate enough to have a surgical residency or a background in anatomy where they get to dissect and really get a feel for the layering of the face," Surek says. "That's when I had the idea to create the AIA."
Spreading the Word
The AIA has quickly become one of the hottest tickets in medical aesthetics, and for good reason—it provides the kind of hands-on training that is rarely available to injectors.
"It is a specific hands on-based cadaver dissection course—full face," says Surek. "People attend the course to practice common injections, and then actually dissect down through the face to visualize where their product is relative to key landmarks, including vessels, ligaments, fat compartments, potential spaces and all of the structures that they have to realize exist within the face when they're performing these procedures. The reality is, facial injection is a blind stick, so it is necessary to have some type of concept of where we're going with the needle or cannula when performing those injections."
The AIA is unique in that it is offers significant educational value for injectors who are just beginning their journey in medical aesthetics, as well as those who have been injecting for many years. To that end, the AIA course has recently expanded to include a deep dive into aspects of injections that medical aesthetic professionals need to understand in order to be masters of their craft.
"We'e added the components of rheology and toxin science," says Surek. "In my opinion, for an injector to be fully prepared to approach patient care, they have to have a complete understanding of not only the anatomical planes, but also the products that they're placing in those planes and how they will react with the anatomy and the patient's own particular characteristics. And they have to know how to manage the complications. They're going to start injecting patients, so it is critical to understand what needs to be done if things don't go right, which can happen to anybody."
Since the AIA began, Dr. Surek has assembled a world-class faculty to help him conduct the courses and expand the academy's curriculum. Steven F. Weiner, MD, of The Aesthetic Clinique in Santa Rosa Beach, Florida; George Baxter-Holder, ARNP, DNP, CANS, of SkinSpirit in Austin, Texas; Kevin Harrington, MSN, APRN, FNP-C, of Face-Time Aesthetics; Hermine Warren, DNP, APRN, CANS, CNM; Sarah Safa, MS, PA-C, of Refined Aesthetics; and Anita Wolf, RN, of Face It Medical Aesthetics and Spa have worked with Surek to create the AIA's workbook and teach portions of the all-day course that align with their areas of expertise.
"We start with a very, very strong foundation in rheology and toxin science, followed by an approach to the consultation and assessment, complication management and the incorporation of ultrasound in your practice, should you ever want to use it to assess for anatomical variability," Surek says. "Then, a full-face, hands-on dissection sequence is presented that allows you to immerse yourself in full-face anatomy for two days, and really get a strong feel and understanding for where you're injecting products, where your danger zones are and where essential target sites for placement are located."
Surek believes the AIA course provides the very best way to educate injectors, since it offers them the opportunity to work with actual human anatomy without risking harm to the subjects. However, dissection has its drawbacks, as well, and Surek and the AIA faculty have worked hard to make sure that the course is as thoughtful as possible about the process.
"I think our dissection approach is very unique, because dissection is inherently destructive," Surek says. "So, if you destroy structure before you see it, then you're not going to get a good opportunity to visualize it. We take you through a step-by-step, detailed process, and I'm constantly editing and refining the content to really make sure it's the best experience for injectors. So, for anyone—beginner all the way to advanced—who wants to elevate their game in the field of injectables and really get a strong understanding of topography and comprehensive learning on rheology, toxin science and complications, this is the course for them."
A New Track
Although he continues to maintain a successful surgical practice and loves working as a plastic surgeon, Surek admits that running the AIA has become a key part of his career in medical aesthetics.
"Education in anatomy for injectables is really my primary hobby. It's a passion. I love it," says Surek. "I really feel a lot of satisfaction when I see an injector have an 'a ha' moment at the course where they realize something new that they didn't know previously or confirmed a theory they had about where they're placing their product and what structures were around it."
Surek feels that the course's tagline accurately describes the mindset that he aspires to convey to his students.
"I trademarked the phrase, 'the fear of injections is the fear of anatomy,' and I want to give inspiration credit to my plastic surgeon colleague, Ian Taylor. The reality is, no matter what level you are, everyone should have a healthy fear of the anatomy and injectables. Our mission is to help someone harness that fear in the proper way, but also equip them with commonalities and foundational knowledge that they can build upon as they continue to study aesthetics and anatomy, is really satisfying. And that's why I continue to do this."
AmSpa members receive QP every quarter. Click here to learn how to become a member and make your med spa the next aesthetic success story.
Related Tags
Subscribe to Our Email List
Medical spa news, blogs and updates sent directly to your inbox.