Back to Main Blog
How the Liability Insurance Market Can Affect Your Medical Spa in 2020
Posted By Mike Meyer, Friday, January 17, 2020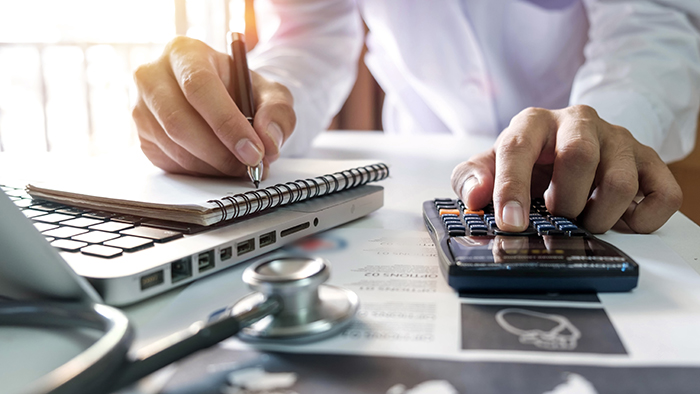 By Edward Kuhn, Liability Specialist, Wellness Medical Protection Group
Insurance buying for the medical spa professional requires a certain level of technical sophistication and understanding of the marketplace and product. The coverage and rated-up annual premium are always tied to the procedures and the size and scope of the practice. Insurance is driven by the market, and the current state of the market is changing for a number of reasons.
We all know the medical spa market is expanding at a rapid pace, and insurance underwriters are challenged to maintain coverage relative to the growth in new treatments and procedures. The expansion and maturing of the marketplace is causing claims development from quality control issues; patient expectations; suppliers having FDA problems; and cutting-edge procedures such as stem cell therapy, platelet-rich plasma (PRP), and skin procedures involving heat and pain. The personal injury attorneys are following the money, specifically with regards to medical weight loss, stem cells, laser hair removal and skin rejuvenation, and hormone replacement.
Patients expectations are different for elective, cosmetic and anti-aging procedures than they are for disease-focused medicine where there is third-party reimbursement. As a result, underwriters are scrutinizing the applications and operations of medical spas more closely—asking more questions, mandating the use of signed patient informed consent forms and requiring evidence of certified training. Your claim will be denied if you don't produce a signed patient informed consent form for the procedure in question, as well as evidence that the provider in question has certified training in the procedure that is the subject of the alleged medical negligence.
Insurance is a function of the money coming in as fast as it goes out, or the result is an underwriting loss, after which rates increase and applications come under more underwriting scrutiny. Your premium is determined more by what you do (class), not so much by how you perform. Medical spa liability insurance policies predominantly are claims-made, surplus lines specialty underwritten policies from "A" rated and financially strong insurance companies. The rates and forms can change from year to year to adjust to the market changes. Rates usually are tied to some quantifiable measure, such as the size of revenues, number of procedures and patient visits. You could see your rates increase 30% for class alone, which means the companies are collectively losing money this year in that class and need to raise rates to compensate.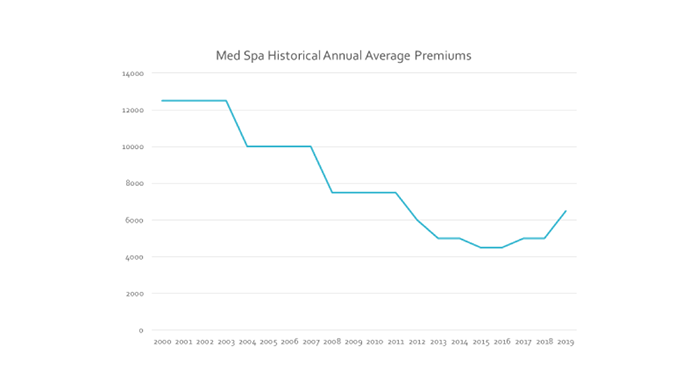 What is Happening in the Medical Spa Liability Insurance Market?
Annual premium rates are on the rise, as is the scrutiny of medical spa practices. Be prepared to address this effectively with your insurance agent or broker. If you have a long period of clear operation—perhaps you have been covered for more than 10 years—you have the benefit being a known quantity. However, this can't be used as leverage to get a lower premium from another company, like before—shopping your coverage is not that effective anymore.
Here are a few other trends you should know about in the industry:
An increase in overall claims for medical malpractice class in general;
An increase in minimum premiums and base rates as companies make adjustments, especially for certain procedures;
Claims development in certain procedures, including stem cell therapy, lasers, PRP, hormone replacement therapy and more;
A 20 – 50% increase in renewal pricing;
More rigid underwriting and a decrease in the limits of liability for procedures such as stem cell therapy and PRP; and
Claims exclusions for lack of evidence of certified procedure training or signed patient consent forms.
How Can You Manage Your Liability?
Repeating the need for some technical sophistication, it's important to concentrate on the quality and the utilization of acceptable standards and best practices to minimize your liability as a med spa business owner. Here is a brief list of some of the main elements you can address:
Certified training in procedures and qualified personnel;
Understanding insurance is market driven and rates can change—work closely with your agent to navigate through the ups and downs;
Effective informed patient consent, documentation and quality control;
Seeking help from industry partners and associations, such as AmSpa;
Have a policy for properly handling disgruntled patients or bad outcomes;
Ensure the reputation and credibility of compound pharmacy, vendors and suppliers;
Manage expectations and presentation on results; if you don't, you may receive board complaints; and
Refrain from making outrageous claims of results or guarantees.
These should already be integrated into your medical spa practice, with special emphasis on certified training for all procedures and effective patient informed consent. Remember, you buy insurance for protection, because even with all these measures in place, risk is inherent in what you do in any business.
Edward Kuhn began his insurance career in 1991 with the Evanston Insurance Company; he was involved in insurance accounting, broking and underwriting. In 2001, he started Liability Insurance Solutions as a specialty niche insurance broker. In 2014, he merged with the RXNB Companies to start Wellness Medical Protection Group.
Related Tags