Back to Main Blog
Interior Design Considerations to Maximize Medical Spa Profitability
Posted By Madilyn Moeller, Monday, August 22, 2022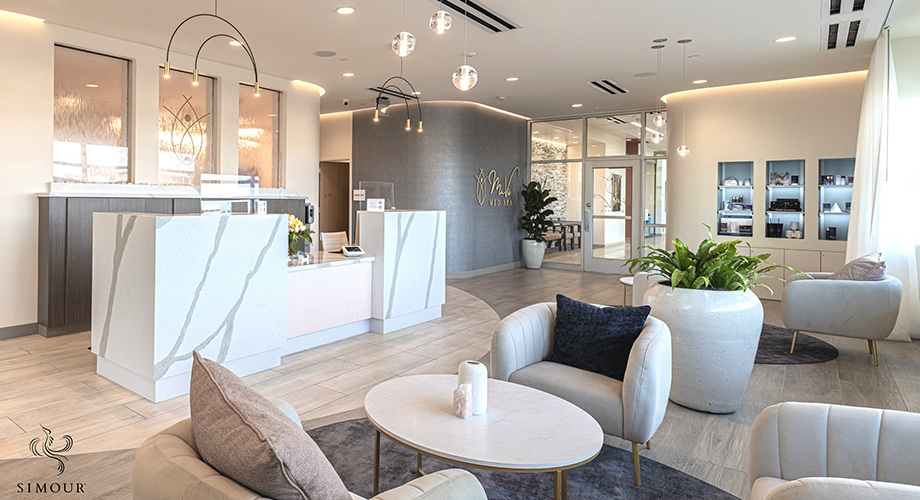 By Simour Design
"Every experience is a positive experience if I view it as an opportunity for growth and self-mastery." – Brian Tracy
Building high-performing medical spas is about balancing the medical with the business side of the project. It's an intertwined proposition that affects both aspects of the business, so balancing them together endeavors to deliver a positive patient experience with a profitable venture. This blog features some of the insights Simour Design has gained from its vast experience in designing medical spaces that can push more revenue and guarantee profitability for medical aesthetics practices.
Every inch of your space must bring in revenue
Space comes at a premium. It costs money, and wasting it undercuts your potential to be profitable. When designing your floor plan, it is very helpful to truly examine if there are ways to trim the fat and make it a lean, mean machine. Efficiency is key, so you need to be careful to locate spaces that flow naturally, generate more revenue and decrease travel distances within the practice.
Flow means that you have curated an intuitive progression from entry to treatment and, eventually, to checkout. This is the patient route that will determine the experience, so making it as natural and pleasant as possible is guaranteed to make a patient's visit a satisfying one. The Simour formula of allotting 70% for revenue-generating spaces and limiting support spaces to 30% gives you an idea if you're using too much space for support or circulation.

Utilize vertical real estate
When looking at your floor plans, you see the footprints, but you are not seeing a complete reflection of the entire usable space. Life in 3D means you don't just have the x-axis, but the y- and z-axes as well. This exponentially enlarges the space and increases the appreciation and the possibilities for more utility. A cabinet that occupies 3 square feet in the plan can mean 9 cubic feet in storage space when used as a counter. Stacking volumes on top of each other like storage units and merging them with walls doubles the purpose of vertical partitioning with usable storage solutions. Viewing the plan in volumetric terms realistically optimizes the real estate, ensuring that everything that occupies space generates revenue and pays the rent.
Look at the numbers when dedicating space
Whether you're upgrading or building a practice from scratch, space planning requires research and a hard look at your financial numbers. What is your biggest draw? What services made you money? What other services can add to your revenue stream? Is your medical practice addressing these questions and supporting your financial goals?
A particular medical spa client comes to mind, because, by their numbers, demand for aesthetic services far outweighs massages. Their initial plan for more massage rooms didn't fit their data, and simply inverting the allocation for massage rooms and aesthetic services meant a considerable increase in revenue. Making informed space planning decisions can only be done with hard data, and to go against it just does not make good business sense.
Time is money
Expertise is crucial, especially for specialized spaces such as medical spa interiors. There are a lot of things that affect the design of medical spaces and choosing professionals who have the expertise and experience to understand the complexities and psychology involved is essential.
A practice's ultimate profitability always goes back to patient experience. After all, a happy client is likely to return; moreover, satisfied clients are more likely to make referrals. All the insights listed here are just snippets of what has brought tangible and meaningful increases in revenue to Simour's past clients. These experiences and plenty more are what Simour offers to you and its future projects in its journey to build a high-performing medical spa.
To learn more about Simour Design's services, visit its website at www.simourdesign.com or sign up for a complimentary design consultation.
Simour Design is a medical interior design firm with a passion for transforming and creating world-class medical spaces. It builds custom medical offices, taking into account clients' workflow, office culture and specialty-specific considerations to create environments that make everyone feel better. Simour brings more than a decade of experience designing hundreds of world-class medical offices that set physicians up for success.
Related Tags
Subscribe to Our Email List
Medical spa news, blogs and updates sent directly to your inbox.