Back to Main Blog
Member Spotlight: Communication Over Commodification
Posted By Mike Meyer, Monday, January 25, 2021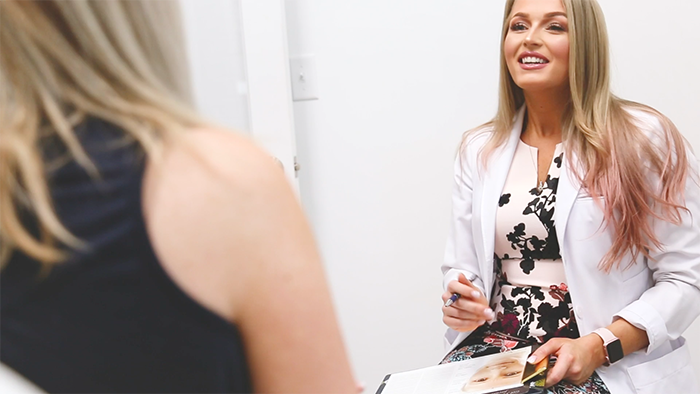 By Michael Meyer, Content Writer/Editor, American Med Spa Association
There are a lot of medical spas in Florida. Because of this, owning and operating a successful medical aesthetics practice there is a bit more challenging than it may be elsewhere due to the intense competition. Thanks to this competitive setting, Florida medical spas that manage to succeed and thrive over time are among the best in the country. One of these practices—Fountain of Youth Wellness and Medical Spa in Sanford, Florida—has made its mark in Central Florida by focusing on patient outcomes, and creating and nurturing an engaged client base.
Starting Off Strong
Fountain of Youth was founded in 2015 by Karli Plunkett, PA-C, MMS, LME, although it began its existence as a different type of business than it is today.
"I worked for years in a commercial spa with my paramedical aesthetics degree as an aesthetician," says Plunkett. "I finally opened my own facial spa, Fountain of Youth, in a small facial salon suite right before beginning school to be a physician assistant (PA). Building my patient and referral base every weekend while I was in school enabled me to make a calculated leap of faith upon graduating: Building out and opening a full medical spa. Upon graduating, I signed a five-year lease on a facility with a lot of potential, and my husband and I spent the next three months building it out."
The current version of Fountain of Youth operates as a satellite office of Harold Bafitis, DO, MPH, FACOS, FACS, and Plunkett puts in the work every day to make sure that the practice maintains her vision for what an effective medical spa can be.
"I learned that owning a medical spa takes a lot more than a love for aesthetics; it takes a love for business, strategy and continuous progress," Plunkett says. "Some parts of entrepreneurship will always be painful for me, even after attaining the success I once dreamed of. My first love is aesthetics, and owning my own practice is the best avenue for me to be the best aesthetic practitioner I can be."
Attention to Detail
To that end, Plunkett dedicates herself to creating an unrivaled patient experience; one that is based on obtaining optimal results for each individual patient rather than simply administering a recommended dosage.
"It's sad to see so many advertisements where treatments are promoted as commodities, rather than services with widely disparate potential results," she says. "The billboards and Groupons promoting bang-for-your-buck product-centered deals are the antitheses of what I believe in and what our patients come to us for. We believe patients come to us for results, not just for a certain number of milliliters of fillers. My comprehensive consultations with patients allow me to fully understand their desired results and customize a plan accordingly."
Fountain of Youth's patients are very satisfied with the way they are treated as unique individuals, and this helps to improve the practice's business.
"Many patients bring a friend to their global consultation to get a feel for the experience, which almost always turns into an immediate second consultation," Plunkett says. "The concierge care our patients enjoy seems to make them multiply."
Joining Forces
Plunkett learned about the American Med Spa Association (AmSpa) when she was expanding Fountain of Youth into a full-fledged medical spa. She made plans to attend the first Medical Spa Show in 2018 and, while the timing was not ideal from a financial standpoint, it was perfect from an educational perspective.
"[It was] my very first aesthetic conference," Plunkett says. "It was incredibly difficult for me to afford the trip, and I remember packing my whole weekend into the confines of my large purse because I couldn't afford the carry-on. I learned everything possible and attended every class available, and I was so happy I did. It helped me develop the initial foundation to begin moving my dreams to reality."
Since then, she has used AmSpa to keep her updated on the latest legal issues in Florida and the industry at large, which has helped her remain compliant throughout Fountain of Youth's existence.
"I love that AmSpa equips practitioners with the legal answers we need, simply and for a reasonable price," Plunkett says.
Staying Afloat
Like many medical spas, Fountain of Youth started 2020 with high hopes for the coming year but ended up struggling because of the COVID-19 pandemic. However, Plunkett realizes it could have been far worse if not for the preparations she made when starting her practice.
"This year was rough. We had well-calculated goals, and we fell short," Plunkett says. "Thankfully, during our first two years, we had squirreled enough away to keep our entire team on payroll while shut down. It depleted us financially, but we didn't let the time go to waste. We maintained patient contact, re-evaluated our priorities, and are finishing the year with the monthly revenues we calculated pre-pandemic."
The constant communication between members of the medical aesthetic community also helped Plunkett pass the time during the shutdown and, thanks to the fact that so many in the industry are willing to help their colleagues, she feels Fountain of Youth is in an even better position to succeed.
"I want to compliment and thank my colleagues around the globe, because the members of the medical aesthetic industry are particularly unique in their willingness to share information," she says. "The medical aesthetic industry is uniquely positive-sum: When a practitioner on the other side of the country posts their incredible results, it helps my local business. If I learn something new and powerful, I can share it on Instagram with other practitioners and their patients will benefit. I believe the network effect allows each high-quality medical spa to benefit from the success of another. I'm thankful to be both a contributor and beneficiary of this powerful network effect."
AmSpa members receive QP every quarter. Click here to learn how to become a member and make your med spa the next aesthetic success story.
Related Tags