Back to Main Blog
Member Spotlight: Valuing Patient Relationships
Posted By Madilyn Moeller, Monday, July 26, 2021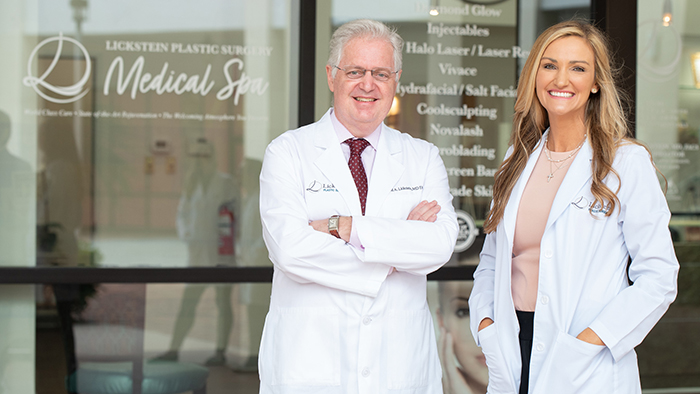 By Madilyn Moeller, Editorial Assistant, American Med Spa Association
Medical spas are used to innovating when it comes to treatments. However, it can take a new perspective to reconfigure your team relationships and your patient approach. Luckily, the team at Lickstein Plastic Surgery Medical Spa in Palm Beach Gardens, Florida, was able to manage foundational change in the midst of a pandemic, coming out stronger than before.
David Lickstein, MD, FACS, and Lisa Lickstein, MSW, MBA, met during their undergraduate years at Tufts University. They founded Lickstein Plastic Surgery in March 2017 in Palm Beach Gardens, Florida, with 13 employees. David, a board-certified plastic surgeon, heads the full family plastic surgery practice, where they offer a balanced variety of medical and cosmetic services.
By 2019, their lead injector, Christina Hobgood Naugle, PA-C, was substantially growing their injectable practice. Lisa saw an ad for the Medical Spa Show and hoped it would provide some direction on how to grow their spa services further. She had been to plastic surgery conferences in the past, but none that had extensive content for the non-physician. She went home from Medical Spa Show 2020 with 40 pages of notes.
"I was blown away at how worthwhile that conference was and all the real return on investment takeaways that I took from going," she said. "So, we now have 28 employees in two locations a year after we went to the Medical Spa Show, and COVID-19 was during that year, so that we successfully expanded I think has a lot to do with the things that we learned at the conference."
A Practice Evolves
Sometimes you need people to tell you the obvious. "One of the speakers said, essentially, 'Do you feel confident that every inch of your office is generating ROI?'" Lisa says. "And I sat there, and I was like, I feel very confident that not every inch of our office is generating ROI." For example, local anesthesia was administered in the office OR, but their fractional laser was also in the OR, so it would often sit idle.
Upon returning from the Medical Spa Show, they converted the back office into a second procedure room to host the laser. "That instantaneously let us see the potential of the laser, not just in return on the piece of equipment itself, but also in how that could be used to really further relationship-building with the patients," Lisa says. "So, once we were able to get that out, that gave us a more significant procedure to offer our non-surgical patients."
Additionally, a Medical Spa Show talk on radical empathy inspired a shift in perspective on patient needs. When patients ask for a specific product, "what they're really saying is, 'I'm not happy with my appearance,' and you take the opportunity to just listen and let them explain how they wish to change their appearance or what they don't like versus, okay, I'll give you the [product] that you asked for."
Making a Mark
With this in mind, the practice developed the Lickstein Lift, which combines all its non-surgical modalities to get their patients as close to the appearance of lifted skin as possible without actually having surgery. This involves a year-long customized treatment plan, which encourages relationship building.
"What sets our medical spa practice apart is our focus on natural results and commitment to patient education and long-term, trusting relationships with our patients," Lisa says.
The practice's patients are able to describe more fully and more completely what bothers them. "What we'e found is that when patients have had all these appointments and spent all this time with our providers and have this real trusting relationship, when the providers tell them that the remaining problem needs to be treated surgically, they understand that we'e run the gamut of what non-surgical rejuvenation can offer. And so, our cross-promoting of surgery is a much better-quality referral."
Lisa stresses the importance of having a team with strong credentials, skill and continued training on the newest techniques and trends, in order to offer the full range of services that patients need.
"You're only as good as your team, and it's good to share with your team," she says. "So, for our business, every time we hit a new best month, everybody gets a bonus. We offer profit-sharing. We really recognize that we're only as good as our team."
But it's not just financial incentives that make Lickstein Plastic Surgery a place where people want to work—team members are encouraged to use their expertise to get creative and move the practice forward.
"One of the big things that has led to our success is looking at our mid-level providers and physician extenders and to make sure that through their title and their autonomy and their compensation, they are treated with equal respect," says Lisa.
After returning from the Medical Spa Show, the Licksteins decided it was important to offer Naugle the chance to join them as a partner in the spa side of their practice. Naugle began her career at a center for natural breast reconstruction and plastic and reconstructive office with a focus on breast cancer patients.
"After a year or so, I continually ran into my patients inquiring about surgical and non-surgical cosmetic procedures after completing their medical treatments," Naugle says. "I quickly became the main injector and loved helping our patients transition and gain confidence and femininity after a stressful season. I truly believe that in aesthetics, we are still focused on medicine by helping patients feel and look their best."
The Licksteins wanted to offer Naugle equity in the practice, so they consulted ByrdAdatto, a business and health care law firm that is the legal partner of the American Med Spa Association (AmSpa).
"They were able to come up with a structure that was compliant and legal, and lets her feel the tremendous amount that we respect her," Lisa says.
ByrdAdatto also helped them to reward collaboration.
"We'e gotten rid of that sense of competition among our providers," Lisa says. "It's important to not stop training, developing or putting forth your non-physician providers, keeping in mind that the practice is more than the doc—it's the full team, and you need to provide opportunities and all the ways for them to grow."
Community Care
The Licksteins have lived and raised their family in Palm Beach Gardens since 2002. "I love getting to really be a part of our community," Lisa says. "We are very active here. We do a tremendous amount of philanthropy. We do a tremendous amount of engagement."
The practice underwrites the Women in Business Council Mentorship Bootcamp through its local chamber of commerce, contributes to outstanding foster care programs in their community and supports Susan G. Komen, a breast cancer non-profit.
"We have a program where, each time a patient visits, they can nominate a local charity that they want contributions to go to," Lisa says. "Once a month we'll select one."
As business owners, the Licksteins do their part to support the other local small businesses.
"The great thing about being entrepreneurs is working with other local entrepreneurs," Lisa says. "We'e really tried to elevate each other. We try to give back for the support that our community has shown us. And really, it's a wonderful blessing to be able to do that."
AmSpa members receive QP every quarter. Click here to learn how to become a member and make your med spa the next aesthetic success story.
Related Tags
Subscribe to Our Email List
Medical spa news, blogs and updates sent directly to your inbox.