Back to Main Blog
QP Extra: Q&A with Chris Bailey of Ovation Med Spa
Posted By Mike Meyer, Friday, September 6, 2019
When Chris Bailey founded his medical spa in 2006, he was new to the industry. The practice was a franchise, though, so he felt he could count on the support of the franchisor. Six months after the practice opened, however, the franchisor went out of business, so Bailey picked up the phone and called every medical aesthetics professional he could track down, asking those who would talk to him about every aspect of the business. He developed a number of long-term relationships with highly respected members of the industry and, before long, his practice—renamed Ovation Med Spa—was thriving. Bailey spoke with AmSpa Content Writer/Editor Michael Meyer about how he and his practice rebounded from a rocky start to become one of the most successful medical spas in the Houston area.
Michael Meyer: What inspired you to open your practice?
Chris Bailey: I spent 15 or 16 years in corporate America and I was getting burned out. I was bored. Fourteen or 15 years ago, I was in LaGuardia Airport a couple of weeks before Christmas, coming home from a client meeting. I'm looking around the airport, and there are people 10 or 20 years older than me, and I'm just sitting there thinking, "I can't be doing the same thing in 10 years or 20 years." And I remember standing at the magazine rack and flipping through Entrepreneur magazine—the Franchise 500 edition—thinking, "I don't want to make sandwiches, I don't want to be a janitor and I probably don't want to own a daycare." And then I saw some medical spa franchises, and I'm like, "Huh—that's interesting. People are getting older, and they don't want to look older. Maybe I should look into this." I started doing a bunch of research, and a year and all my money later, I opened our business. That's where it started.
MM: What would you say is different about your practice now versus when you opened it?
CB: We opened about 13 years ago, and at the time, you could categorize what we did as skin rejuvenation. We did injectables, we did IPL and different things for skin rejuvenation. Body contouring wasn't really even a category yet, because there were no devices that really did it. Today, we do everything from skin rejuvenation, body contouring, vaginal rejuvenation, erectile dysfunction, hormone replacement—it's really the gamut of anything you can do nonsurgically to someone to make them look or feel better.
MM: What is your most popular treatment, and what brings in the most revenue?
CB: The most popular treatment can vary by season. Certain times of the year, our Sciton Halo is very popular for skin rejuvenation; we get to the summer and that's not quite as popular. We do a lot of CoolSculpting. We do a lot of Emsculpt treatments—the new body contouring device. One of the fastest-growing segments has been vaginal rejuvenation, which has been kind of surprising to all of us.
What brings in the most revenue? We're pretty balanced. It's probably a fairly even mix between skin rejuvenation and body contouring. And things like vaginal rejuvenation and hormone replacement are smaller percentages but growing.
MM: What would you say is the most important factor to your success?
CB: I think some of it is that we've continued to innovate. We have close to 40 different FDA-approved devices; I think the average medical spa might have three or four. We have always stayed on top of technology, and we have multiple options to do similar things. We've never wanted to be in the position where someone comes in and we have to tell them, "You need x, and y happens to be the only thing we have." We're in a unique position where we can truly customize treatment plans for people based on their needs because we've got all kinds of different technology to accomplish that.
MM: What sets your medical spa apart from others?
CB: I think some of it is what I was just talking about—the continuous innovation and the technology that we have. No one has the technology we have, I don't think, anywhere in the country. And then you marry that with our outstanding service providers—we've got employees who've been with us since day one, for 13 years, and we've got very low turnover. Our staff is excellent. They get great training, and they do great treatments, and they provide great customer service. We have customers that we've literally had for 13 years, since we opened our doors. Our unique selling proposition is that we don't sell a one-size-fits-all solution—we can truly customize treatment plans for what people actually need.
MM: Who inspires you?
CB: My father has always inspired me. He is probably the person, from when I was a young child, who taught me to dream bigger dreams, think big and believe we can do things beyond what we are doing today. He's always been an inspiration my life.
MM: What do you love most about aesthetics?
CB: I think some of it is the opportunity—and this is always hard to say without offending someone—to help people become what they believe are better versions of themselves. It's just fun to have someone come in, unhappy with some aspect of how they feel or how they look, and be able to make a positive change and have them be happy that they were able to accomplish that. That's one of the most fun things about it.
MM: What do you love about being an entrepreneur?
CB: Some of it is the constant challenge and the constant change and the constant need to be creative and innovate. If we think about how the aesthetics market has changed in the 13 years we've been in it, it's so amazing. It's different this year than it was last year. It changes so rapidly, and it continues to change. That constant challenge is what keeps me engaged.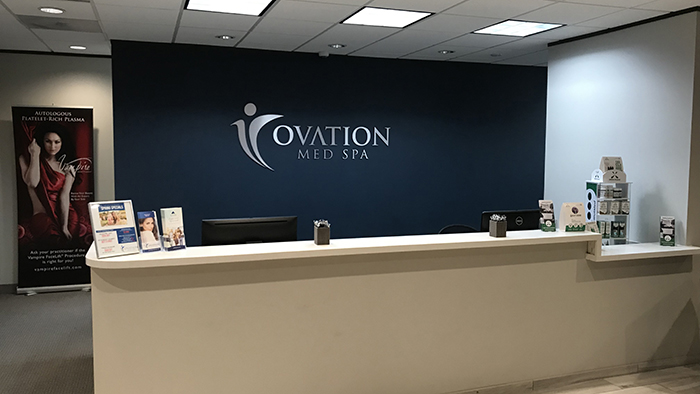 MM: What was the goal with the spa design you chose?
CB: We don't want to look like a medical office, and, and we don't necessarily look like a real frou-frou spa. Our design is clean and efficient. We're not trying to look like the Taj Mahal, but we want an efficient, clean, visually appealing space. But we don't want you to think you're in your family practice doctor's office either.
MM: What advice would you give to medical spa owners?
CB: Keep your overhead low—as low as possible—and network with as many different people around the country as you can who do similar things as you. When I started this company, we actually had purchased a franchise. I spent all the money I had and borrowed more money than anyone should have let me, and we started this franchise. Six months after we opened our doors, the franchisor went out of business. And so here I am—I paid all this money for all this help, training and assistance I was promised, and it's now vanished. But I have no other choice—I have to make this work because I'm deeply in debt at that point and have no job. So, I literally got on the phone and called anyone in the country who would talk to me just to ask questions. Because of that, I've developed some great long-term relationships with some very top-end doctors in the aesthetics world that have really been beneficial to me.
What's interesting about that story is no one in Houston would talk to me, and I still find that fascinating—in the business world, we talked to our competitors, and we understood they're competitors, but we would talk and share ideas. Entering this medical space, it was, at least on a local level, a very closed community, especially to someone who wasn't a medical provider coming into it.
Because of all that pain and suffering I had to go through in the beginning to survive and make relationships, we've had some opportunities that just never would have come along otherwise. As an example, as a non-doctor, I was the first person in the country to have the Emsculpt device. I had developed a relationship with the people at BTL, and they knew we were innovative, and they loaned us one in the very beginning to try to help figure out what it did. And so, I'm the only non-medical person listed on some of these published studies for the Emsculpt. Those kinds of opportunities really stem back to those early days of networking with people around the country and building our reputation through asking for and sharing ideas with people. My business wouldn't exist had I not been able to network and do those things early on.
I get calls all the time, and I'm always willing to talk to anyone who wants to call and ask questions, because I did the same thing. It's surprising to me how many people either are afraid to reach out and ask questions or assume that they won't help you because you're a competitor. I laugh at that. I'm in Houston, Texas, right? If every aesthetic facility in the city was running at full capacity, we couldn't serve everyone who wants treatment. It's just not even possible. It's millions of people, and I just laugh sometimes when people are so worried about competition. Just do a better job. If you do a great job, there's plenty of business for everyone. As an industry, we can make the entire industry better if we actually talk to each other and help each other.
AmSpa members receive QP every quarter. Click here to learn how to become a member and make your med spa the next aesthetic success story.
Related Tags
Subscribe to Our Email List
Medical spa news, blogs and updates sent directly to your inbox.