Back to Main Blog
Running the Numbers on Med Spa Compensation
Posted By Kate Harper, Monday, October 22, 2018
By Alex R. Thiersch, CEO of the American Med Spa Association
A medical spa's most valuable asset is not its location, its marketing, or even the multi-thousand dollar laser equipment. According to our 2017 Medical Spa State of the Industry Report payroll and benefits are the single largest category of medical spa expense. Also from our Industry Report receptionists (69%), aestheticians (78%), and nurses (50%) are among the most commonly employed positions at a medical spa. So even a very modest sized medical spa is going to employ a team of people. This team in addition to being the biggest expense is also the Spa's biggest asset. A medical spa is all about offering services and procedures in a comfortable and inviting way and the people chosen to perform those services are critical to that goal.

The success of a medical spa is directly tied to its ability to attract and retain excellent nurses, aestheticians, and staff. A competitive compensation structure is going to be a major part of attracting and retaining these stars. Commissions seem like a great solution to this: the medical spa incentivizes the employees to generate more business and the employee gets flexibility in their pay structure. In fact our State of the Industry Report uncovered that roughly a third of our respondents pay some sort of commission to their employee.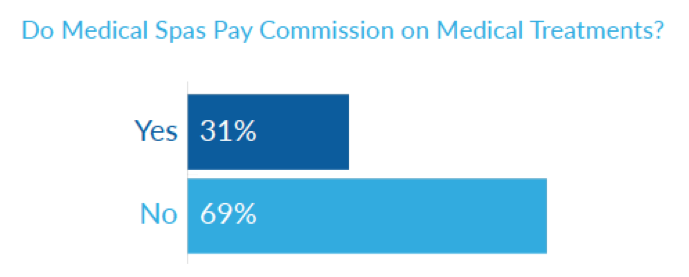 However there are multiple reasons you should think twice before offering commissions.
Fee Splitting/Kickbacks
To understand why paying commissions may not be a good solution we need to answer the question "who earns the fee for a Botox injection or laser hair removal session?" Because most treatments and procedures in a medical spa are medical procedures it is the physician supervising the practice who earns the fee. It is the physician (or the midlevel practitioner they delegate the task to) who performs the initial exam and prescribes the course of treatment. They then delegate the administration of that treatment to the other licensed healthcare professionals. The physician in turn pays the overhead costs, payroll, and other expenses of their office.
State legislatures have historically been concerned with protecting the public from financial arrangements which may corrupt the independent medical judgement of physicians. As such many states have passed laws that prohibit a physician from splitting their fee or paying a kickback in exchange for a referral of business. For instance California prohibits a licensed health practitioner from paying or receiving a commission or consideration to compensate or induce the referral of patients. The penalty for violating this section can include imprisonment up to a year and/or a fine up $50,000. Other states may not have as stiff of penalty but may still discipline the license holder for unprofessional conduct when engaging in this sort of activity.
In offering to pay a commission to the nurse or staff for every procedure performed or sold the physician is giving a kickback or splitting their fee with someone in exchange for business. Even in states that do not have an explicit prohibition on splitting fees or kickbacks paying commissions can raise issues of corporate practice and unlicensed practice of medicine. All states prohibit unlicensed persons from practicing medicine and many extend this to lay business entities (i.e. corporations). By paying a commission or sharing the fee for a procedure this can raise issues that a portion of the fee for professional services is being shared with people who are ineligible to have an ownership interest in a medical practice or not licensed to practice medicine.
So What Can You Do?
Of course many of these issues will be specific to your state's law and medical board (AmSpa members can check their medical aesthetic state legal summary) but in general you can pay your employees a salary for the work they do and under certain circumstances bonuses tied to other performance metrics may be acceptable.
See the compensation packages, and other business-building tools, available in the AmSpa store.
For instance bonuses tied to retail sales don't involve medical fees and so don't draw in the fee splitting issues. According to our 2017 State of the Industry Report, medical spas draw 18% of their revenue from retail items. Retail products are obviously not medical procedures so if your practice carries a line of beauty products you could get the double benefit of increased sales and increased employee retention by offering commissions on these products.
What employees does your spa have? Have you had success with certain compensation structures? Let us know: We'll be conducting our next State of the Industry survey soon and really hope to hear from you. Help us define data in the medical spa industry.
Related Tags
Subscribe to Our Email List
Medical spa news, blogs and updates sent directly to your inbox.