Back to Main Blog
Tips to Develop a Socially Integrated Website for Millennials and Gen Z
Posted By Madilyn Moeller, Friday, August 11, 2023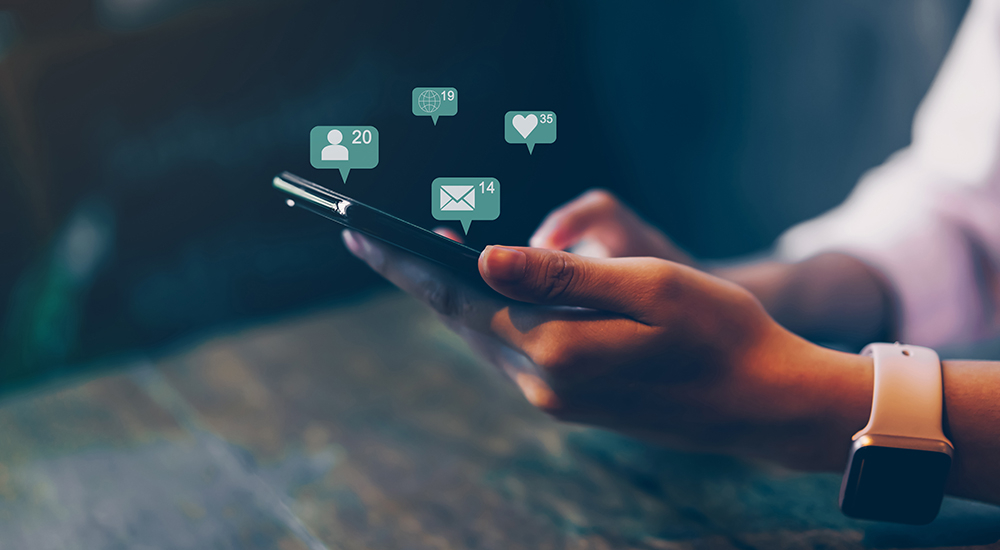 Social media has become a powerful marketing platform for medical spas to attract today's Millennial and Gen Z patients, receive valuable feedback, and build customer and brand loyalty. Unfortunately, most practices focus almost all their time and energy on social media marketing and leave the website to their webmaster or SEO agency, effectively segmenting their two most important marketing platforms.
Integrating social media into your website is essential for enhancing the visitor experience by making the site more interactive, keeping your prospects engaged for extended periods of time, and building initial rapport and trust with your practice.
The benefits of social media integration
Millennials have been the driving force behind the social media world we live in today. The key goals of social media integration to this audience are to extend brand reach and awareness, increase online engagement and build brand loyalty. Creating a well-designed, integrated medical spa website that provides valuable information about aesthetic procedures and anti-aging treatments can attract new clients and encourage current patients to explore future treatments. Social media integration can both direct social media traffic to your website and allow people scrolling your website to easily find your social media profiles.

Successful social media integration creates straightforward communication between your visitors and your medical spa practice, allowing for a more personalized user experience. Millennials and Gen Z consumers look for ways to interact with brands, so facilitating open communication by using live chat and text messaging can compel these branded visitors to engage and convert them into leads.
Social media integration is also vital to develop a unique online presence that provides current and potential patients with an easy, accessible and convenient way to book appointments, purchase products and explore services. Doing this will improve client retention, form positive customer relationships, and increase your medical spa's digital trustworthiness and credibility.
By integrating your online platforms, the "whole" of your digital marketing will be greater than the sum of its parts.
How to integrate social media into your website
There is no end-all-be-all answer, but there are different ways you can better integrate social media into your website. Of course, most practices add small social media icon buttons to their website, typically burying them at the bottom of the page or in the footer. They even camouflage them more by coloring the icon to match their website's branded color. Instead, consider making your social media icons a "destination." Develop a social media footer section with relevant images and compelling links to get to know your practice.
Custom photography: Custom photography can be an essential investment. Often, when people are scrolling through social media, they like photos without even reading the caption. Aesthetic images can be influential because they tell a story without words. By replacing boring stock images with engaging visuals that demonstrate the value of your services, you can develop more likeability and establish a connection with potential and current patients. Some examples of visuals you should consider adding include more candid photos and videos of your providers, team and office; before-and-after photos; patient review videos (testimonials); and treatment infographics.
User-generated content: Another way to leverage visuals is to integrate user-generated content, including photos and videos documenting their experiences with your medical spa and results. For example, developing a selfie gallery can encourage your happy patients to share their results using photos or videos. This adds a sense of "reality," creates a sense of community, and stimulates interactions between patients and your brand. Firsthand before-and-after photos, testimonials and patient reviews are all ways that you can build trust, create client loyalty and gain credibility.
Content promotion: Finally, promote new or compelling content in social media posts through links and drive branded traffic to key pages. This strengthens SEO user signals, increases website popularity and boosts your ranking. It's crucial to ensure your content is valuable and authentic to boost engagement, expand branch reach and awareness, and improve search engine optimization. Some examples of valuable medical spa content you should leverage include promoting new treatments and procedures, giveaways, and blogs. Incorporating brand voice, engaging with online visitors frequently and being authentic are important for your medical spa website's success.
Key takeaways
Social media has proven to be a valuable tool for brand awareness, engagement and patient retention. User-friendliness and accessibility are becoming increasingly important for websites to master. Social media can help your medical spa build deep client relationships, attract new patients and strengthen your brand image if integrated into your website correctly. Follow these tips and call MedShark Digital for more strategies to create a more integrated digital marketing presence.
MedShark Digital is a marketing agency that specializes in working with cosmetic, medical, and dental practices to build their online visibility and brand. Most importantly, it generates more high-quality leads and patients. It delivers results by combining the more than 25 years of medical and dental marketing knowledge and experience of Bill Fukui with its comprehensive team of accounts managers, designers, programmers, content specialists and community outreach coordinators. MedShark Digital's digital marketing expertise and deep understanding of term paper writing and dental patients gives your practice a competitive edge.
Related Tags
Subscribe to Our Email List
Medical spa news, blogs and updates sent directly to your inbox.