We Need Your Help for the
2024 State of the Industry Report!
Take the 2024 State of the Industry Survey!
We're hard at work building our next bi-annual industry report. Help us get a clearer picture on industry statistics so we can set realistic and accurate benchmarks. Add your practice's data by taking our short survey. This survey is extremely important to the entire medical spa industry, as it lends credibility and hard business data to further solidify medical spas as a growing force in the economy.
If you complete the survey, you will:
Receive a free copy of the full survey results when the report is completed,
Receive a promo code to save $200 on an AmSpa Medical Spa Boot Camp or AIA Advanced Cadaver training,
Be entered in a drawing to win one of TEN chances to attend the 2024 Medical Spa Show with a free registration, valued at $1,200.
This survey has been simplified from previous years and takes 15 minutes to complete on average. Your participation is incredibly valuable to us and to everyone else in the industry.
As a reminder:
Professionals should hail from medical spas, non-surgical aesthetic centers, laser centers, injectable centers and other non-invasive aesthetic practices.
We would like one completed survey per practice. You may solicit information from other professionals from your practice when completing.
Some questions pertain to your 2022 and expected 2023 revenues and expenses and how those breakout across general categories, as well as employee average salaries. If you do not have this information you can still complete the survey and opt to skip these questions.
Ready to Get the Report?
Full Report
available to purchase for:
$995
Buy It Now!
The 2022 Medical Spa State of the Industry Report provides business, operations, staffing, and legal statistics and analysis of one of the fastest growing industries in the United States, fast approaching a total value of $15 billion.
If you're looking for insight on medical spas and non-invasive medical aesthetics, look no further.
Real Data from Real Medical Spas
What is the average medical spa startup cost?
What is the average annual revenue of a medical spa?
What is the average patient volume per month and spend per visit?
What is the average salary for the most common staff types?


Insights from Industry Subject Matter Experts
What are some upcoming trends in medical spa ownership?
What should you think about when adding treatments or services?
What are key considerations for startup medical spas?
What are some practices successful medical spas have in common?


---
Download the Executive Summary for Free!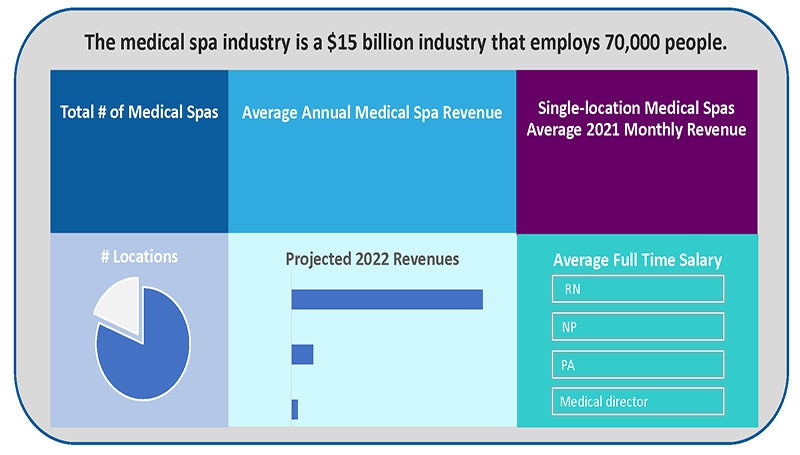 ---
Table of Contents for the 2022 Medical Spa State of the Industry Report*
Executive Summary
Industry Size

Year over year industry growth (number of practices) since 2010
Regional distribution of medical spas
Year over year industry growth (revenue) since 2010

Ownership Structure

Single-owned vs group-owned
Physician-owned vs MSO (including demographics of non-physician owners)
Ownership by medical specialty
The future of medical spa ownership

Operational Details

Free-standing vs part of a larger medical practice
Single location vs multi-location
Average number of employees
Breakdown of medical spa medical directors
Average years in practice
Overview of medical spa treatments

Patient Profile

Average patient demographics
Patient volume and average spend

Financials

Revenue breakdown
Expenses breakdown
Impact of COVID on medical spa financials
Start-up costs
Average compensation

COVID Impact
Segment Differences
Summary of Findings
Study Background and Methodology
*Report offers national data, and does not drill down to individual state or city data.
Ready to Get the Report?
Full Report
available to purchase for:
$995
Buy It Now!
AmSpa Plus Members can receive a free copy of the full report! Click Here