Back to All News
Syneron Candela Presents Game-Changing Technologies During AAD Meeting
Posted By American Med Spa Association, Monday, March 23, 2015
Syneron Medical Ltd. (NASDAQ: ELOS), a global market leader in the aesthetic medical device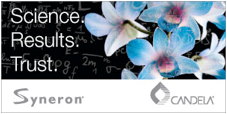 marketplace, is proud to showcase revolutionary technologies at the American Academy of Dermatology (AAD) 2015 Meeting – March 20-24 in San Francisco. From the fastest clearing picosecond tattoo removal technology to a painless, non-invasive fat destruction system, to the latest in nonsurgical facial rejuvenation, Syneron Candela remains at the forefront of aesthetic technology.
Discover Syneron Candela's trailblazing technologies:
PicoWay™
– Whether it was an impulsive youthful adventure, a change of style or lost love, there are many reasons people reconsider a tattoo. PicoWay offers an easier way to deal with unwanted ink. The new dual-wave laser delivers ultra-short pulses of energy (shorter than any other picosecond laser) with the highest peak power available on the market. PicoWay delivers a photo-mechanical impact that breaks tattoo ink or pigmentation into tinier, more easily eliminated particles. The end result is a faster, more effective treatment experience with better clearance on the widest range of ink colors and types. Significant results can be seen after just three to four treatments, as opposed to six to twelve sessions with other systems.
"This revolutionary, picosecond-domain, dual wavelength, Nd:YAG laser has set the stage to dramatically improve the way we erase tattoos," said Eric F. Bernstein, M.D.,M.S.E., Director of Laser Surgery and Cosmetic Dermatology Centers in Ardmore, PA. "Having an Nd:YAG picosecond-domain laser enables treatment of the widest range of skin types and allows rapid removal of black, red and other pigments. Picosecond technology is a significant innovation in laser technology, and the wait was well worth it."
UltraShape™
– For stubborn belly fat that won't budge with diet and exercise, UltraShape is a newly FDA cleared, non-invasive body shaping treatment that uses painless ultrasound technology to destroy fat cells in the abdominal area (average of loss of 1.3 – 2.5 inches). Pulsed focused ultrasound energy precisely and non-thermally targets subcutaneous fat, while keeping the surrounding tissue, blood vessels, nerves and muscles intact. It's painless and works faster than any other non-invasive body shaping device on the market. In fact, patients may drop up to two sizes in just three 45-minute sessions, with some visible results seen as early as two weeks.
"We observed clinically significant circumference reduction of truncal fat," stated William Coleman M.D., Clinical Professor of Dermatology, Adjunct Professor of Surgery (Plastic Surgery), Tulane University Health Sciences Center and a principal investigator in the 150-patient UltraShape clinical study. "The results demonstrated progressive improvement over time in circumference reduction, beginning after the first UltraShape treatment session. In our practice, patients were very satisfied with the results of the UltraShape treatment."
During AAD, Syneron Candela will announce two new UltraShape applicators; one that generates even greater effectiveness through multi-layer fat treatments (VDF), the other makes treatment of smaller, more targeted areas possible (U-Sculpt).
Profound™
is the first device clinically proven to stimulate three skin fundamentals – elastin, collagen and hyluronic acid, helping consumers achieve a more youthful appearance. Responsible for dermal volume, these building blocks are essential for the appearance of young, healthy skin.
Using temperature-controlled radiofrequency, Profound delivers energy directly to the deep dermis and is ideally suited for people who are seeking a more natural and minimally invasive approach. Improvements in skin density and elasticity are achieved by fostering the body's own natural healing process, without resorting to dermal fillers, botulinum toxin injections or invasive cosmetic surgery. The treatment builds on a growing aesthetic trend of patients wanting to avoid scalpels. Profound produces a 100 percent clinical response rate that is achieved during a single treatmenti.
"Having nearly exhausted surface applied technologies, Profound takes us to the next level by delivering energy directly into the dermis," said Macrene Alexiades-Armenakas, M.D., Ph.D, F.A.A.D., Assistant Clinical Professor, Yale University School of Medicine. "It is the first device to achieve real-time feedback of target tissue temperature and delivered energy, enabling us to control energy delivery to achieve and maintain a precise therapeutic temperature within the skin where the energy is supposed to go. This device has been shown to be the most consistently effective for minimally invasive skin laxity reduction in a single treatment."
About Syneron Candela
Syneron Candela is a leading global aesthetic device company with a comprehensive product portfolio and a global distribution footprint. The Company's technology enables physicians to provide advanced solutions for a broad range of medical-aesthetic applications including body contouring, hair removal, wrinkle reduction, tattoo removal, improving the skin's appearance through the treatment of superficial benign vascular and pigmented lesions, and the treatment of acne, leg veins and cellulite. The Company sells its products under three distinct brands, Syneron, Candela and CoolTouch, and has a wide portfolio of trusted, leading products including UltraShape, VelaShape, GentleLase, VBeam Perfecta, PicoWay, Profound and elos Plus.
Founded in 2000, the corporate, R&D, and manufacturing headquarters for Syneron Candela are located in Israel. Syneron Candela also has R&D and manufacturing operations in the U.S. The company markets, services and supports its products in 86 countries. It has offices in North America, France, Germany, Italy, Portugal, Spain, UK, Australia, China, Japan, and Hong Kong and distributors worldwide.
For additional information, please visit
http://www.syneron-candela.com
.
SAFE HARBOR FOR FORWARD-LOOKING STATEMENTS
This news release contains forward-looking statements within the meaning of the Private Securities Litigation Reform Act of 1995 that involve risks and uncertainties. Such forward-looking statements include the expectations, plans and prospects for the Company, including product efficacy, market acceptance of new products, and projected revenues, margins, earnings and market shares. The statements made by the Company are based upon management's current expectations and are subject to certain risks and uncertainties that could cause actual results to differ materially from those described in the forward-looking statements. These risks and uncertainties include the risk factors and other cautionary statements described in the Company's filings with the SEC, including those described in the Company's most recent Annual Report on Form 20-F, and in the filings that Syneron Medical makes with the SEC, and other factors beyond the Company's control. If one or more of these factors materialize, or if any underlying assumptions prove incorrect, Syneron Medical Ltd.'s actual results, performance or achievements may vary materially from those expressed or implied by these forward-looking statements. These forward-looking statements should not be relied upon as representing Syneron Medical Ltd.'s views as of any date after the date of this document. The Company does not intend to update these statements and undertakes no duty to any person to provide any such update under any circumstance.