Laser Hair Removal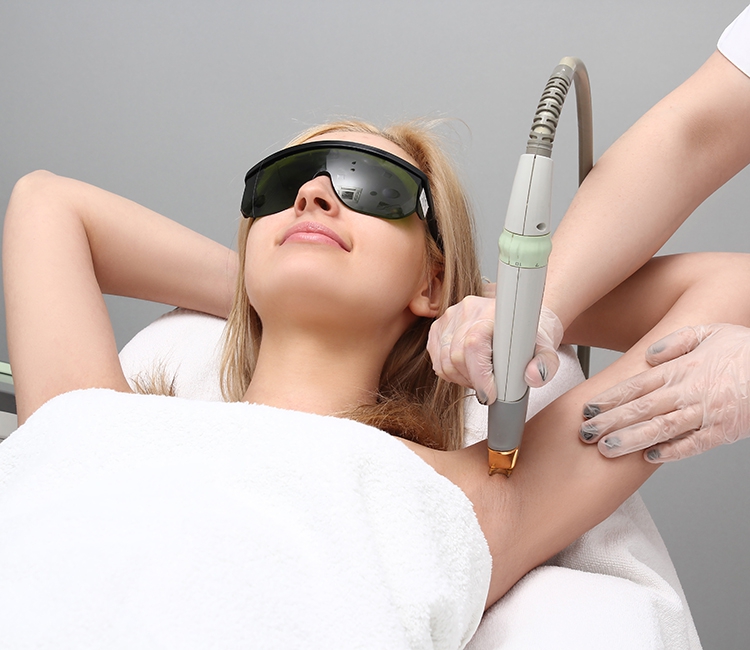 Laser hair removal is a noninvasive technique that uses highly concentrated light to penetrate hair follicles and inhibit future hair growth. Treatment is effective for most parts of the body.

Light-skinned and dark-haired individuals are the best combination of candidates for this procedure. However, the best advice is to research the facility you're choosing to use, the equipment they are using and how long the technician has been doing these treatments to know if this procedure is right for you.1

If the laser hair removal candidate has the following contraindications, he/she should not receive the procedure:

Uses photosensitizing medications (evaluated with medical history);
Has unshaven hair;
Uses fake tanning products;
Has tattoos or permanent makeup in the area;
Has plucked/waxed two weeks or fewer prior to the procedure;
Has intentionally received sun exposure two weeks or fewer prior to the procedure;
Uses Retin-A or hydroquinone three days or fewer prior to the procedure; and/or
Uses intramuscular gold therapy.2
3; It feels like a rubber band snapped against the skin. Particular areas of the body can be more sensitive, such as the underarms, bikini, and upper lip. Each person's pain tolerance can vary. Cold compresses or anesthetic creams can reduce discomfort. Some lasers have cooling devices, such as cold air or a chilled tip, that also help with making the treatments more tolerable. 
Because hair grows in cycles, it typically takes 3–4 laser hair removal treatments to provide significant hair reduction.5

Laser hair removal doesn't guarantee permanent hair removal. Some hair could be resistant to the laser treatment or grow again after treatment—although the new hair growth might be finer and lighter in color.6

Much confusion exists over who can perform laser hair removal and the laws vary drastically from state to state. A number of states have developed specific laws regarding laser hair removal and who may conduct hair removal treatments, so every consumer is encouraged to research their state's laws relative to this treatment. However, most states have not addressed this issue and those usually consider it to be a medical treatment. AmSpa is aware that it is common that estheticians perform this procedure; however, most state boards do not approve of this practice. Because it is typically considered a medical treatment, prior to your initial treatment, the medical spa should conduct an in-person exam by either a doctor, a nurse practitioner or a physician assistant. Once the in-person exam is complete, most states allow anyone with proper training, experience and supervision by a medical professional to perform laser hair removal. Please check with your local medical board, nursing board or health care attorney for more information.

Possible laser hair removal side effects include:

Mild swelling around the hair follicles; and/or
Pigment changes may occur, especially in those with darker skin.
These changes are usually temporary:

Slight redness of the skin; and/or
Temporary irritation resulting in blistering, crusting, scarring, or other changes in skin texture.
6
Special care must be taken for those with darker skin. A less intensive laser should be used to avoid damaging the outer skin. Anyone who has tanned, used a spray tan, or gone to a tanning booth should avoid getting laser hair treatment to avoid possible damage to their skin.6

Disclaimer: The information and answers contained in this section provide a general guide to laws that apply to "medical spas". The information contained on this site is for general reference only. This information is not intended to provide legal advice, and it should not be relied upon as legal advice. This information is not intended to create, and receipt of it does not constitute, an attorney-client relationship. Readers: You should not act upon this information without seeking knowledgeable legal counsel that takes the laws of your jurisdiction into account. All uses of the content of this site, other than personal uses, are prohibited.