Back to Main Blog
Designing Your Ideal Medical Spa
Posted By Madilyn Moeller, Tuesday, December 20, 2022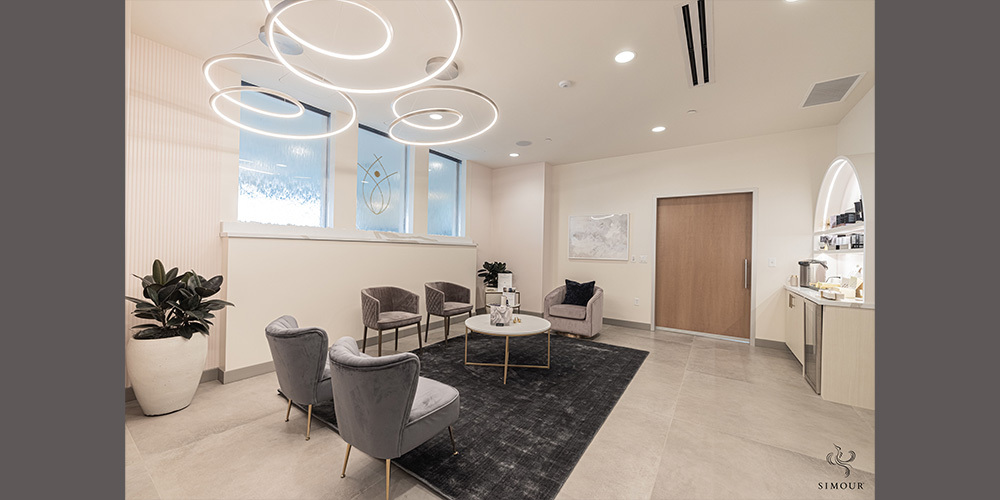 By Mitra Silva
The renovation/building process can be likened to a journey where you must take strategic steps to reach your destination—in this case, a world-class medical spa that you can truly be proud of.
How you begin the process can set the tone for the entire project and even make or break what the outcome may look like. Before the first walls get built, before the floor plans get finalized, the journey toward building a world-class medical spa must begin with the strongest of foundations.

Clarifying the vision at the earliest stages guarantees a solid approach to the building and even the management of the practice. Defining what the ideal practice is for you paves the way for clarity that will bring you success far beyond what you have envisioned. Here are the steps you should take to achieve your ideal medical spa.
1. Know your why
In a nutshell, the "why" is your reason for being. It may sound philosophical, but it's very rewarding. Figuring out why you do what you do forces you to re-examine what gets you up from bed every day and drives you into that office day in and out, and lays out what your bigger purpose is for being where you are. More than the design or building process, the exercise you need to start with is a ton of introspection. When you are clear about why you do what you do, the rest just follows. It gives you a framework to build around your practice—what kind of practice it is, what level of service you want to dispense and what makes you different from the rest?
Knowing your why is also about foresight. Being a specialist in a field can make you an expert in your specialization, which will do wonders for your practice. Building up your experience and being in the know for what is next in the field can define how sought-after you want to become. If you want to have a practice that is going to be known for the most cutting-edge technology, you must actively be aware of what is the next big thing for the industry.
2. Define your brand to stand out
The medical spa industry can be quite competitive, and knowing your unique selling proposition and what separates you from other aesthetics practices makes standing out easier. This is where branding yourself becomes helpful. It defines your practice as a persona that potential patients can relate to. Branding is also a way to deliver a cohesive message to your patients, making them feel and experience your space exactly how you have designed it to come across. This intentionality empowers you to dictate the patient experience in exactly the way you plan it.
In the age of the digital economy, branding is indispensable if you want to achieve any measurable criteria for success. Your online presence must relate to your offline presence. The graphic network that involves your logo, your website, your collateral and every online communication must be engineered to attract your target audience and translate into visits to your practice. The interior design, therefore, becomes the tangible representation of or even the finale to your branded experience. If you have a sleek, minimal online presence, ensure that your medical space reflects the same vibe. Otherwise, that disconnect can breed confusion among your patients. When you are working with a solid framework, that branding system will flow effortlessly, bringing out your practice's most authentic self.
There are many ways a design intervention can continue the branding into your interior design. Color psychology is a field that examines the psychological effects of color in the appreciation of a space. The branding system's construction often hinges on the mindful use of colors and having those in the office to directly connect the visit as a part of the larger branded experience. Calm colors, such as neutrals and earth tones, are expected to deliver those feelings and induce a comfortable and relaxing atmosphere. Materials also matter. The extensive use of wood in the interiors conveys a warm ambiance. Steel surfaces denote rigidity and solidness. Variations in intensity and how they are mixed and matched are best navigated with a talented medical interior designer, who will have knowledge of these concepts.
3. Plan and design for growth
Envisioning the perfect practice comes from a place of hope. Nobody wants to plan for failure. When creating a vision of a high-performing, successful and profitable practice, you should always view it with optimistic eyes to expect steady and sustainable growth. Practically speaking, you would not want to plan for a space that you will easily outgrow. Crowding can affect the carefully curated experience you build when you lay out the rooms in a practice. Losing revenue because you are turning away more clientele might seem unthinkable at first, but it is a very real threat. As an industry standard, planning for 30 – 50% growth in the next three years is a reasonable forecast for medical spa growth.
Simour Design uses a formula that optimizes the space allocation to ensure maximum profitability. It dedicates 70% of the floor spaces to revenue-generating activities to maximize the income potential. Couple this with the forecast for realistic growth and you have a practice that is more future-proof than most. Growth doesn't always have to entail disruptions and construction. Simple calculated interventions can transform spaces whenever you want, and these changes will allow for more income generation. Multi-purpose rooms, sliding panels and hidden storage solutions are just some of the ways that spaces can serve multiple purposes. Add the element of time and you can optimize a space to perform different functions at different times of the day.
4. Create an effortless flow
Movement is important when establishing circulation patterns. Understanding this is incredibly helpful when identifying flow within a medical practice. Flow can mean a lot of things—it can mean the flow of the patient as they enter and move through the different phases of treatment, but flow can also mean the flow of the staff in how they go about their duties. Flow can also mean the workflow of how the staff's tasks are accomplished. Flow is finding the most reasonable way to complete an action with the least amount of friction and discomfort. Arranging spaces thoughtfully helps to identify adjacencies that enable and support accessible movement at the least amount of distance and time. Locating lounges off the reception desk invites people to wait in comfort before proceeding to treatment. Recovery rooms need to be close to nurses for monitoring and supply closets for restocking. Crafting a floor plan that makes sense is operating on an instinctive level. You get it, your patients get it and anyone with the least amount of guidance just knows where to go next.
Optimizing your workflow can also mean using the latest in technology to make the whole operation more secure and faster. There are several ways that technology can declutter and save your practice over time—digital monitors can have records on demand, check-in can be completed online, and your practice can go paperless, for example. Also, using cutting-edge technology can show how progressive and innovative your practice can be.
You should be able to create your ideal practice if you try incorporating all these considerations into your design. An informed business owner is an empowered one, and all practices, regardless of scale, can become more knowledgeable about what to expect from the medical aesthetics journey. The initial steps may be daunting, but they don't have to be. Building a high-performing medical practice is a journey that can be fulfilling and enjoyable.
Mitra Silva is the founder and CEO of Simour Design, a medical interior design firm. She leads a specialized team of designers to serve clients through creating intentional and transformational medical spaces. Simour Design specializes in medical spas, plastic surgery centers and all other areas of the medical field, designing for clients from Beverly Hills to New York City, Washington, DC, to Chicago, and everywhere in between. She was named by Ariana Huffington's Thrive Global as an accomplished C-suite executive, and was invited as a speaker for Medical Spa Show 2021 and 2022. She was also a guest on the Medical Spa Insider podcast and was featured on EverTalkTV.
AmSpa Members receive QP every quarter. Learn how to become a member and make your med spa the next aesthetic success story.
Related Tags
Subscribe to Our Email List
Medical spa news, blogs and updates sent directly to your inbox.