Back to Main Blog
Emergency Leave Requirements and Dealing with COVID-19 School Closures
Posted By Mike Meyer, Wednesday, September 9, 2020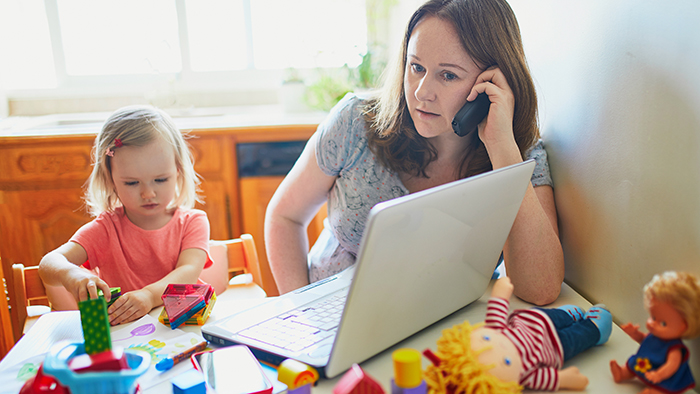 By Paul Edwards, CEO, CEDR HR Solutions
We'e all watched over the last few weeks as schools have struggled to decide whether to open for in-person or virtual learning, and as many of the ones that opened were forced to close down again as students and teachers tested positive for the virus.
When parents who work in health care are unable to work a predictable schedule due to childcare, it puts an enormous burden on their employers, who need to have enough staff to be able to see patients effectively.
We have seen a large number of employers either tell their employees with children that they are being let go or being put on unpaid leave as a result of their childcare needs. Unfortunately, that's not actually the right solution in most cases.
You likely have heard of the Families First Coronavirus Response Act (FFCRA), which provides paid time off for childcare and other COVID-related reasons. Most of you have probably been setting those pay requirements aside, believing your business to be exempt as a health care provider and/or as a small business.
This is no longer a safe bet to make, and it's in your best interest to start assuming that FFCRA applies to you.
Health Care Exemption
When the FFCRA was passed, it allowed the U.S. Department of Labor (DOL) to set exemptions for health care providers.
Those of us monitoring this law expected a narrow exemption for high-level providers such as doctors, physician assistants, nurse practitioners and the like—individuals whose presence in the office is absolutely critical to providing health care during the pandemic.
Instead, the DOL made it possible for any "health care employee" to be exempt, effectively taking FFCRA off the table for all employees of small and mid-sized health care practices.
Not surprisingly, just last month, a federal judge determined that the Department of Labor's interpretation of the health care exemption was too broad. We are still waiting to see how the DOL responds to that decision—by rewriting their rules, appealing the court case or some other action. In the meantime, it leaves a huge question mark on the table for employers facing a staffing shortage as the school year starts.
Long story short, we do not believe the health care exemption is safe for a medical spa to use at this time.
Small Business Exemption
Yes, there is also a small business exemption. No, that does not get you off the hook either.
Businesses with fewer than 50 employees can be exempt from FFCRA, but only if they can show they made a detailed financial determination that the business essentially would not be able to operate if it provided FFCRA leave and pay.
We have more detail on that criteria here, but we are finding that very few businesses actually meet these requirements.
At this time, we are highly discouraging medical spas from using the health care exemption at all, and from using the small business exemption unless there has been an in-depth financial review with help from an attorney, CPA or HR professional.
The Childcare Conundrum
For working parents who find themselves unable to work due to a lack of childcare caused by the spread of the novel coronavirus, FFCRA allows them to take up to 12 weeks of time off at two-thirds pay to care for their children. The good news is that you can get this paid back to you very quickly through a tax credit.
The bad news is that it doesn't solve the problem of finding yourself short-staffed due to the employee's absence.
It's for this reason that employers are going to need to work with their employees to find creative solutions to the staffing and childcare issues that work for both those parents and the business.
After having the initial freak-out about your employee telling you they can't work their regular schedule, take a few deep breaths and have a follow-up conversation with them. Find out what their childcare needs really are and whether they have any availability to work. Many parents have found themselves able to keep up work, but with a modified schedule.
This might involve them working non-traditional hours or even doing some work from home. We know that is typically not ideal, but we are all working under unusual circumstances right now, so we encourage you to think flexibly and creatively about how and when tasks can actually get done.
Once you identify what can and cannot be done by your current staff, it may help you discover opportunities for hiring someone new who can bring much-needed skills to the table to fill those gaps.
With so much changeover in the workforce across the country right now, this can actually be a good time to make additions to your team, even from those who are looking to change their career.
Expert HR Guidance
The HR and employment law experts in the CEDR Solution Center have compiled their most current guidance on how to manage the childcare availability crisis at your business on a single information page. For more on how to deal with the childcare issue at your business, click here.
If you'd like to learn even more, join us later this month for a live webinar on this exact topic. This is your chance to get expert guidance from CEDR's HR experts firsthand, and to ask any specific question you may have about the FFCRA, the health care and small business exemptions, and the childcare issues that affect your practice.
During that presentation, we'll discuss the potential problems posed by FFCRA exemptions, how to manage the process of paying, tracking and getting reimbursed for emergency leave, as well as how to support your employees with children while also looking out for your business. Click here to register now.
Here are the details:
Childcare: How the Next Great COVID Challenge Is Affecting Medical Spa Employers
Tuesday, September 22—11 am PT / 2 pm ET
Presented by CEDR Founder and CEO Paul Edwards and CEDR Director of Compliance Jennie McLaughlin
Paul Edwards is the CEO and founder of CEDR HR Solutions, a leading provider of on-demand HR support for medical practices of all sizes and specialties across the United States. With more than 25 years of experience as a manager and business owner, Edwards is known throughout the medical community for his expertise when it comes to solving HR issues that impact medical practice owners and managers. He specializes in helping doctors successfully handle employee issues and safely navigate the complex and ever-changing employment law landscape through his company's customized employee handbooks and support center. Edwards is the author of HR Base Camp, a blog and podcast channel for health care providers.
Related Tags
Subscribe to Our Email List
Medical spa news, blogs and updates sent directly to your inbox.