Back to Main Blog
How UVC COVID-19 Cleaning Is Changing Medical Spa Perceptions
Posted By Mike Meyer, Monday, August 3, 2020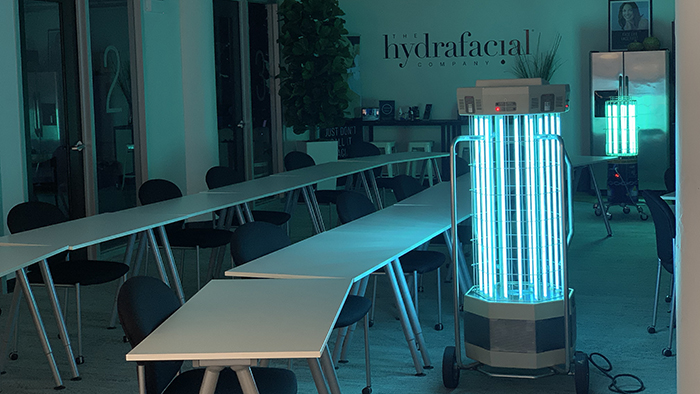 By Jon Cook, President, SD Innovations
Ultraviolet C (UVC) disinfection has been around for over a century, but only recently have its benefits been highlighted and widely utilized outside of the hospital industry. In the mid-19th century, artificial UV light was discovered to have significant germicidal effects, and then, by the early 20th century, UVC was being used in surgical facilities and water treatment plants in Europe. Today, UVC technology is widely marketed in a world turned upside down by a virus that is forcing business owners to wade through fear to find the best way forward.
By now, you likely have heard of the disinfecting benefits of UVC. Amazon, the airline industry and public transportation have heavily invested in using UVC to combat the spread of COVID-19. Even though it's become more widely used, the cost for quality hospital-grade equipment is still extremely high. In the medical spa industry, striking the right balance between germicidal protocols and cost efficiency has been a constant struggle. The regulations of the state—or even city—you're in can make those decisions even more difficult.
In the Chicago area, SD Innovations has been helping medical spas not only decontaminate their treatment spaces, but also show clients, employees and even local governments the additional efforts being taken. With social media being such a powerful window into their businesses, medical spas have teamed up with SD Innovations to cross-promote their treatments. The response from the visibility has been enormous—so much so that training centers in the Chicago region have brought SD in to treat classroom space. It's had a tangible effect on how these businesses are perceived by the public and the industry within the region. One-on-one medical services are not usually separated from other consumer-facing businesses, but these additional steps in Chicago are an effort to show local governments that restaurants and medical spas should not be treated as equals in restrictive decision-making.

While each state or region deals with the barrage of data and fluctuations in COVID-19 cases, medical spas are left wondering what the near future holds. Some states have halted in-person personal services, and several others are threatening to do the same. State and local governments lump industries together when talking about restrictions, even when there are glaring differences in how those industries approach the health and safety of employees and their clientele. This makes it very difficult for owners and employees to forecast how their region's COVID-19 response will affect their business.
As the pandemic has progressed, businesses have been approached by companies selling all kinds of UVC equipment. It's important to understand the science behind UVC, since it's still a wildly unregulated arena. Facilities are investing in equipment that is underpowered, and the training on device usage can lack accuracy and safety. SD is not only helping facilities decontaminate, but also spending a lot of time advising businesses about what equipment fits their environments should they chose to invest in UVC equipment. If the price seems too good to be true, there's usually a reason for that. SD does not partner with or sell for any device company—it has a passion for the emergence of this technology and wants to make sure the science behind it used ethically and safely.
With contact tracing comes the threat of operations being suspended, and UVC is a tool that can help mitigate that concern. If you're in Northeast Illinois, Southeast Wisconsin or Northwest Indiana, SD Innovations can meet you in person to review your facility and protocols.
SD Innovations in Chicago is bringing UVC disinfectant solutions out of the health care sector and into your business or home. It offers an alternative to toxic chemical disinfecting services. Its technicians use a combination of UVC light towers, powerful ultraviolet handheld devices and an organic treatment for heavy traffic areas. Its safe, organic and scientifically proven process will let your employees, patients and customers know that you take their health seriously.
Related Tags
Subscribe to Our Email List
Medical spa news, blogs and updates sent directly to your inbox.