Back to Main Blog
IV Therapy: Welcoming Wellness in Medical Aesthetics
Posted By Madilyn Moeller, Wednesday, October 12, 2022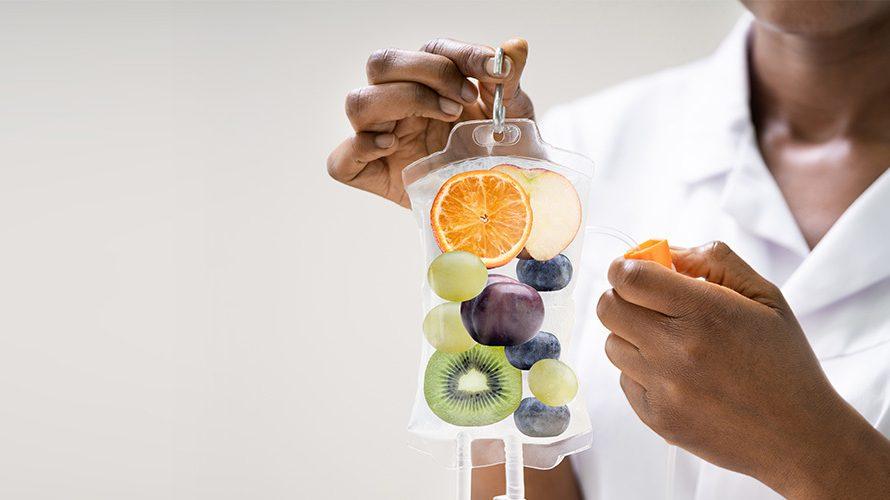 By Taylor Siemens, NP-C
Intravenous (IV) hydration and wellness is quickly becoming a hot topic in the medical aesthetics industry. Due to low patient risk, high margins and increasing demand, many clinicians are seeking information about how to successfully integrate these services into their medical spas.
A New Wellness Paradigm
IV therapy quickly provides an infusion of fluids, medications and vitamins to patients. This treatment is a great option for improving symptoms of dehydration, addressing lack of vitamins, and enhancing an anti-aging and revitalization plan. Commonly known as an effective treatment for hangovers and fatigue, there are many other benefits, including detoxifying the body, providing an immune boost and energy, and aiding in weight loss programs. And while adding these services is alluring, it is important to remember that IV therapy is a medical treatment and requires proper licensing, supervision, guidance and safety parameters in place.
While appreciated as a relatively low-risk service, providers and practices must be aware of and prepared for the adverse events that are possible. Infiltration of a vessel is possible with IV catheter placement, as is phlebitis, an erosion to the internal layers of the vessel. Pulmonary edema is a risk when infusions are too rapid, and air embolism is possible when air is injected into the vein.
As is the case with all medications, there are potential side effects and possible interactions when administering IV treatments; the most common side effect associated with the administration of vitamins is gastrointestinal disruption. Also, a proper history and physical or good faith exam (depending on state laws) is necessary to ensure your patient is a good candidate for treatment.

What You Need to Know
Obtaining the medication you need in order to prepare compliant IV treatments is a bit more complicated than it may seem.
Pharmacies are classified as either 503a or 503b. When it comes to ordering medication for your practice, a 503b pharmacy must be used, as these pharmacies are held to stricter regulations than 503a pharmacies; 503a pharmacies are considered patient-specific and do not have proper standards in place for medication prepared in a medical practice.
Finding the right education is a struggle for many, as there is limited pharmaceutical information available for the medical aesthetics industry. Understanding the inherent risks in sterile compounding and incorporating proper training and standards is essential for a safe IV therapy program. Compounded medications prepared without the guidance of standards may be subpotent, superpotent or contaminated, subjecting your patients to significant risk of adverse events.
USP (United States Pharmacopeia) sets the standards for enforcing guidelines for supplements and food ingredients. USP General Chapter 797 provides strict regulations for non-sterile and sterile compounding. Pharmaceutical regulations are present to ensure patient safety in consideration to pharmacy standards. These guidelines are key to running a compliant and safe IV hydration program.
Each state has its own laws and regulations regarding how to safely compound IV cocktails. For example, many states require medication to be prepared under a vent hood when two or more medications are added to a bag. Preventing contamination is of critical concern in any compounding environment. An improperly prepared compound, especially one containing microbial or chemical contaminants, can cause harm or even death when administered to a patient.
How to Cash In
Now, let's get down to business. IV therapy programs have immense potential for high-revenue returns, especially when utilized as a supplement to other services. For example, it is a great time to add on IV therapy when your patient will be present at your medical spa for more than 30 minutes—during facials, body contouring or laser appointments, or while numbing for other services. Be efficient with this time to increase your revenue per hour per room and provide even greater outcomes for your patients.
Ready to get started? It is a good idea to pick three to four IV cocktail recipes, brand them to your practice, offer the service as an add-on and sell the outcome. Are you considering pairing an IV treatment with a laser treatment? Consider a cocktail with antioxidants to increase the patient's glow. Are you selling to a busy mom or overworked businessperson? Add on a cocktail with B12 and B complex to immediately help increase energy and decrease brain fog to help them power through the week. Are you combining an IV treatment with a muscle-building treatment? Use a cocktail with magnesium chloride to help decrease muscle fatigue and further enhance the patient's athletic performance.
Also, consider partnering with a pharmacy that can provide counseling on IV therapy. To run a successful IV program, you will likely need to partner with two or three different pharmacies. Due to ever-changing FDA standards, the cost and difficulty of compounding medications, and shortages, it is probably unwise to rely on a single pharmacy for all your needs.
When you do decide to add IV treatments to your menu, consider developing a formal training program for your team: hand hygiene, aseptic preparation, patient education, IV bag preparation and more. Many compounding laws and regulations were created for compounding pharmacies, not medical aesthetics, which makes the standards challenging to understand. It is important that you consult your state's pharmaceuticals laws to develop your practice and help it thrive. Many practices risk sanctions from their state due to not following laws. Compliance is required, and ignorance or lack of educating yourself is not defendable. It is necessary you learn the laws and regulations to protect your business and patients.
Adding IV therapy to your medical spa can help your practice stand out from the competition, but it is important to know what you're getting into before you start. Once you get the logistics sorted out, however, you'll find yourself with a surplus of happy patients—as well as a healthy bottom line.
Vitamin Quick Guide
Here's a look at a few of the vitamins that are commonly used in IV treatments.
Magnesium chloride
Benefits:
Can aid in symptoms of depression
Provides a boost in energy
Positively impacts athletic performance
Reduces migraines
Manages gastrointestinal issues
Possible complications:
Can interfere with aminoglycosides, calcium channel blockers, quinolones, tetracyclines and thyroid absorptions
B vitamins
Benefits:
Provides a boost in energy
Can improve mood
Aids in building muscle strength
Improves cell health and nerve function
Glutathione
Benefits:
Antioxidant and anti-inflammatory
Builds immunity
Provides energy and mental clarity
Can improve sleep
Vitamin C
Benefits:
Improves physical, mental and emotional functions
Boosts immunity
Antioxidant
Plays a role in collagen production
Possible complications:
Patients with a tendency to develop kidney stones should not receive vitamin C in high doses
Calcium gluconate
Benefits:
Improves vitamin D production
Aids in balancing electrolytes
Possible complications:
Should not be administered with a cardiac glycoside
AmSpa Members receive QP every quarter. Click here to learn how to become a member.
Related Tags
Subscribe to Our Email List
Medical spa news, blogs and updates sent directly to your inbox.