Back to Main Blog
Medical Spa & Aesthetic Laws and Regulations Matter More Than Ever
Posted By Aly Boeckh, Wednesday, December 27, 2017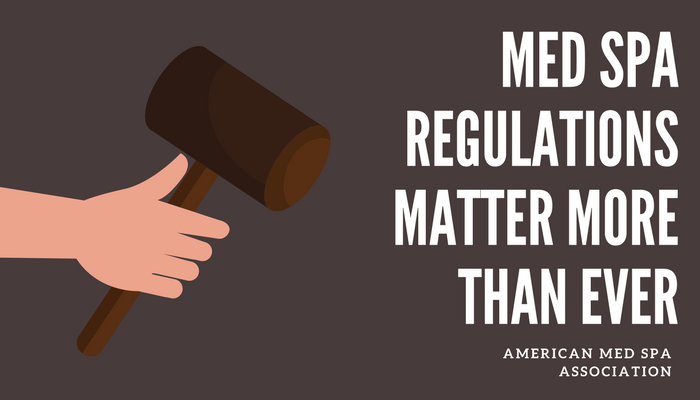 By Alex R. Thiersch, JD, Founder/Director of the American Med Spa Association (AmSpa)
In November 2017, Surfside, Florida, police arrested Alicia Giser, an employee at Lemel Medical Spa, who was accused of practicing medicine without a license. Working off a tip from the Florida Department of Health, Surfside and Miami-Dade County police conducted a sting operation in which Giser represented herself as a doctor and agreed to administer a Juvederm treatment to an undercover officer. Giser has claimed that she is a doctor in her native Argentina, but Florida officials assert that she is not licensed to practice medicine in the state of Florida.

Giser's case is an example of the kind of thing that's existed in the medical aesthetic industry for many years, but which regulatory agencies have typically been unable or unwilling to police. That is no longer the case, and it could signal a major change in the status quo for the future.
This time of year, it's fairly common for people to ask me what trends I think will help shape the medical aesthetic industry in the coming year and, for the past few years, I'e told them that a rise in regulatory enforcement could play a major role in the industry's evolution. I sense that enforcement efforts are increasing throughout the nation, so if your medical spa or medical aesthetic facility is not thoroughly compliant, you should do whatever you can to correct that as soon as possible. (AmSpa members have access to their state's summary of laws governing aesthetics, and a complimentary introductory compliance call with an aesthetic healthcare attorney from the law firm of ByrdAdatto.)
In Florida, for example, there have been a number of high-profile regulatory violations—including the one in Surfside in the recent past, as well as more of the "mundane" cases where people get in trouble for offering procedures they are not qualified to perform—than I can remember seeing before. New York has also been cracking down on medical spas that are not compliant. The lens is focusing ever more closely on this industry, which is not surprising, given the explosive growth it has experienced in recent years.
Regulatory bodies in states such as Texas, Virginia, New York, New Jersey, Illinois, and Arizona are actively creating, amending and clarifying legislation in order to better define what is and what is not allowed in a medical setting. This was recently true for the state of Illinois, which amended its nurse practice act to allow nurse practitioners to achieve full practice authority, giving medical spas in that state a better idea of how to utilize their employees. Also, the Georgia Composite Medical Board recently created a state licensure procedure for laser technicians.
As an industry, we need to be compliant, we need to self-regulate, and we need to get our own house in order so that we appear credible and legitimate to regulatory agencies, other powers that be, and consumers. The violations that have been seen in Florida, Texas, New York and other states in recent months are the start of a wave of enforcement that I expect will shape the industry in the coming years.
Remember, ignorance is not an excuse, and it is up to you to make sure that your medical spa meets your state's standards.
Sign up for AmSpa's email list to stay on top of changing medical aesthetic regulations, and for tips on how to get the most out of your aesthetic practice.
Related Tags
Subscribe to Our Email List
Medical spa news, blogs and updates sent directly to your inbox.