Back to Main Blog
Member Spotlight: Amani MedSpa
Posted By Madilyn Moeller, Wednesday, November 2, 2022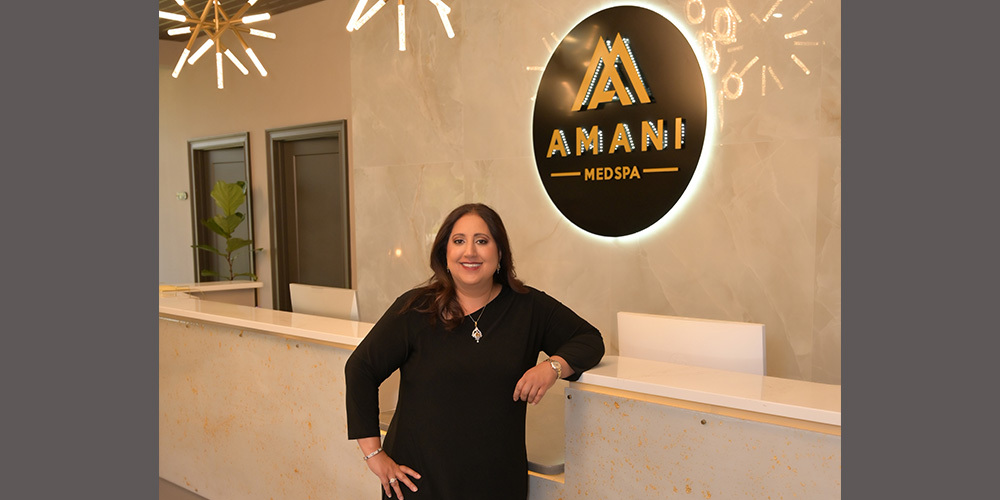 By Michael Meyer
In many places in the United States, people start off the spring talking about getting their "beach bod" ready for the summer. But in Florida, the summer never ends, so maintaining high aesthetic standards tends to be a lifestyle there—24/7/365. Because of this understood need to always look good, Florida has an almost insatiable demand for medical aesthetics. This would seem to be an ideal situation for a Florida medical spa, but unfortunately, this appetite for aesthetic treatments is no secret, and there is abundant competition everywhere you look.
How can a medical aesthetics practice stand out in such a crowded field? Gurinder Brar, MD, of Amani MedSpa in Valrico, Florida, chose to emphasize wellness to help make an impact, and her success illustrates the significance of establishing a unique value proposition in a crowded market.
Creating a Niche
Dr. Brar began her medical aesthetics journey in 2008, when she began training aesthetics providers while working full-time in family practice. In 2010, she opened Amani MedSpa in a 1,000-square-foot space in a shopping center to explore her expanding interest in aesthetics while continuing to work in family practice, her first love as a doctor.

"I loved being able to see the generations grow up and be a part of that whole family cycle," Dr. Brar says.
Unfortunately, her primary family practice employment did not afford her the opportunity to succeed on her own terms, so she left in 2018 and began independently offering boutique medical services.
At the same time, she saw her medical aesthetics business growing and becoming very profitable, so, eventually, she decided to go all in with it and make Amani MedSpa the practice of her dreams. In October 2021, Amani moved to a 5,000-square-foot stand-alone building that Dr. Brar designed to emphasize the offerings that make her practice stand out from more typical medical spas.
"I wanted more of a wellness approach," she says. "So, I put in a float tank, and I've got a huge spa lounge, so we can do spa days and educational events in that room. I made a huge IV area, and I even incorporated massage and weight loss services. It's a place that is unlike any office I've ever seen."
It is all a part of Dr. Brar's desire to make her medical spa as unique and luxurious as possible, and it extends to the patient experience.
"We have that little bit of difference in services that we offer in a very beautiful, luxurious environment—a place that's very boutique," she says. "I keep half-hour appointments for every patient, even if it's just a toxin appointment. I hate to rush, and my main thing is that I love to get to know who the patients are. So, I never try to get people in and out, which I don't see other businesses doing. I feel like they really try to maximize their space and get as many people as possible in through the door. I've always done things a little bit different, and it's worked for me."
Embracing the Industry
Dr. Brar and Amani MedSpa have been members of the American Med Spa Association (AmSpa) since 2017. In that time, medical aesthetics has changed tremendously, and AmSpa has helped its members stay informed about what is happening throughout the industry.
"In this industry, sometimes you don't know how you're doing, especially being solo," Dr. Brar says. "How am I comparing to the rest of the industry? Am I doing well? Am I not doing well? I love that AmSpa does its State of the Industry Report, and that at the Medical Spa Show, it has a very well-done practice management side."
The information AmSpa provides to its members was especially helpful to Dr. Brar in the early days of the COVID-19 pandemic, when Amani, like most other medical aesthetics practices, was closed.
"Alex [Thiersch, JD, AmSpa CEO] and others at AmSpa did some webinars, so I was always tuning in to hear what's happening and what's going on," she says. "Those two months when we were closed, it was quite scary. But I knew that people still wanted aesthetic procedures because they were still calling, even though we were not allowed to be open—it was kind of like, are they listening to the news?"
Ever since Amani has re-opened, the demand for its services has exploded, as is the case across the industry. This demand has led to the emergence of some practices that are not overly concerned with compliance. However, AmSpa's commitment to patient safety endears the organization to Dr. Brar.
"So many people are opening this type of office, but they're not always on the up-and-up," she says. "I feel like AmSpa really tries to make sure that people are doing the right thing. When you're a member, you're aware of that, and I love that about AmSpa."
Portrait of Success
Investing so much money into an expanded and redesigned space during a pandemic was a risk, but it's one that Dr. Brar says is emblematic of her adventurous spirit.
"I love challenging myself. I like to see if something's possible," she says. "I never, ever thought that I could have my own stand-alone building with everything I wanted in it, but I just went for it. I said, 'I'm just going to see if this is even possible.' And then it worked out. It's amazing to me that everything has worked as well as it has, but if you don't challenge yourself, you just don't know what you can accomplish."
Dr. Brar credits her mother with instilling in her the determination to get things done, no matter how hard she must work to achieve her goal.
"I grew up in a townhouse; my mother wanted to change the carpet, and my dad said we don't have the money to even change the carpet," says Dr. Brar. "So, she got her real estate license, bought land, and built what is now a $2-million home. And that was from us not even being able to afford to change just carpet out! She was very determined and very clever."
And while not everyone in medical aesthetics is in the position to create the medical spa of their dreams, Dr. Brar suggests that honing your skills and becoming a reliable provider of medical aesthetic services is the best way to start down a road to success.
"You have to be good at the craft," she says. "Go to as many trainings as you can and really work on doing the best job you can in a very natural way. Listen to the patients because that's how you will grow. You've got to do a good job. Also, don't go crazy buying too much equipment if you can't yet fill your calendar—go slow and do it well."
AmSpa Members receive QP every quarter. Click here to learn how to become a member.
Related Tags
Subscribe to Our Email List
Medical spa news, blogs and updates sent directly to your inbox.