Back to Main Blog
Member Spotlight: Coming Through the Storm
Posted By Mike Meyer, Monday, August 10, 2020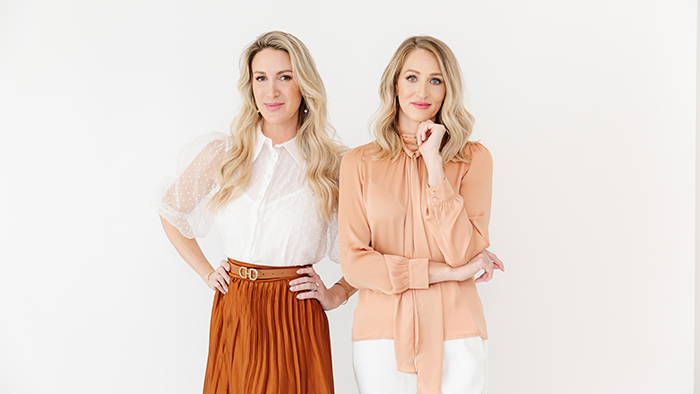 By Michael Meyer, Content Writer/Editor, American Med Spa Association
Due to the COVID-19 pandemic, it is more difficult than ever before to get a new medical spa up and running. Having your business interrupted at an early stage can severely affect its viability, and any plans that you'e made are in danger of falling through. These are the challenges Katrina Riley, MSN, ARNP-C, and Lindsey Cronk, MSN, ARNP-BC, face as they attempt to establish their brand-new medical spa, Élan Aesthetics, in Tampa, Florida. And although it's certainly going to be a while before the industry is back to some semblance of normalcy, Riley and Cronk are working hard to make sure Élan becomes a fixture in spite of the difficult circumstances.
Labor of Love
Riley and Cronk met while in nursing school and quickly became best friends. After graduation, however, their career paths took them in separate directions, with Riley pursuing aesthetic medicine and Cronk focusing on internal medicine. Eventually, however, Cronk began to develop a love for aesthetics as well and, in 2019, she and Riley joined forces to establish Élan Aesthetics.
"We have an Élan sisterhood," says Riley. "Ever since we met, we'e always been mistaken for twins or sisters. It's not just outward appearance—there is an actual sisterhood within our brand, and it permeates to our clients. We are known for building friendships and personal connections with our clients, and we are known to be great listeners. We are forward-thinkers and progressive—we are always staying on top of social media platforms and always trying to create engagement in the community."
The pair's ambitious opening plan called for the construction of a new facility at Tampa's Hyde Park Village, an upscale retail development located near Hillsborough Bay. However, since that location wouldn't be completed until Spring 2020, Riley and Cronk decided to open up shop at a temporary location in December 2019 in order to establish the practice and create its team in advance of the Hyde Park Village location becoming available.
"We have an amazing team," says Cronk. "When Élan Aesthetics was launched, it was important for us to create a team who had the same beliefs and vision. We searched for a combination of different backgrounds, experiences and education within our staff to give us a well-rounded team."
The practice's commitment to remaining on the cutting edge of aesthetic treatments sees Riley, Cronk and their team traveling all over the world to study with the industry's leaders, including the likes of Julie Horne, RN, Shino Bay Aguilera, DO, and Anil Rajani, MD.
"We love being nurse practitioners and the medical aspect of the role, but what we love the most is the ability to be very creative and artistic in the aesthetics industry," says Riley. "We have the opportunity to help our clients feel their best every day, and we can travel and meet other injectors and industry leaders, and continue to grow and learn from others."
Speed Bump
Unfortunately, just four months after Élan Aesthetics opened at its temporary location, the COVID-19 pandemic hit and changed the world as they knew know it. Élan had to temporarily close its doors and suspend construction on the Hyde Park Village location; however, rather than lamenting their misfortune, Riley and Cronk got to work trying to make the best out of the situation.
"Coronavirus did create an immediate pause in business, but we were still able to stay strong and united as a team," Riley says. "We got creative with our marketing and product sales, we stayed relevant on social media, and we took that time to develop a creative marketing plan."
The duo also used the resources that were made available from the American Med Spa Association (AmSpa) during the crisis, which was one of many ways their membership has helped them in the early days of their aesthetic practice.
"AmSpa is such an important part of our everyday business," says Cronk. "We first used it when developing protocols and procedures of how to open a med spa. AmSpa provided us with the regulations on what is legal in our state, and guided our policies and protocols. We follow AmSpa on social media and listen to the Medical Spa Insider podcast with Alex Thiersch, which is always very informative. And we look forward to attending the next AmSpa event. We love that AmSpa keeps us in touch with other providers and keeps us up-to-date with current events."
"Throughout these last few months, the COVID-19 pandemic has left us all feeling uncertain," adds Riley. "We have had a lot of questions about how to open, when to open and what precautions we will take in order to keep our clients and staff safe. Thanks to AmSpa, we have used the Coronavirus Resource Center as well as the COVID-19 Re-opening Toolkit on AmSpa's website and have implemented quite a few of those recommendations."
Light at the End of the Tunnel
Although the COVID-19 crisis is not over, Élan has begun to emerge from the business slowdown. The practice re-opened in mid-May, and the Hyde Park Village location, which was originally scheduled to open in April, finally opened in mid-June. And after the calamity caused by COVID-19, Riley and Cronk still maintain boundless enthusiasm for the industry.
"We love that we get to create our own brand," Cronk says. "We get so excited about coming to work every day and being able to have creative freedom. This business is a new challenge every day."
And despite the issues they'e been faced with early in their careers as business owners, they wouldn't trade that freedom for anything.
"As an entrepreneur, we can create the environment we are in, hire the staff to support our vision and fall in love with this business in a way we couldn't do before," Riley says. "We love to continue to watch it grow like it's our baby."
"It allows us to explore ideas, try a new approach and adjust the approach to how it fits within our practice," Cronk adds. "No one will love your business and put their whole heart into it like you can. And although challenging at times, it is the most rewarding and exciting part about being an entrepreneur. The business success—or failure—depends on you."
For legal updates and business best practices delivered straight to your inbox, subscribe to AmSpa's email newsletter. For more information on how AmSpa can help your practice operate legally and profitably, contact us online or call us at 312-981-0993.
Related Tags
Subscribe to Our Email List
Medical spa news, blogs and updates sent directly to your inbox.