Back to Main Blog
Member Spotlight: Where Everybody Knows Your Name
Posted By Mike Meyer, Thursday, June 18, 2020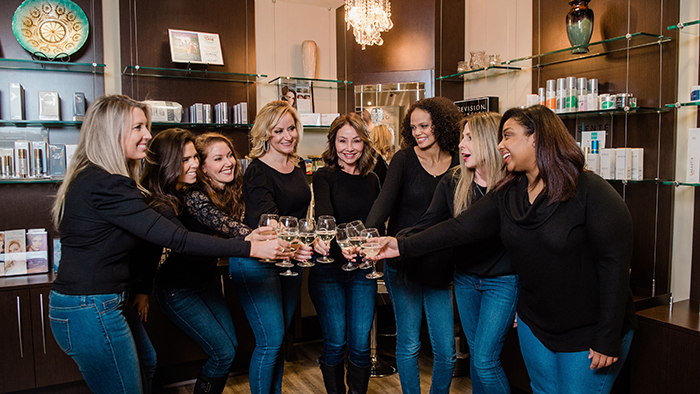 By Michael Meyer, Content Writer/Editor, American Med Spa Association

Many medical spas tend to emphasize the "medical" half of the equation, and with good reason—the core of these businesses are medical procedures, after all. However, many successful practices understand that you can't forget about the "spa" aspect. Making patients feel comfortable and safe is a key to a successful aesthetics practice, as exemplified by AVIE! Medspa and Laser Center in Leesburg, Virginia.
Southern Hospitality
Kim Marinetto, RN, created AVIE! Medspa in 2009. Prior to entering the aesthetics field, Marinetto spent 15 years working in a hospital setting; after having children, however, she decided to switch to a career that better reflected her commitment to health and fitness. Unfortunately, her initial exposure to the medical aesthetics business left a sour taste in her mouth—but it also inspired her to do something to improve it.
"When I was working for other practices, I found that they were doing it more for the money and not for patient care and results," Marinetto explains. "So, I was motivated to open a business that was not available in my community; a place where people could come and safely be treated, keeping safety and efficacy first and foremost in our practice. We lead by making sure everything's safe, and we do what's right by our patient population."
AVIE! offers a wide variety of treatments—from lasers to injectables to body sculpting—all overseen by medical director Khalique Zahir, MD. And although the practice's experienced medical staff helps to ensure positive results from a clinical standpoint, Marinetto places a special emphasis on creating memorable experiences for her patients.
"When patients come in our door, they know that they are going to be welcomed with a big smile and probably a hug," Marinetto says. "We know almost every patient by name and we greet them by name. They know that this is a safe haven. I compare it to Cheers—everybody knows your name when you come into AVIE! It's a home—it feels comfortable, patients know that we love them and respect them, and we're thankful for their loyalty to us."
In fact, the COO of AVIE!, Roberta Kruse-Fordham, is a former patient who believed so much in Marinetto's vision and ability that she agreed to join the team.
"AVIE! changes lives," Kruse-Fordham says. "Kim gives confidence to people by improving their self-images, and also she's just so compassionate and caring. She gives patients many options, and then lets them decide. We're not about high-pressure sales. It's very nurturing. I think the patients just feel that warmth and care."
Marinetto and Kruse-Fordham have become a formidable team since Kruse-Fordham joined the AVIE! in 2017. Her focus on the practice's systems and organization has helped to create an efficient business environment that allows Marinetto to pursue her passion for patient care.
"There's a lot of planning that goes into everything, whether it's our staff setup, our marketing or how we present retail," Kruse-Fordham says. "There's a lot of thoughtfulness that goes into the business, with regards to how Kim and I operate together with the team, how we operate with the clients, and how our team interacts with the clients."
A Commitment to Excellence
Marinetto joined the American Med Spa Association (AmSpa) in 2015. Since then, AmSpa has kept her up-to-date with the laws concerning medical spas in Virginia, as well as best business practices that have helped AVIE! maximize its profitability.
"I actually became a member as soon as I found out about AmSpa, because I was super excited to know that there was an organization that was really looking into how medical spas should run," Marinetto says. "I know there's a lot of shady business out there, and I was excited to know that there was an organization that was going to help support everything I know needs to be taking place at a med spa, legally. So, I was like, 'I really feel like this would be a worthwhile organization to be part of.'"
Marinetto and her team use the many resources available to them through their AmSpa membership to improve their business.
"Today, I was reading one of the articles on marketing and capturing leads, and I forwarded it to Roberta and my front desk team, and I reviewed it with my marketing team, because there are things that we can be doing better on the lead-capture side of our business," Marinetto says. "I really do read through AmSpa's informational emails—I learn a lot from it, and itreally helps me. When I'm not certain about something, I usually can find an answer [through AmSpa]."
Making a Difference
Marinetto's desire to constantly improve her business reflects her devotion to her patients, which is truly what defines her practice. And although her definition of success is not strictly related to the bottom line like her previous employers, her passion for her patients guarantees that she feels fulfilled at the end of the day.
"Two weeks ago, I had a patient who was brand new to me. She had excessive sweating issues all her life and was in tears in my office," Marinetto explains. "Our nurse practitioner said to do a hyperhidrosis treatment on her, and I did. She just came in yesterday for a two-week follow-up—we believe in follow-ups, follow-ups are important—and she could not stop smiling. And when I said, 'How are you doing?' she goes, 'I'm great. I can't believe it.' Her smile was from ear to ear. And I said, 'Has it been life-changing for you?' She goes, 'Oh my gosh, you have no idea.' And that's what really gets me excited. It inspires me to do more. It's like the icing on the cake. It doesn't get better than that. To have patients feel confident and be happy is really what gets me going."
"And to add onto that, we had a patient who just walked out the door and said, 'I could just spend all day here,' Kruse-Fordham says. "We put her on a system last month where not only are we taking care of her skin as far as our membership goes—she has a membership, so she gets regular treatment and benefits—but she also went onto a program we implemented here with L-Nutra called ProLon. She just came in and she's like, 'I'e already lost 11½ pounds in this program.' Her skin is looking amazing. She's like, 'I absolutely just love coming here. I just feel so cared for.'"
For legal updates and business best practices delivered straight to your inbox, subscribe to AmSpa's email newsletter. For more information on how AmSpa can help your practice operate legally and profitably, contact us online or call us at 312-981-0993.

Related Tags
Subscribe to Our Email List
Medical spa news, blogs and updates sent directly to your inbox.