Back to Main Blog
Mission: Love, Beauty and Service
Posted By Mike Meyer, Wednesday, November 4, 2020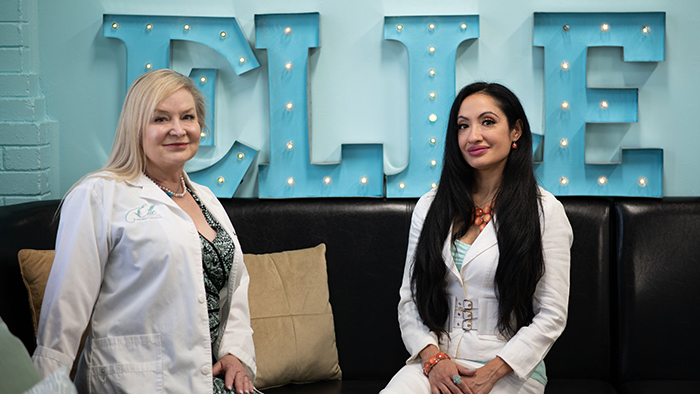 By Michael Meyer, Content Writer/Editor, American Med Spa Association
The city of New Braunfels, Texas, is a city of approximately 90,000 that is located just north of San Antonio. It is the third-fastest-growing city in the United States—according to the U.S. Census Bureau, its population has increased by an incredible 56.4% since 2010. As you can imagine, this booming city is a great place to operate a successful medical spa, but for Linda Cervantes, LVN, and Leslie O'Connell, MD, the owners of Elle Med Spa in New Braunfels, the bottom line is a secondary concern—caring for their patients take precedence in every situation.
Living a Dream
O'Connell and Cervantes met in 2015 at an urgent care facility in New Braunfels. O'Connell had practiced primarily in New Mexico for several years before moving to Texas to care for her father. Cervantes, meanwhile, had worked her way up from being a receptionist and medical assistant before graduating from nursing school and becoming a licensed vocational nurse in 2013. Upon meeting, the two realized they had mutual interests.
"We connected immediately as a doctor and nurse caring for patients," says Cervantes. "We also shared our passion for aesthetic medicine. In December 2016, we vowed to open a medical spa."
O'Connell and Cervantes pooled their resources and, in early 2018, Elle Med Spa opened its doors. Since then, it has offered patients a variety of treatments, including injectables, microneedling and hair restoration, as well as its Live wElle IV Bar; all are designed to help clients feel better about themselves and achieve true wellness.
"What we love about the aesthetic industry is the ability to help someone feel better about themselves, but to also help them change their view of how they perceive themselves," Cervantes says. "We can help someone change issues that may bother them, but we will never question their beauty because we feel that everyone is inherently beautiful. We are there for those who struggle with skin concerns, and we are here to convince everyone that they deserve to be treated well."
Since Elle opened in 2018, it has established a loyal client base, but that loyalty does not just go one way—O'Connell and Cervantes consult their long-term patients when they consider how to move forward with their business.
"Our medical spa stands out because our Elle family is just that—they are family, and their voice means so much to us," Cervantes says. "For example, when we are ready to introduce a new service, we use social media interactively. We ask, 'What would you like to see Elle bring next?' Then we get to work on bringing our clients that service as a safe, quality experience. Elle grows organically with the support of our community."
COVID Concerns
Like every other small business in the United States, Elle Med Spa was adversely affected by the shutdowns caused by the spread of COVID-19. However, because O'Connell and Cervantes are still in the process of building Elle—and because they'e engendered such loyalty from their patient base—they managed to ride out the storm better than many other businesses that have larger staffs and payrolls.
"Since Dr. Leslie and I wanted to grow slowly with Elle, we were already very lean with our business model, so the shutdown did not affect us as much as others," Cervantes explains. "Once we re-opened, the outpouring of love from our Elle family wanting treatments and showing support has been tremendous. We feel beyond blessed."
When they're not at Elle, O'Connell and Cervantes continue to work at local medical facilities, caring for people who have been affected by COVID-19, demonstrating that their love for their community is more than just a talking point.
The Benefits of Membership
While O'Connell and Cervantes have benefited from becoming an integral part of the community in New Braunfels, they have found another community that has helped them become a stronger, more stable business along the way: the American Med Spa Association (AmSpa).
"Dr. Leslie was the one who learned about AmSpa as she was doing her due diligence on how to set up a medical spa," Cervantes explains. "We have been members for three years and have found it to be invaluable. We have been given advice on legal matters, retailing and social media. We are active on the Facebook Member Lounge, we were able to utilize the Re-opening Toolkit—the list could go on and on."
In addition to taking advantage the many resources AmSpa offers to help medical spas become and remain compliant, O'Connell and Cervantes have become fixtures at AmSpa events, and have met numerous people who have helped their business grow and thrive through the association.
"We have made some wonderful connections through this organization, including teaming up with our beloved Dr. Leslie Baumann and Skin Type Solutions, which was another fantastic decision," Cervantes says. We are very grateful to AmSpa—we would not be where we are without them."
The Bottom Line Takes a Back Seat
Elle's reason for being is that O'Connell and Cervantes shared a love of medical aesthetics, so it should come as no surprise that they prefer to focus on the service aspect of the business rather than the financial one.
"We have control of our environment—we don't have to think about pushing sales, meeting quotas, reviews or pushing to fill the schedule," Cervantes says. "Don't get me wrong, I know people reading this may think, 'Seriously?' But again, for us it's about building close connections, so however long it takes to get there, we are invested. We can take our time on comfort measures and hold our first-timers' hand through a first procedure. If needed, we will be a shoulder to cry on and then become empowerment cheerleaders, saying, 'You can do it!'"
The practice's motto reflects this commitment to beauty and wellness above all.

"We believe deeply in our mission statement, which is 'love, beauty and service.' In translation, this means: Love has no gender, race, religion or boundaries; beauty includes all colors, ages, shapes and sizes; and service is what makes life meaningful."
AmSpa members receive QP every quarter. Click here to learn how to become a member and make your med spa the next aesthetic success story.
Related Tags