Back to Main Blog
QP Extra: Q&A with Vic Owoc of Ageless Medical
Posted By Mike Meyer, Friday, July 26, 2019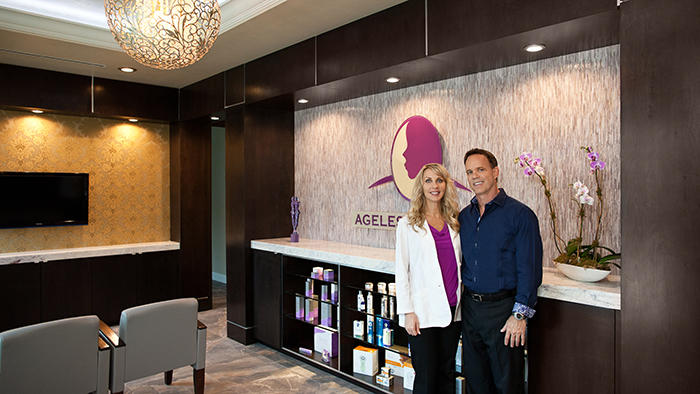 "You can't manage what you can't measure," says Vic Owoc, MBA, co-owner of Ageless Medical in suburban Fort Lauderdale, Florida. Since the practice opened in 2006, he has used his expertise in metrics to make it exceptionally successful. Owoc recently spoke with AmSpa Content Writer/Editor Michael Meyer about his history in the medical aesthetics industry and how he maintains his practice's success.
Michael Meyer: What inspired you to open your practice?
Vic Owoc: Before opening up this business, I was involved in a health and supplementation business called Vital Pharmaceuticals. The business has really grown quite a bit now. I don't know if you've ever heard of a product called Bang energy drink or Redline—they just surpassed Rockstar as the number-three energy drink. So prior to this I was involved in that business, and we had some anti-aging products, as well as a lot of health and fitness-related products. So when I met Erin (Owoc, ARNP)—she's my partner in this and she's a nurse practitioner—it was a very natural progression, once I sold off that business, to the whole idea of health and making people look their very best. Moving over to a medical aesthetics practice was fairly logical for us. Erin had been doing procedures—Botox and hair removal and tattoo removal and all that—for a dermatologist for quite some years, and me being more the entrepreneur, I had several small businesses before we opened up this. We thought it was such a great fit. I had the business background and the entrepreneurial risk, and she doesn't have a lot of that, but she had a great following and a lot of knowledge in this area. So together we thought it just was a wonderful fit for this type of business.
MM: What would you say is different about your practice now versus when you opened it?
VO: The size of the business, certainly the number of patients and our location. We ended up buying our building, as well—one thing that I think is very important in this business is to own the real estate. Part of it was moving out of an area that was a smaller strip mall area to something that was bigger and had much more of a professional look and feel to it.
MM: What is your most popular treatment?
VO: We've got eight areas of business here, and I run this almost like eight different businesses. We've got our medical-grade products business. We've got a Botox, Dysport and Xeomin business. We've got our dermal filler Sculptra business. We've got a laser hair removal business. We'e got a tattoo removal business. We've got a fat reduction business. We've got an aesthetics business, which is your facials, Hydroderm and SkinPen. And then we've got a medical aesthetics business, and that's where we have the more advanced stuff, including CO2 and Vivace and IPL and laser resurfacing—things typically an aesthetician can't do. I've always run this business as multiple businesses, so I can tell how this particular business is doing, what kind of marketing we're doing for this particular business, etc. I always say that our business is doing the best when all eight cylinders are running.
But to answer your question, as far as revenue, it's fairly well balanced. The top three would be, the injectable businesses—your Botox, Dysport and all that, and then your dermal fillers. That is probably 30 – 40% of our business. And then from there, it's pretty much all balanced out. Our aesthetics business, 15%; hair removal, 15%; medical aesthetics, 15%; fat reduction, 15%. I've tried to get everything balanced together because you don't want a business—at least I don't want a business—where you've got all your eggs in one basket. Then, all of a sudden, a product comes out—for example, it could be topical Botox, which a lot of people are talking about. If you had 70% of your money in injectables, you're like, "Wow, I'm taking a big hit."
So I believe in running a balanced business, like all eight cylinders in a car. But today, the injectable business is still the most profitable, if you had to break that out.
MM: What do you think makes your spa different from others?
VO: If I look at the competition, the biggest thing that I see is the discounting—trying to get patients by lowering price. It's a different type of patient. Yes, we'll have promotions here and there—not that often—but we're not going to discount lower than the next guy to get business. We don't want that type of patient. I hear it from some from some of the patients when I do a survey—your prices are a teeny bit higher, but I go there because of Lisa. I go there because of Erin. I go there because of how great the front desk makes me feel. When you start discounting, you train people to look for that. When I look at other practices that are continually having promotions and trying to bring people in through pricing, that's not what we do.
MM: What specific metrics do you use to determine success?
VO: I'm kind of a metric maniac. I start with daily metrics—how many leads have come in and how much revenue is coming in. Those are metrics that we manage by. And then how many of those leads that have come in—and this starts going on more of a monthly basis—come in for consults? How many of those leads as consults come for business? That's a very important metric for me because it allows me to say I'm spending this amount of money on this particular type of marketing, and who's coming in, how many are coming in, the percentage that is coming in for consults and how many who are coming in for consults are coming in for procedures. So that's a big metric area that I look at.
As far as other financial metrics, at the end of each month, we look at every single service that we do compared to how that service did last year and the percentage of business—like I said, the injectables being around 35%—that particular service brings in. I have this sheet that we look at during our team meetings and say, okay, our medical aesthetics business is down 2%, and within that business you notice that a laser, IPL or something else is what's that's dragging that along. I always say, you can't manage what you can't measure.
It's very clear every month where our money's coming in, what services are bringing people in, and what is growing year over year. Knowing that is very important for each business. And then I jump into that in a little bit more detail, and that is, what's the profitability? I run the metrics on the profitability of each of those services so I can get a gross margin so I can say, okay, this particular service I'm emphasizing a lot, it's not growing, but here's what it's really doing to my bottom line. And then I do the same thing for the providers. What is the profitability of each provider that I have?
To really understand your business, and it's real clear, you have to know which services you're making money on. Here's where I'm going with them, here are the providers I have, here's how much I'm paying them, here's the gross margin on each of them. When you do that, you really understand the health of your business. You understand where your marketing dollars are going and what's bringing you the most return, and for the providers you have, which ones are doing the best and bring in most of the bottom line, and the same thing with services.
There's one that I do on a daily basis looking at the revenue coming into leads. There's a monthly-basis one that's profitability on each of the services and how the services grew year over year. And then there's more that I run every quarter to six months. But there's a lot of them, and I do run this business on a metric base, because I just can't say this money I'm spending here on marketing, I think it's doing well; it looks like I'm a little busier. Or I want to get into vaginal rejuvenation but I'm not really sure. You have to measure it, and you have to be ready to drop a service or change out a provider, because once you have this data, what do you do with it? You can try to change the costs associated with those services, and the same thing with the providers. You have to be ready to make changes.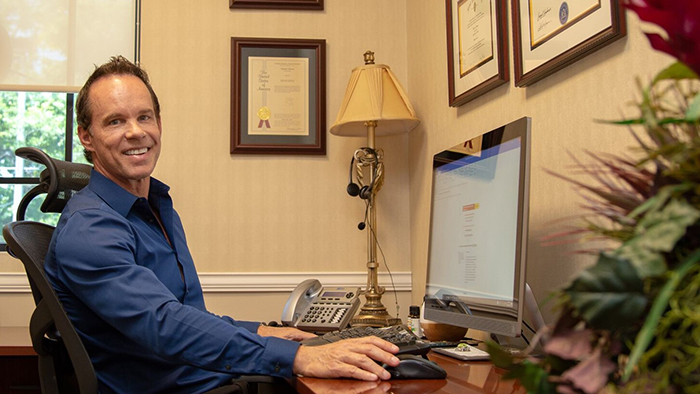 MM: What do you love most about the aesthetics business?
VO: I love that we're helping people. Our slogan is, 'We make people look as young as they feel.' Especially here in South Florida, people don't want to look like they've aged. When people come in here, they feel good. I can't tell you how many times my wife has told me, and I've seen it on occasion, that the patients cry. They've done dermal fillers on their face because that's something immediately you can see, and they look at themselves and they cry, and that's how much this bothered them. It's just amazing what you can do with some treatments of IPL to take the pigmentation off their face, some fillers for if they have folds on their face, and treating wrinkles around the forehead with Botox, you can make them look 10 years younger. It's just beautiful.
MM: What do you love about being an entrepreneur?
VO: Being able to call my own shots. I worked for large corporations for years. Reporting to someone else and being responsible—if you're a real mover and shaker and you want to change things, it's very difficult to do in a corporation. But as an entrepreneur, if you can handle the risk, and you may make some mistakes and you may have some issues with that, but the ability to create your own success, to manifest your own destiny to me is exciting. I really love being able to take an educated risk, and of course the benefits from that. All the positives of being your own boss and running a successful business that helps people. I couldn't see it any other way.
MM: Who inspires you?
VO: My wife. She's the lead provider at Ageless Medical. She's just a very smart person. The patients come in so often to see Erin, it's almost a problem for the other nurse practitioners that have to go against her. Not only is she well credentialed, being a national trainer, she's just awesome.
MM: What advice would you give to other medical spa owners?
VO: Create a high-end brand. If you start your medical spa business and your brand is just okay, it's hard to go up, so start off with a great customer-centric brand. Also, you need to have the right people. When we bring someone on board and they know that we pay more than the other medical spas, they know we expect more. The people are so important. Hire the very best people. Pay them more. Because I will tell you, this is a business about people. A lot of people have the same technology that we have, but not everybody has our people. Attracting, training and retaining the right people are, by far, the most important things.
MM: What would you say is one word to describe your med spa journey?
VO: It's been exciting. You have to love this business. When I say exciting, it's all the changes that go on—you have to be excited about them. There are changes in technology, sometimes changes in policy, changes in your types of patients—now it's becoming more and more millennial-based, for example. I'm excited about the changes. The business itself has been changing, but my feeling about the whole thing has just been excitement.
AmSpa members receive QP every quarter. Click here to learn how to become a member and make your med spa the next aesthetic success story.
Related Tags
Subscribe to Our Email List
Medical spa news, blogs and updates sent directly to your inbox.