Back to Main Blog
Top Medical Aesthetic Interior Design Strategies for a Competitive Edge
Posted By Madilyn Moeller, Monday, February 20, 2023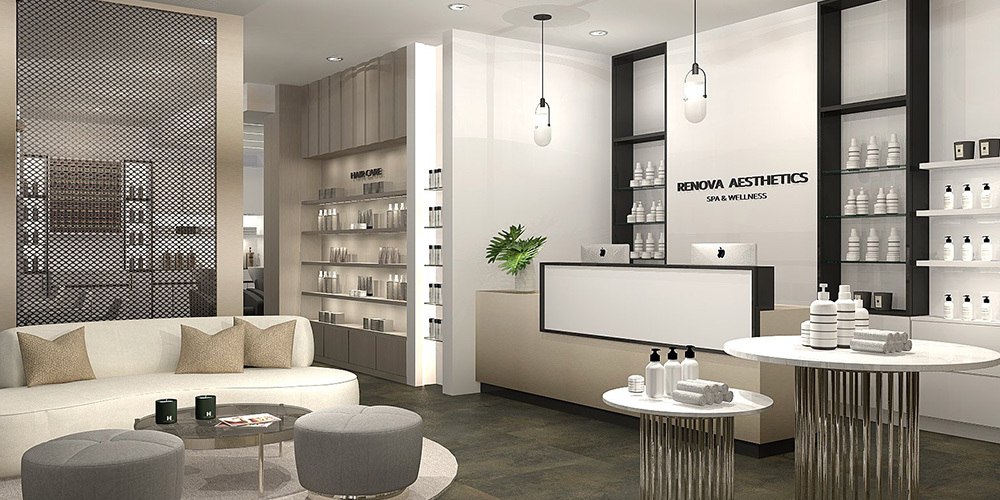 By Michele Pelafas, ASID, IIDA, Principal Designer, Artistic Director
It is common knowledge that great interior design helps the performance of any business. But, today, design is a strategy to stand out from the competition.
With an increasingly high demand for aesthetic procedures and a saturated market to begin with, this is the time to show both existing patients and new ones that your practice brings with it a promising value proposition. Giving your business a competitive edge not only strengthens your brand identity, but also reinforces credibility among customers and plays a major role in building loyal patronage.
Here are four interior design strategies that will help make your business stand out from the competition.
Embrace Dynamic Design
Adopting an approach to dynamic design means using your real estate to create interactive spaces that are memorable, are inspirational and invoke collaboration. This strategy is all about running toward the technological movement of social media—not away from it—by providing visual interest that will eventually drive engagement on these platforms.

A standout accent wall, a statement chandelier, a neon sign, an oversized chair—what will make your space memorable? What will encourage your patients to want to share their experience with others? Integrating such elements into your practice can also be a way to inject personality into your brand's story.
A dynamic design doesn't mean every inch of your space has to be designed like a photo op—you can incorporate visually appealing, buzzy designs on a smaller scale, such as in the restroom or as wall art, and still get the same effect.
Carve Out Your Brand Identity
Spending time developing your brand identity is crucial to making a lasting impression on your patients. The roadmap to this isn't one-size-fits-all and it may take some digging to cement your story, but that's what makes your practice unique.
Whether you're a pen-to-paper vision board enthusiast or prefer Pinterest, allow yourself the time to engage in this creative process. Think about what you want your practice to convey and what you want people to take away from it. For example, if you prioritize cleaner, plant-based formulas, adopt a biophilic design via a bamboo wall panel, a fountain stream, live greenery and skylights to bring in natural light.
Also, consider your brand's target demographic. Is it Gen X, to whom eclectic patterns, uncluttered spaces and more modern looks will appeal? Or is it the Millennial, who will appreciate a more curated design outfitted with bespoke furniture and multifunctional pieces?
Appeal to the Positive Emotions
Your space should ooze a warm, inviting atmosphere that makes each client feel safe and taken care of. This is especially true for new patients—whether they're new to your practice or it's their first experience with a new treatment—who may be experiencing feelings of anxiety prior to their appointment.
In design, appealing to the positive emotions can be achieved in many ways, the easiest being to use the right color palette for your walls, flooring, decor and furniture. Bright colors are typically synonymous with a nurturing, positive energy, but if these don't fit your brand identity, you can still appeal to the positive emotions with moody grays and neutrals. Try reserving these colors for accent areas—such as in a rug, in a piece of artwork or even lightly dimming your waiting areas—rather than making them the focal point of your space, e.g. as your main wall color. If neutral tones are more your speed, you can also try strategically placing these hues alongside more vibrant colors to add balance—for example, a gray-bodied throw pillow with bright yellow stripes).
Other ways of creating a positive environment can involve hanging inspiring artwork on a bare wall, incorporating an area rug to soften up your space and add warmth, and inviting elements of nature such as live plants, natural light and scenic wallpaper.
Aside from these design tactics, aim to keep your space clutter-free, especially in the entrance and welcome area, which is the first thing your clients will see when they walk in. Studies have shown that clutter can contribute to feelings of stress and anxiety and can negatively affect one's well-being.
Embrace the Trends
Trends are everywhere—you can find them in fashion, beauty, pop culture, food and elsewhere. Interior design also makes the list. It can be a missed design opportunity if you don't at least have a basic idea of what design trends other businesses in your industry may be utilizing in their spaces. You don't necessarily have to succumb to every new design trend that pops up—that would be way too costly. You also don't need to make every element in your practice all about the trend. For example, take the 2023 design trend of stormy blues. To incorporate this into your space, try keeping your main pieces timeless and bringing in pillows, a vase, or a light fixture in an oceanic hue to bring home the trend.
Trends are a great way to lift up your business if you feel it's getting stale, or if you're just craving a style shift. To stay ahead, you can follow interior design influencers, flip through design magazines and keep in touch with local artists.
Michele Pelafas, Inc., is a professional interior design firm specializing in medical spa environments for aesthetic and cosmetic practices in a spa-like and beauty setting. It offers complete interior design, strategic interior planning and a high level of service. Its clients are qualified medical professionals who offer aesthetic medicine and procedures for face, skin, mind, body and wellness. Its custom interior design programs and furniture offerings fit all project budgets, timelines and goals. Contact Michele Pelafas, Inc., for spa and beauty-inspired interiors that maintain high standards for a professional clinical environment. With more than 15 years of design and furniture experience, Michele Pelafas, Inc., is known for its beauty style and influence across the U.S., with hundreds of successful installations.
Related Tags
Subscribe to Our Email List
Medical spa news, blogs and updates sent directly to your inbox.