Back to Main Blog
The 2022 Medical Spa State of the Industry Executive Summary in Context
Posted By Madilyn Moeller, Tuesday, January 24, 2023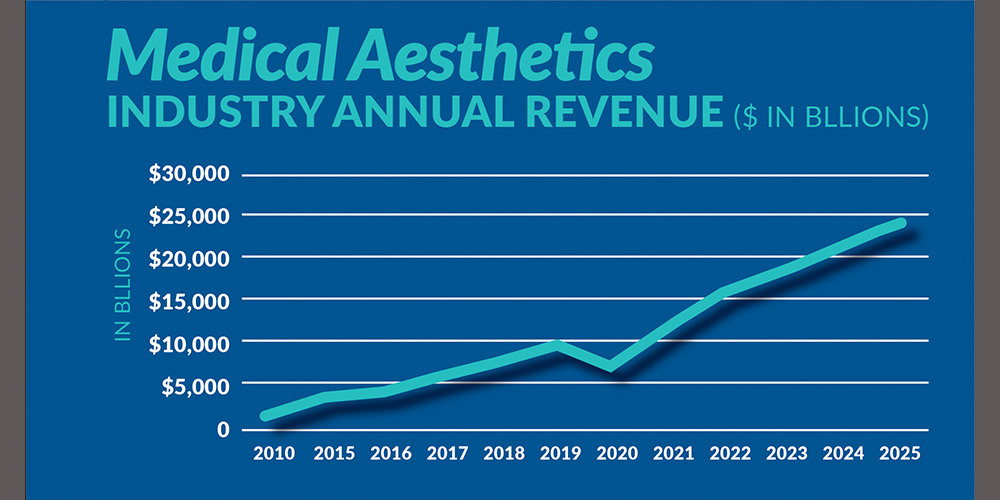 By Madilyn Moeller
Day-to-day life in medical aesthetics looked very different two summers ago. The industry had to adapt, and while a number of medical spas shuttered their doors, the rest learned how to strengthen their business models and continued to fill the need for aesthetic services.
The future AmSpa projected in its 2019 Medical Spa State of the Industry Report tracks astonishingly well with what the industry is currently seeing, at least financially. The last three years included many surprises, but medical aesthetics has continued to impress with its growth and resilience. The 2022 Medical Spa State of the Industry Report, powered by Gordian Solutions Group, released in August, quantifies the impact of the troubles on medical spas and shares projections for continued success.
AmSpa Plus Members can access the full report for free when they log into their accounts; Basic and nonmembers can download the Executive Summary by visiting the AmSpa website. QP is here to present a few of the highlights from the Executive Summary and place these in context with previous reports from 2019 and 2017.
Industry Size
Medical aesthetics has grown into a $15 billion industry that employs 70,000 people. In 2022, there are 8,841 medical spas, up from 7,430 in 2021 and 5,431 in 2018.
A single-location medical spa generates $121,632 in monthly revenue. The average annual medical spa revenue in 2022 is $1,982,896. In 2021, that figure was $1,722,551, and in 2018, the average annual revenue was $1,526,382.
These surveys present average annual revenue per medical spa for 2010 and 2015 – 2021, and projected revenue for 2022 – 2025. The 2022 revenue data matched the projection from the 2019 report almost exactly.
The market researchers took survey data (average number of patient visits, spend per patient, typical annual medical spa revenues that were reported in 2021 and 2020, expenses, demographics of patients, etc.) and married it with other publicly available data sources (census info, personal care spend expenditure data, growth rate data, etc.) to build these figures and forecasts.
The full report reveals how medical spa finances have performed amid the COVID-19 pandemic. Despite a troubling economy in 2020, the aesthetic industry has demonstrated resilience and continues to impress as it follows the pre-COVID projections.
The majority of medical spa owners continue to predict an increase in revenue. In 2022, 88% of medical spas project an increase; 91% projected an increase in 2019. Of those who expect an increase, 74% in 2022 expect an increase of greater than 10 percent. This number is higher to a statistically significant degree than in 2019, when 62% of those optimists expected greater than a 10% increase.
Patient Profile
Medical spas could not see those numbers become reality without a strong and engaged patient population. What patient numbers are medical spas tabulating in 2022?
Women make up the majority of medical spa patients, at 88%. This trend has been steady, with patients reported as 87% female in 2019. The industry has long been watching for an increase in the male patient population , and, according to 2022 data, this increase has yet to be substantial. In the full report, medical spas are seeing a statistically significant shift in the age breakdown among male patients, however.
Of female patients, 78% are younger than 55 years old. The largest age bracket represented in medical spas is age 35 – 54, at 52%. Female 18 – 34-year-olds make up 26%, and those age 55 or older are 21% of the female patient population. In 2019, those percentages were 53%, 24% and 24%, respectively. Back in 2017, 18 – 34-year-olds made up only 17% of female patients. This younger age bracket of female patients has increased over that short span to become a strong presence in aesthetic practices.
Medical spas see an average of 283 non-surgical aesthetic patient visits per month. Patients spend $536 per visit in 2022, on average. This is up from 2019 reports of $459 per patient in single-location medical spas and $465 in multi-location practices. Aesthetic providers may have expected a higher average price, but this value includes a significant amount of aesthetician services.
Practice owners know that patient retention is key to bringing in predictable revenue. Treating and marketing to a repeat patient is generally more cost-effective and builds a healthy client base. In 2022, an average of 65% of patients are repeat patients. This is consistent with 2019, when medical spas saw 66% repeat female patients and 64% repeat male patients.
Ownership
One of the main compliance concerns for medical spas centers on who owns the medical entity. Each state has its own complex rules on what professional licenses or proportion of physician ownership are needed for a medical entity. In 2022, 63% of medical spas are owned by non-physicians and non-surgeons. This is the same percentage as in 2019.
Of medical spas that are owned by physicians (MDs, DOs), surgeons, nurse practitioners (NPs), physician assistants (PAs) or registered nurses (RNs), 80% have non-core ownership, the same percentage as was indicated in 2019. Core providers are those whose specialties align with the aesthetic industry in fundamental ways; this group includes providers who specialize in plastic surgery, facial plastic surgery, oculoplastic surgery and cosmetic dermatology.
To practice medicine, most medical spas appoint a medical director. These are licensed health care professionals, often physicians, who have the scope of practice, and are experienced and trained in each of the aesthetic procedures offered by the facility, in which they supervise and delegate to other providers operating under their license. Medical directors are responsible for every patient at the medical spa, so they oversee protocols, treatment plans and other duties as outlined by their state licensing board. In 2022, 69% of medical directors have non-core specialties; in 2019, that number was 67%.
AmSpa can only speculate about why non-core providers are coming to aesthetics. It might be that they suffer from burnout, crave freedom and schedule flexibility, want to channel their artistic talents, or any number of other reasons. The full report identifies which health care specialties these providers are leaving to join medical aesthetics.
The majority of medical spas are small businesses. In 2022, 66% are owned by a single owner. This number is slightly lower than the 75% single-ownership reported in 2019. The full report highlights a significant change in the license held by single owners.
Medical Spas
Even during a pandemic, the growth of medical spas encouraged people to enter the medical aesthetic industry. Of the 7,430 medical spas open in 2021, 17% were newly opened. Entrepreneurs are still entering this industry and that trend is projected to continue.
Medical aesthetics is largely a mom-and-pop industry. The vast majority of practices, 81%, are single locations. The remaining 19% of medical spas are multi-location, with an average of six locations. These numbers are similar to 2019, which had a divide of 83% and 17%.
Single-location practices have an average of eight employees, while the primary facility of a multi-location practice has 16 employees in 2022, on average. In 2019, the average multi-location flagship facility had 15 employees.
Full-time employees in 2022 have salaries ranging from an average of $80,348 for an RN to $120,691 for a medical director. For additional full-time and part-time compensation information, view the full report.
Trends
In collecting data and compiling the reports, the market researchers look not only for hard numbers, but also for trends. In addition to the survey, researchers held qualitative interviews with industry subject matter experts to gather insight for the 2022 report.
These interviews covered trends in medical spa ownership, the thought process when adding treatments or services, key considerations for startup medical spas and common practices of successful medical spas. The experts identified the top three trends to watch.
Trend 1. Private equity. They suggested that the aesthetic industry may receive more capital from private equity. High-profile practices are partnering with firms that offer practice support, and other franchise medical spas have received capital investments from holding companies. The industry will keep an eye on how this infusion of capital may influence genericization of practices.
Trend 2. Bio-stimulatory treatments. Industry experts foresee growth in biostimulatory treatments. Collagen biostimulators such as poly-l-lactic acid (PLLA) were second after IV therapy on the list of procedures that practices were considering adding in 2019. With investments in biostimulatory treatments, an additional drive for continuing education, training and advanced techniques may occur.
Trend 3. Increased injector demand. Finally, the industry experts anticipate a continual rise in demand for injectables and injectors. Facial injectables continue to be highly requested treatments, with 94% of medical spas offering the procedures in 2021, which was a statistically significant increase from 2019. In a breakdown of 2021 revenue, the full report reveals the impact of facial injectables for a medical spa's finances, and the statistically significant changes practices are seeing.
Another important trend AmSpa investigated in the 2022 Medical Spa State of the Industry Report was the impact of COVID-19 on the medical aesthetics industry. In the full report, you can read about the actions taken, the estimated number of closures and the impact on revenue due to COVID.
The Business of Aesthetics
Totals and averages for revenue, patients, ownership and medical spa facilities serve to provide a helpful snapshot of medical aesthetics, and even more so when seen in comparison with data collected in previous years.
Although market researchers may not be able to explain the changes in these statistics over time, these reports allow medical spas to learn from and better understand the direction of this thriving industry.
AmSpa Members receive QP every quarter. Learn how to become a member and make your med spa the next aesthetic success story.
Related Tags
Subscribe to Our Email List
Medical spa news, blogs and updates sent directly to your inbox.