Back to Main Blog
The Business, Legal and Financial Aspects of MSOs
Posted By Madilyn Moeller, Tuesday, August 17, 2021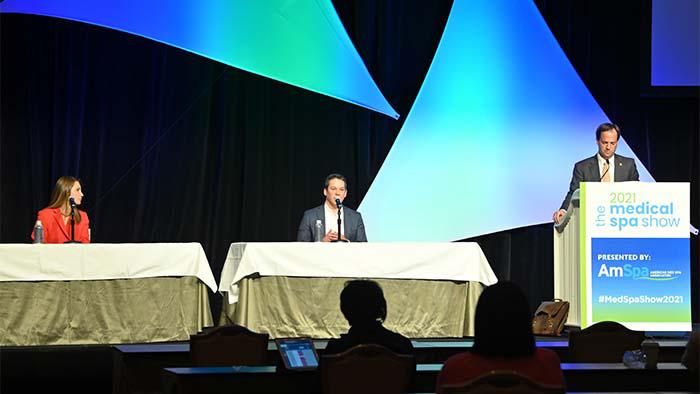 By Michael Meyer, Writer/Editor, American Med Spa Association

Medical spa ownership can be quite simple, provided you are a physician; if not, it can be extremely complicated. In some states, anyone can own an aesthetics practice; in others, you're basically out of luck if you're not a physician. In states that fall into the latter category, many people who could make positive contributions to the industry are left on the outside, regardless of how much money they have or the amount of business experience they offer.

However, there is a solution for those who want to join the industry in an ownership capacity that does not include going through the process of becoming a physician: creating a management services organization (MSO) and partnering with a physician to obtain what amounts to an ownership stake in the practice.

This is an elegant solution for people who want to be a part of the booming medical aesthetics industry; however, it is not without its complications.

The Particulars

Some states observe a doctrine known as the corporate practice of medicine (CPOM). According to the CPOM, only a physician or physician-owned corporation can own a medical practice and receive payment for medical services. It is designed to ensure that medical practices remain in the hands of those who are best suited to operate them, and it makes sense in the context of conventional medical practices, such as hospitals and doctor's offices. However, for an unorthodox business such as a medical spa, which is part retail outlet and part medical facility, it often serves to freeze out well-meaning people who have a lot to offer the industry, but don't happen to be physicians.

An MSO can help to address this. A non-physician can form an MSO that enters into a management services agreement (MSA) with the physician or physician-owned company that owns the medical spa to provide non-medical services to the physician-owned medical spa. These can include front-desk services, appointments, marketing, accounting, office management—essentially, everything that isn't medical in nature. In return, the MSO is paid by the physician or physician-owned corporation.

"The main part is that you don't want to question where the money goes—it goes into the medical practice," said Nicole Chiaramonte of TWG Consulting Corp., Synergy MedAesthetics and Aesthetic Investments, LLC, at a panel discussion at Medical Spa Show 2021. "In the way that we operate, patients walk into our front door, they receive treatment, and they pay at the front desk; that credit card deposit goes into that medical practice. And we do that all month long. At the end of the month, my MSO will invoice the medical practice for the management fee, miscellaneous reimbursements, the cost of running the practice and a marketing fee, and between all of those, which are listed in the MSA, I'm essentially pulling out the profit," explains Chiaramonte. "What stays in the medical practice are the cost of the medical malpractice insurance and the cost of covering payroll for the medical providers. It's a little bit of a reconciliation at the end of the month. It takes me about five minutes per location, and we're just taking full deposits, minus the expenses that are retained there, and then the MSO invoices for that amount. There are some complexities there, but when you break it down like that, it's pretty simple: Money goes from patient to medical practice to MSO."

From a legal perspective, this type of arrangement solves a number of problems that are created by the CPOM while maintaining a high standard of patient care.

"The MSA broadly has two functions," said Michael Byrd, JD, partner at ByrdAdatto, during the same panel discussion. "One function is to create boundaries from a compliance perspective. The medical practice is going to do everything in the chain of care for patients, and the MSO is going to be doing everything in the business side of managing the practice. The second big function of the MSA is to capture the economics of your business model. So, if you are a non-doctor and you're the one taking the risk and starting this business, and you're the one who has the expectation of enjoying the profits of this business, then you have to design the MSA in a way for the profits to compliantly end up going from the medical practice to the MSO."

Optimizing Your Business
MSOs not only open up ownership possibilities to a whole new group of people, but also help to improve service by involving people who specialize in different areas of customer service.

"From our perspective, the MSO model works nicely because it allows the organization to have people who are purely on the business side to take care of non-clinical parts of the practice," said Ben Hernandez, partner and co-founder of Skytale Group, at the same Medical Spa Show panel. "We're talking about HR, accounting, finance, training, compliance, whatever it may be. We're able to take some of that off the practice, which, in theory, should allow the clinician and other clinical providers to focus on the patients. We just think that's a beautiful model and it works really, really well."

According to Byrd, the MSO model is very commonly deployed in other areas of health care, and its usefulness in the world of medical aesthetics is only now beginning to reveal itself.

"For health care attorneys, the MSO is common for a number of different functions that are, in some ways, more complicated than the corporate practice of medicine," he says. "At our office, we jokingly refer to the MSO as the duct tape for health care lawyers, because, ultimately, if you're trying to figure out how to do something compliantly, the MSO comes into the picture many times as a way to solve a problem. In many areas, it is more heavily regulated, and you have federal laws involved, and the MSO has proven to be a solid health care model here. It's even safer and it's a really solid way to go. And to really demystify it, we all drive by MSOs, all day, every day, and may not even realize it. If you see a chain dental office, chances are it's owned by private money in what they call a DSO—legally, it's the same thing—or a chain med spa. They're MSOs. It's a really conservative and safe approach to deal with the ownership issues that come with non-physicians being involved with a business that practices medicine."

However, there are some unique issues that arise when MSOs are utilized; key among them is the relationship between the MSO's owner and the physician who oversees the medical aspects of the operation.

"With the MSO model, there is a huge amount of trust," Chiaramonte says. "The pain points that you have when you first are in discussions with a physician really are about, is their license at risk, and what are you going to do to protect it? They're trusting you with their license; you're trusting them with your money, or what you think should be your money. So, make sure that you'e got the right pairing, because this is a professional marriage."

To address this, it is important to make sure that the MSA that is used to formalize the relationship between the MSO and the physician or physician-owned corporation is created with that particular partnership in mind. If it is not, it can create compliance and trust issues between the parties.

"You can borrow an MSA that maybe we even prepared and print it out and sign it, but if it doesn't line up with what you're actually doing, you're oftentimes worse off than if you just didn't have it in the first place," Byrd says. "We talk about form and substance in health care. It is so important that you actually are doing what your MSA says. And, of course, we want the MSA to be compliant to navigate the corporate practice of medicine."

Forward Momentum
While an MSO could cynically be seen as a way to circumvent rules that are designed to keep patients safe, it is, in fact, a typical evolution of the industry.

"It's not only normal—it's necessary to be in this industry," Hernandez says. "It's not new. If you look at most hospital systems, they are run under a very large MSO format, and this is just a micro version of that. For anybody who wants to be in this industry who isn't a physician, the MSO is a perfectly legal and compliant way for you to be able to get into the industry, invest in the industry, be active within it, and really reap the rewards and the benefits of being part of it."

In fact, if history is any indication, it could be just a matter of time before the MSO format is the go-to business setup in the medical aesthetic industry.

"Hospital has gone through it, pharmacy has gone through it, dental is going through it," Hernandez says. "We know how the book is going to end. We're just in the very early stages of it."

AmSpa members receive QP every quarter. Click here to learn how to become a member and make your med spa the next aesthetic success story.
Related Tags
Subscribe to Our Email List
Medical spa news, blogs and updates sent directly to your inbox.